Splendid Glossy-Starling Facts
Name:
Splendid Glossy-Starling, also called Splendid Starling
Scientific Name:
Lamprotornis splendidus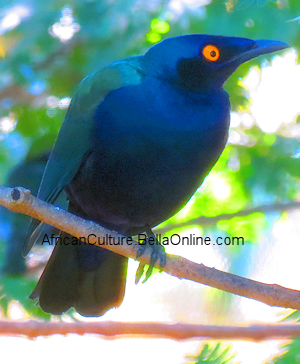 Length:
11 inches long.
Average Adult Weight:
One quarter of a pound.
Description:
The Splendid Glossy-Starling is roughly eleven inches long. It has a glossy blue-green crown. Its iridescent blue back tinged with purple with a glossy blue-green rump, glossy green wings with blue tips. The starling has a purple chin, throat, breast and upper belly with iridescent blue lower underparts with black legs. Its eye is yellowish-white and bill is black.
Habitat:
Lowland forests, forest patches, gallery forest or park and gardens with tall trees. Splendid Glossy-Starlings are found from sea level up to 6570 feet above sea level.
Countries found in:
Angola, Benin, Burundi, Cameroon, Central African Republic, Republic of the Congo, Democratic Republic of the Congo, Equatorial Guinea, Ethiopia, Gabon, Gambia, Ghana, Guinea, Guinea-Bissau, Kenya, Liberia, Mali, Niger, Nigeria, Rwanda, São Tomé and Príncipe, Senegal, Sierra Leone, Sudan, Tanzania, Togo, Uganda, and Zambia.
Babies:
Splendid Glossy-Starlings are monogamous and lay 2 to 4 eggs between Decmeber and May.
Food:
Glossy-Starlings feed in insects and a variety of invertabrates. They will also eat fruit is it is readily available.
Group Name:
Murmuration, Chattering, or Flock
Habits:
Glossy-Starlings nest in tree cavities and in the eaves of buildings.
Conservation Status:
Least Concern for extinction.
Interesting Facts:
There are 22 species of Glossy-Starlings in Africa.
There are 4 sub-species of the Splendid Glossy-Starlings: L. s. chrysonotis, L. s. splendidus, L. s. lessoni, and L. s. bailundensis.
This site needs an editor - click to learn more!

You Should Also Read:
Congo Peafowl Facts
African Milky Eagle Owl Facts
Ostrich Facts




Related Articles
Editor's Picks Articles
Top Ten Articles
Previous Features
Site Map





Content copyright © 2022 by Jeanne Egbosiuba Ukwendu. All rights reserved.
This content was written by Jeanne Egbosiuba Ukwendu. If you wish to use this content in any manner, you need written permission. Contact BellaOnline Administration for details.