Come - Sit - Stay - at Blue Dog Tavern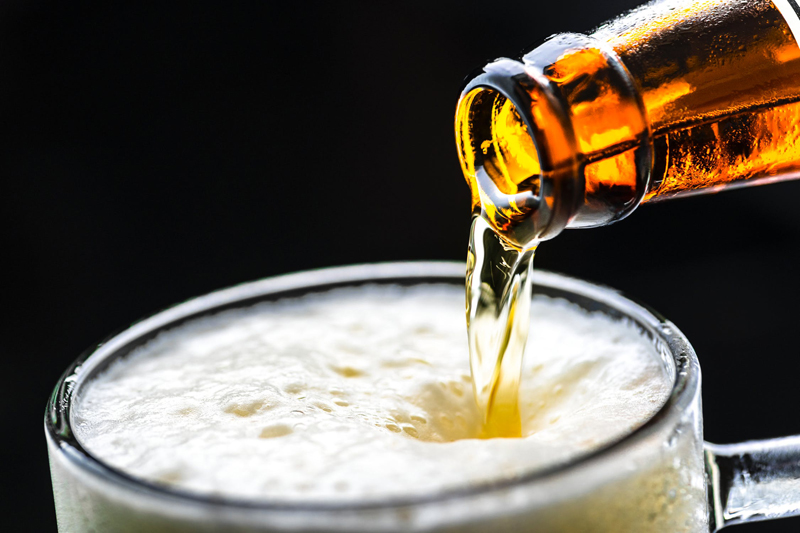 Americans love their animals, and few are more revered than protector of the household. You may call him with a whistle or a clap, but this loyal subject is none other than the family pooch, embedded in iconic worship by such names as Lassie, Balto and Rin Tin Tin. I particularly like those with coats so black they glow with an iridescent, indigo tint. These are the true blue dogs, as loyal as any breed on the face of the earth.

Blue is an upbeat word – one that brings visions of cloudless skies, happiness and optimism. Occasionally it can depict a somber mood or a bit of bawdy pleasure, but is more readily accepted as a strong, male color. Think "Prussian Blue."

When Chris Staub decided to move from his long-time career in law to one focused on food and libations, titles expressing color elicited the most positive response from his family. At some point, Blue Dog made everyone happy. It was a good name for a restaurant, particularly when it was paired with the phrase, "Come. Sit. Stay." This was not just a phrase for doggie power, but a mantra that could turn into a mission statement.

Chris Staub opened Blue Dog Family Tavern in Chalfont ten years ago, followed by Blue Dog Pub in Lansdale a year later. He was fortunate to be located within 25 miles of Shangy's The Beer Authority in Emmaus Pennsylvania, a veritable beer utopia with distribution rights for the most interesting beers on the planet. Staub wanted to become an influential source of good beer, not just a local bar pumping-out dad's time-worn lager beer. Local clubs like the Lansdale Eagles, the Reading Motorcycle Club, and the North Penn Gun Club already served that market.

His General Manager, Rob Hyde, knew little about beer when he started, but had an eye for enticing beer labels and fascinating brand names. Stone Arrogant Bastard, Dreadnaught, Anchor Steam, and Dark Lord all stoked his imagination. His intuition told him they would do the same for others … and he was right.

Little by little, Blue Dog became the topic of conversation among those seeking better beer. The Pub has 21 beers on tap - 6 more tap offerings than the Tavern - but both locations maintain a list of "Coming Soon" temptations that may become part of the tap line-up at any time. Bar food includes beer-drenched mussels, wraps, or juicy burgers, with a Puppy Menu for the kids.

Blue Dog shines like a lighthouse beacon in the Pennsylvania beer landscape where laws tightly regulate single-bottle sales. Staub's cache of bottled beers for take-out number in the hundreds, with variety served as the Trump Card in a sea of choices. If you are looking for a Jeroboam or Methuselah of your favorite Belgian beer, satisfaction is imminent. You may also find Rodenbach Vintage 2007, New Grist, Dogfish Head Sah'Tea, or one of the Avery collaboration beers. The portfolio is always fresh and rotating.

At Blue Dog, the calendar is jammed with events that include trivia nights, karaoke, meet the brewer, and special release events. For their most loyal patrons, Staub and Hyde host private Westy events, based on the legendary Trappist beer Westvleteren. Chris explained the origins of the Westy Party:

"In the Spring of 2010, some of my family members got me a case of Westy 12, and I was able to share it, and a whole bunch of other great beers, with a bunch of friends at Blue Dog's An Evening with Westy event. This past June, we repeated the event, dubbing it A Night Without Westy because, obviously . . . we actually did have three or four bottles of Westy."

Continuing the tradition, Blue Dog Tavern held a Son of Westy II event, with about 120 bottles of beer brought in from Indiana, Michigan, Illinois and by many loyal, Blue Dog friends. The featured beers included Prickly Passion Saison from New Belgium's Lips of Faith Series, Black Tuesday from the Breuery, Bonfire of the Valkyries from New Albanian Brewing, Sofie from Goose Island, The Sixth Glass Quad from Boulevard, and beers from Outta Hand Brewing, the Livery, Founders, Three Floyds and Epic. The event was by invitation only, and at no charge - a celebration based on appreciation and friendship.

Events such as these educate the palates of patrons and inspire beerdrinkers to expand their taste to include beers that stray from the norm. They inspire loyalty, too. In this part of the country, a man's best friend truly is a Blue Dog.

Cheers!

Blue dog-ish for wet days:
Golden Retriever Dog Silhouette Walking Stick Umbrella Blue/Gold


Show your loyalty:
PAW PRINTS - Puppy Dog - Car, Truck, Notebook, Vinyl Decal Sticker #1099 | Vinyl Color: Blue
You Should Also Read:
Flying Dog Mural in Gonzo Doggie-Style
Counting Calories in Beer
BrewDog and the Fight for Supremacy


Related Articles
Editor's Picks Articles
Top Ten Articles
Previous Features
Site Map





Content copyright © 2022 by Carolyn Smagalski. All rights reserved.
This content was written by Carolyn Smagalski. If you wish to use this content in any manner, you need written permission. Contact Carolyn Smagalski for details.