Flying Dog Mural in Gonzo Doggie-Style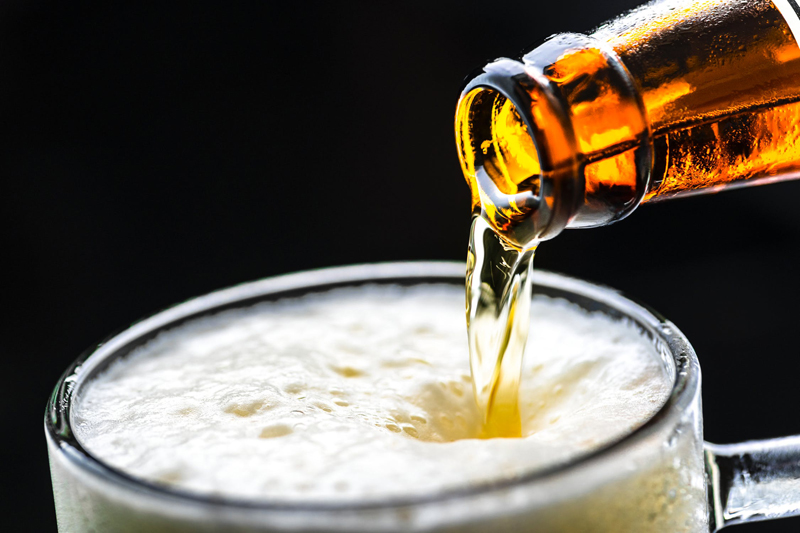 Flying Dog Brewery unveiled a 100-foot mural at its Frederick Maryland brewery on January 18, 2012. Spanning both sides of the hallway, the mural, executed in the Raoul Duke-style of Ralph Steadman, tells the Flying Dog story, peppered with as much color as the legendary tales of George Stranahan and Hunter Thompson.

Virtually cemented to Flying Dog's Gonzo rhythm, every inch of painted wall speaks with the bizarre "stream of consciousness" that so typically characterized Hunter S. Thompson's writings, like screen captures from The Rum Diary and Fear and Loathing in Las Vegas. Thompson, Steadman, and Stranahan are hailed as the founding "Gonzo Godfathers" of Flying Dog, rapt with unedited opinions and personal emotion. It's all about grit, and sarcasm, and exaggeration, and humor – checkered with Steadman's classic blotches and scribbles that add a touch of wry realism to the timepiece.

The pictograph directs immediate attention to the image of a Flying Dog that tied Stranahan to a Pakistani bar after his successful 1983 expedition up the face of K-2, an adventure that makes the classic bucket list of any serious mountain climber across the globe. Stranahan was probably woozy from the thin air and the buzz of booze, but adopted the winged dog to form his life philosophy: "It is amazing what you can achieve if nobody tells you that you can't."

Seven years passed before Stranahan and his cohort of unconventional free-thinkers opened the doors to Flying Dog Brewpub in Aspen, Colorado. A few years later, they moved into the big leagues as a bona fide brewery in Denver; then took the operation cross-country to its current state-of-the-art brewery in Frederick Maryland.


In 1995, Ralph Steadman designed the first gonzo-style label, smacked on bottles of Road Dog Porter with the slogan "Good Beer No Sh*t," resulting in a clash with the Colorado Liquor Board – profanity vs. freedom of expression. Flying Dog won final approval of the label art in 2000 with the ACLU on its side.

Hunter Thompson passed away five years later. In his honor, Flying Dog designed Gonzo Imperial Porter with as much assertiveness as its herol portrayed during his lifetime. Totally devoid of light, the body supported a sand-blasted, creamy head, emitting aromas of citrus, pine, dark fruit, and mocha. It was initially released as a limited edition in 750 ml bottles and is now available, aged in whiskey barrels, as a specialty beer in the Wild Dog series, along with Secret Stash Harvest Ale and Centennial Single Hop Imperial IPA.

The Flying Dog Mural, created by three local artists - Ben Gartrell, Diana Marshall, and Jessica Sansbury - took four months of blood, sweat, and tears, created during all the off-hours the three could squeeze into their second lives. The trio, all 2005 graduates of the art program at Frederick's Linganore High School, had previously contributed their talents to paint wall-art for the Jeanne Bussard Center, a private, non-profit agency certified by the state of Maryland.


As experienced muralists, they began work on the brewery project in September of 2011, using a blueprint interpretation of Steadman's maniacal ideas – hallucinations of desert scenes and the blow-out at Woody Creek Tavern, Stetsoned skeletons, and rabid dogs morphing into flying beasts. The resulting work echoes Steadman's imagery, while upholding the surreal journalism that made Thompson's work so enduring.

Flying Dog is as complex as the mural that tells their story. Creativity begets creativity. Currently, their flagship six-pack has grown to include Doggie Style Classic Pale Ale, Old Scratch Amber Lager, Tire Bite Golden Ale, Snake Dog IPA, Road Dog Porter, and In-Heat Wheat Hefeweizen – a slightly tilted palette, peppered with Seasonals that add bite to the sauce.

In addition, the Canis Major limited releases add a layer of the extreme – high alcohol, Belgian yeast, rich flavors, and hefty malt: Kujo Imperial Coffee Stout, Raging Bitch Belgian Style IPA, Gonzo Imperial Porter (like the original), Wildeman Farmhouse IPA, Double Dog Double Pale Ale, and Horn Dog Barleywine.

Cheers!

Tune-in to the inspirational Hunter Thompson:
Fear and Loathing in Las Vegas: A Savage Journey to the Heart of the American Dream


The incomparable Ralph Steadman:
Gonzo: The Art
You Should Also Read:
Beer Glassware for American Beer
Beer Tasting Themes
Cigars and Beer - Beer fox Pairings


Related Articles
Editor's Picks Articles
Top Ten Articles
Previous Features
Site Map





Content copyright © 2022 by Carolyn Smagalski. All rights reserved.
This content was written by Carolyn Smagalski. If you wish to use this content in any manner, you need written permission. Contact Carolyn Smagalski for details.