Guest Author - Jeanne Egbosiuba Ukwendu
Name:
Common Dwarf Mongoose (also known as Dwarf Mongoose)
Scientific Name:
Helogale parvula
African Names:
Hovo (Shona), Nguchiro (Kiswahili), Kgano (Tswana), Uchakide (Zulu)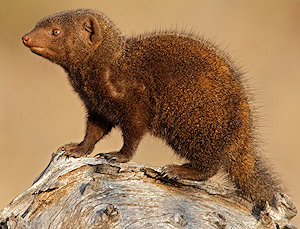 Length:
12 to 16 inches
Average Adult Weight:
8 to 14 ounces
Life Span:
About 8 years
Description:
The common dwarf mongoose looks like any other mongoose with its large pointed head, small ears, long tail, short limbs, and long claws. This particular mongoose is distinguished by it's small size.
Habitat:
Dwarf Mongooses prefer to live in grasslands, woodlands, brush lands and scrub of east and southern Africa.
Countries found in:
Angola, Ethiopia, Somalia, Kenya, Southern Sudan, Tanzania, Malawi, Mozambique, Zimbabwe, Botswana, Zambia, Democratic Republic of the Congo, South Africa
Babies:
Dwarf mongoose breed two or three times a year. The gestation period is 49 to 56 days with up to six babies born. The young are weaned around 45 days of age and are ready to go out of the nursery with the group at six months of age.
Food:
The Common Dwarf Mongoose eats insects (preferably beetle larvae, termites, grasshoppers and crickets), and well as spiders, scorpions, small lizards, snakes, small birds, and rodents. Once in a while they will eat berries.
Group Name:
A band or pack of mongooses.
Habits:
The Dwarf Mongoose will inhabit termite mounds where they will tunnel nursery chambers, sleeping quarters, and hideouts. They live in groups to two to twenty mongooses with a dominant pair and their offspring.
Conservation Status:
Least Concern
Predators:
Birds of prey, snakes, and other larger predators.
Interesting Facts:
There are over 20 species of mongoose in Africa.
The Common Dwarf Mongoose is Africa's smallest carnivore.