Guest Author - Jeanne Egbosiuba Ukwendu
Name:
Sable Antelope
Scientific Name:
Hippotragus niger
African Names:
Palahala (Kiswahili), Mbarapi (Kiswahili), Ol-girsauroi (Maasai), Shambe (Kidigo), Mharapara (Shona), Phalaphala (Venda)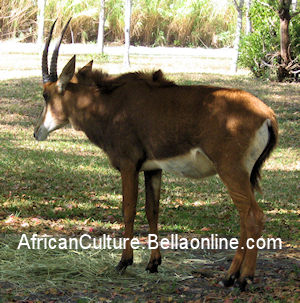 Sub-Species:
- Common (or Southern) Sable Antelope - Hippotragus niger niger. Is listed as "least concern" for extinction.
- Giant (or Angolan) Sable Antelope - Hippotragus niger variani. Lives in Angola and is critically endangered. Currently only 1000 exist.
- Zambian Sable Antelope - Hippotragus niger kirkii. Lives in Angola and Zambia. It is classified as vulnerable to extinction.
- Roosevelt sable Antelope - Hippotragus niger roosevelti. Lives in Kenya and Tanzania and may be found in Mozambique.
Height:
Shoulder height is between 46 and 55 inches.
Average Adult Weight:
An average female weighs 400 pounds. An average male sable antelope can weigh up to 660 pounds.
Life Span:
Up to 18 years
Description:
Sable Antelope have large, ringed, sickle-shaped horns that arch over their back. Their coat color ranges from chestnut brown to almost black. the sable antelope's face, belly, and rear are white. The have a black stripe running from the base of their horns to their nose to help camouflage their eyes.
Habitat:
Sable Antelope prefer to live in wooded grasslands.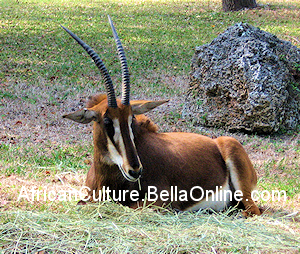 Babies:
Gestation for a sable antelope is 240 – 281 days. A female sable antelope, once mature, will give birth once a year. The calf will weigh between 28 and 39 pounds. The calf is born with a light brown coat to hide it from predators.
Food:
Sable antelope eat short grasses, herbs, bushes, and trees. Sable Antelope have a ruminant digestive system similar to that of a cow.
Group Name:
Cluster, herd, or tribe of antelope.
Habits:
The female sable antelope form herds with up to 30 individuals. Female herds are dominated by a single older antelope. Male sable antelope, once mature, join male herds that may have 2 to 12 individuals.
Predators:
Sable Antelope are threatened by spotted hyenas, leopards, lions, dogs, and crocodiles.
Interesting Facts:
Male sable antelopes mark their territory by scraping the ground around dung piles.
Males will drop to their knees and spar with their horns for dominance.
Wounded or cornered sable antelopes can defend themselves with their horns.