Simple Riddle Composition for DMs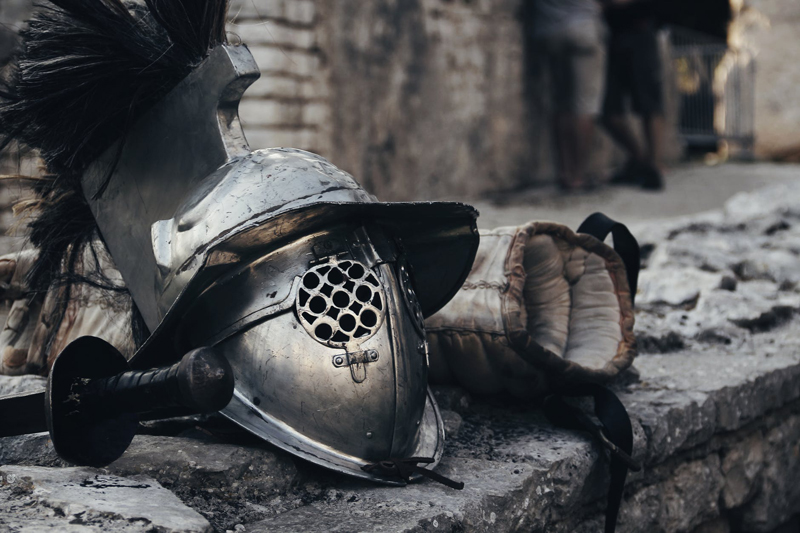 "Which creature goes on four legs in the morning, two legs at noon and three legs in the evening?" The Sphinxes riddle is fairly popular. If you haven't heard it before or don't remember the answer then don't worry: You've got until the end of this article to figure it out or remember. In the meantime I'll share my tried-and-true method for creating riddles that will perplex your friends! This is an absolutely essential skill if you want to put puzzle encounters into your role playing games.

There's sometimes the inspired way of writing a riddle which happens when verse just comes to you, perhaps at three in the morning. Should this happen with you my advice is to roll with it and let your muse take you where it may. Remember that the first step to creation for anything is to create first and criticize later. For those of us who need riddles more frequently than when they dawn on us I recommend a three-step approach.

First thing's first, you want to start with your solution. Working backwards from the answer means you can select choice descriptions of your solution and hint at it without giving too much of it away, hopefully. We'll use the example of a dog. When you have your answer then select traits or clues for it and just list as many as you can think of. Here the more obscure you can be, the better, but try and tie in some simpler ones too. Brainstorming about dogs we can come up with a list which might contain something like the state of their noses and what the changes mean (wet and cold for well, hot and dry for ill), the sounds they make, their strong senses of hearing and smell and lastly the fact that wearing a collar is a strong signal that they have an owner. Ambiguity is your ally in this. Be certain to note other possible solutions when you are done. The riddle itself doesn't need to be very long.

Once you have your list then the next step is to decide if and how you want your riddle to rhyme. There's isn't anything wrong with having one that doesn't rhyme. Rhyme schemes are just something I vie for when feasible because it makes them easier to remember. If you don't then this step is simple. Select the phrases that hint close to the solution but still leave room for wonder. You won't be able to get a very accurate reading for this without some experience and/or seeing how others reply to it since you're already primed with the answer. Just give it your best shot and know that you can improve on it if it doesn't work too well. Better yet it will give you insight for the next riddle you decide to brew up.

If you decide you'd like a rhythmic riddle there are three really simple rhyme schemes that none of my friends have gotten bored with yet. The first is the ABAB sequence of making every other line rhyme, for instance one with three and two with four. Another is to make every line rhyme. This one is more difficult to pull off than the ABAB sequence. Accomplishing this takes some real skill and vocabulary. I applaud your talent should it work for you. Some other really great riddles I've seen have a more complicated rhyme sequence where the first two lines rhyme with the very last line and all the lines between the second and last lines don't necessarily rhyme with each other but are kept short. I'm feeling adventurous so I'll pick the last option for our canine riddle. Let's go with five lines, and the first, second and fifth will rhyme. I want this one to be really easy to remember too so the third and fourth lines will also rhyme.

The final step in making your riddle is incorporating your thesaurus. Don't have one? There are plenty of online resources. Mix and match words and phrasing to make it work! This can be quite challenging and you'll probably have a larger vocabulary by the time you've finally made your selections. After changing which word they'll rhyme to and reworking a couple lines a few times, here's what I came up with.

Eerie chills in the night my call sends
Toward smells and sounds I oft tend
More likely to be inert
When my snout's a desert
If I'm unclothed I might lack caring friends.

That's all there is to it! Bear in mind that many (perhaps all) riddles can have multiple answers. Don't limit your players to your one specific solution. Keep an open mind and if their supplied solution fits just as well or better then congratulate them for a challenge well overcome. Even the Sphinxes riddle might well be answered gender-neutral instead of as "man." Happy riddling!


Related Articles
Editor's Picks Articles
Top Ten Articles
Previous Features
Site Map



Follow @rpgbellaonline
Tweet





Content copyright © 2022 by Leif Sutter. All rights reserved.
This content was written by Leif Sutter. If you wish to use this content in any manner, you need written permission. Contact Leif Sutter for details.