Puella Magi Madoka Magica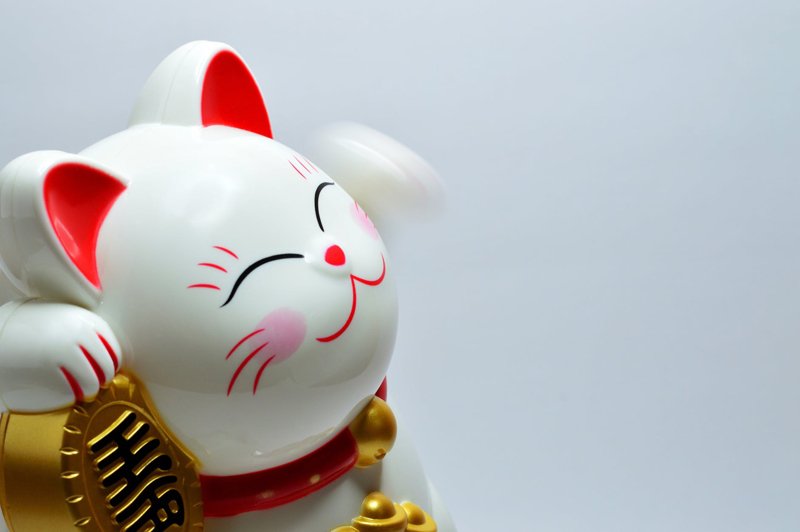 Puella Magi Madoka Magica
is an anime series produced by Shaft and directed by Akiyuki Shinbo.
The main character of the series is a middle school student named Madoka Kaname. One night, she has a dream where she sees a girl in a battle, and a creature says that Madoka has the ability to alter fate by making a contract with it to become a magical girl. Madoka wakes up at this point and gets ready to go to school.
At school that morning, a new girl named Homura Akemi transfers into Madoka's class; Madoka instantly recognizes Homura as the girl from her dream. Madoka's friend Sayaka asks Madoka if she knows Homura, because Sayaka noticed Homura glaring at Madoka. After school, Madoka tells Sayaka and another friend about her dream, but Madoka's friends don't take it too seriously.
While Madoka and Sayaka are at a music shop, Madoka hears a voice calling to her. When Madoka follows the voice, she finds the creature she saw in her dream; the creature is injured. Madoka then sees Homura, and Homura encourages Madoka to stay away from the creature; it's obvious that Homura is the one who injured the creature. Sayaka suddenly appears to rescue Madoka and the creature.
As the three try to escape, their surroundings change. This is a rather trippy-looking sequence, at times either looking like someone's acid trip or something that Terry Gilliam of
Monty Python
fame might have animated.
A third girl named Mami suddenly appears and undergoes a magical girl transformation sequence. Mami is able to send Homura on her way, as well as heal the creature. The creature introduces itself as Kyubey, and at the end of the first episode, Kyubey asks both Madoka and Sayaka to make a contract and become magical girls.
By the time I finished watching the first episode of
Puella Magi Madoka Magica
, I realized that this series isn't just simply another "turning the magical girl genre on its head" show. Where most shows in that vein accomplish that by utilizing comedy, this series seems like it's going to accomplish the same goal on a more serious note. Sure, there's some humor in the first episode, but the overall episode itself wasn't comedic. From what I've heard, later episodes of the series are supposed to be more on the "dark" side than the first episode.
Puella Magi Madoka Magica
shows a lot of promise by the time the viewer finishes the first episode. When I finished the first episode, I was genuinely interested to see what would happen to Madoka and the others. This is a series I would definitely want to continue.
Animation-wise, the most notable things in the first episode were the backgrounds in Madoka's dream at the beginning and the changing surroundings in the sequence where Madoka goes to rescue Kyubey. While the rest of the animation isn't bad outside of those two things, there wasn't truly enough to make any of the rest of it stand out. But for the type of story that
Puella Magi Madoka Magica
is trying to tell, I think the animation style being utilized works. Content-wise, the only thing I saw of note in the first episode had to do with a shot in the opening credits, where there is some hinted at nudity when Madoka is undergoing a transformation sequence.
Personally, from what I saw in the first episode, I would recommend
Puella Magi Madoka Magica
to anime viewers who are 14 or 15 years of age and older.
| | | | | | |
| --- | --- | --- | --- | --- | --- |
| Title | Episodes | Release Year(s) | Director | Studio | N.A. Licensor |
| Puella Magi Madoka Magica | 12 | 2011 | Akiyuki Shinbo | Shaft | Aniplex of America |
| Puella Magi Madoka Magica the Movie Part I: Beginnings | N/A | 2012 | Akiyuki Shinbo | Shaft | Aniplex of America |
| Puella Magi Madoka Magica the Movie Part II: Eternal | N/A | 2012 | Akiyuki Shinbo | Shaft | Aniplex of America |
This site needs an editor - click to learn more!


Related Articles
Editor's Picks Articles
Top Ten Articles
Previous Features
Site Map





Content copyright © 2021 by Lesley Aeschliman. All rights reserved.
This content was written by Lesley Aeschliman. If you wish to use this content in any manner, you need written permission. Contact BellaOnline Administration for details.