Balut would be a new experience for most of us who live in America, but how many of us would dare to try it if we lived in the Philippines? Balut, a fertilized duck embryo that is usually boiled and eaten directly from the shell, is sometimes served with chili, salt, coconut sap or white vinegar. Sold as everyday street-food in Southeast Asia, balut has been touted as an aphrodisiac and is most commonly served with beer.

My nephew Ryan has recently been awarded a stint in Manila due to an expansion of technology by the company that employs him. Along with helmet diving in the pristine waters surrounding Boracay and a tourist-style visit to the Boracay Bat Cave, he has heartily laughed at what we would view as the occasional double entendre, as in the Wang Mart, or at a local restaurant that lists the price of beer lower than that of water and soda.

We might be tempted to dismiss the Philippines as having no beer culture, but San Miguel Brewery Inc., based in Manila, is a leading brand throughout the Asia Pacific, including the Philippines, Indonesia, Hong Kong, Thailand, South China, and Vietnam. It also distributes in Nepal.

Comparable to the BudMillerCoors culture in the United States, San Miguel Brewery produces eight beer brands that have been developed as non-offensive, adjunct-rich, and lightly hopped beers, with profiles such as citrus, roast or lightness distinguishing one from another. They are, however similar in character, much "like Heineken," says Ryan. Under the San Miguel name, they include Light, Pale Pilsen, Premium All-Malt Beer, Super Dry, Strong Ice, Gold Eagle, Red Horse and Cerveza Negra (aka Dark Lager).

San Miguel Brewery dates back to 1890. Founded by Don Enrique Ma Barretto de Ycaza y Esteban, the brewery began in the business of making ice, alongside the production of beer, a privilege given through a royal grant from Spain that was to last for 20 years. Within three years, several prominent businessmen jumped on board, and the business rocketed to success. By 1896, Don Pedro P. Roxas y Castro had purchased Barretto's shares, and managed plant operations. Modernization of plant equipment allowed for quick expansion, placing it far ahead of the competitive imports in the region.

Since then, San Miguel has morphed into a giant corporation whose holdings include companies in the food, beverage, packaging, power, mining, petroleum, infrastructure and telecommunications fields.

Pink elephants in the Philippines?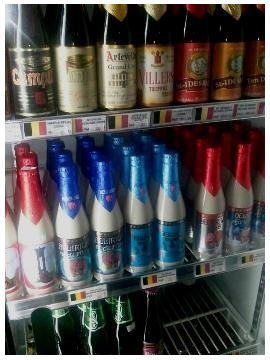 But the Philippines, like the USA, has a segment of the population who crave diversity. One of Ryan's recent photos spoke a thousand words. The refrigerated case was filled with European beer, with most of it hailing from Brouwerij Huyghe of Melle, Belgium. The cache included bottles of Artevelde Grand Cru, Villers Tripel, Campus Gold and Campus Amber, St. Idesbald Dubbel, St. Idesbald Blond, Ten Duinen Rousse, Delirium Nocturnum, Delirium Noel, Delirium Red, and Delirium Tremens, along with Carlsberg of Denmark, and a few other bottles of European beer that were unfamiliar to him.

The Appelhoek in Melle Belgium was the site of brewing activity since 1654. In 1906, Léon Huyghe bought the brewery and opened as Brouwerij-Mouterij den Appel. The brewery has been a champion of Belgian craft beers for over a hundred years, having in its valise top-of-the-line beers, bottle-conditioned, with fruity, bright flavors, and the warmth of alcohol in the chest.

Brouwerij Huyghe launched the "Confrerie of the Pink Elephant" in 1992 to promote their brands, with Delirium Tremens as the main focus of the "brotherhood." Surrounded by "five or six stern looking men in pale blue caps-and gowns, with pink sashes and sleeves," Beer Hunter Michael Jackson was knighted as a member of the Pink Elephant on his first trip to Huyghe. This event included downing a Delirium Tremens without a break, whereupon he was decorated with a ceramic medallion carrying the image of the pink elephant, while he "pledged his support to Delirium Tremens above all others." All that, without disgracing himself, he remarked. "Could you wear those robes in the Philippines?" I wonder.

Cheers!

Move into the world of "light" reading:
Kindle Fire HD 7", Dolby Audio, Dual-Band Wi-Fi, 16 GB


A great accompaniment with casual beer:
Set of 4 Rustic Cazuela Clay Pans - 4.5 inch - 12 cm