Pumpkin Ales that Howl at the Moon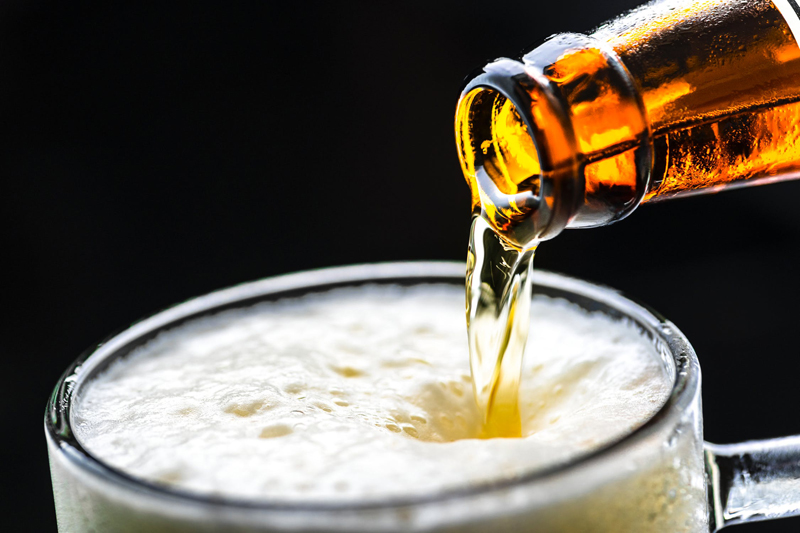 Did you hear the crunching of the leaves underfoot today? The air was filled with an earthy aroma of fresh hay, mixed with pine needles and pumpkin. Perhaps I was just a bit too close to my neighbor's Jack-o-lantern, or maybe the wind blustered across the upper fields at just the right angle, but my nose knows when autumn has set in. My skin feels it, too … that sloughing of fresh chill that ruffles loose strands of hair from beneath your hood.

I'm feeling a bit like Linus in the pumpkin patch, waiting for the Great Pumpkin to arrive. And arrive it does, in the form of Pumpkin Ales that titillate the tongue and sate the spirit. If you are one of the people who would rather jump off a ledge than drink a pumpkin ale, I send you my deepest sympathy. I won't try to talk you down from that ledge, but excuse me while I revel in alcohol and spice.

Pumpkin Beers can differ dramatically, one from another, and there is no way to fully appreciate them unless you do a horizontal tasting of your own. At the King of Prussia BeerFest Royale, I presented Pumpkin Beers of varying strength and spiciness to those attending the VIP session, whetting their palates with enticing autumn pleasures. These beers included:

Saranac Pumpkin Ale by Matt Brewing, Saranac, New York at 5.4% ABV

UFO Unfiltered Pumpkin Ale by Harpoon Brewery, Boston, Massachusetts at 5.9% ABV

Punkin Ale by Dogfish Head Craft Brewery, Milton, Delaware at 7% ABV

Weyerbacher Imperial Pumpkin Ale by Weyerbacher Brewing Company, Easton, Pennsylvania at 8% ABV

Smashed Pumpkin Ale by Shipyard Brewing Company in Portland, Maine at 9% ABV

Devious Imperial Pumpkin Ale by Fegley's BrewWorks in Allentown & Bethlehem, Pennsylvania at 9% ABV

It was interesting to observe the response by those tasting these ales. Each had a very different opinion of what they expected in a pumpkin beer. For those who had never experienced pumpkin beers, the lighter flavors of Saranac seemed to please their taste buds. A group of six beer-geeks did a blind taste-test and chose UFO as their number one, across the board. Aficionados of Dogfish Head beers noticed a distinct difference between "last year's Punkin Ale" and the one made for 2012, while the three heavy-hitting Imperial Pumpkin Ales – assertively spicy and dripping with heat, were the overall favorites of the evening.

Pumpkin Ales are generally malt forward, with just enough hops to pull back on the sweetness. Pumpkin can be introduced as fresh roasted squash, pumpkin puree, or pumpkin flavoring, while spices may be light-handed or as intense as Mom's holiday pie. When they are filtered, they display a crystalline body that glimmers like a copper jewel; but they may also be unfiltered, adding to the mystery. A brewer's interpretation of the style, as well as their personal philosophy about food, dictates how he or she introduces pumpkin into the beer.

Ro Guenzel, Head Brewer at Left Hand Brewing Company in Longmont, Colorado, teamed up with Old Chicago, The Savory Spice Shop and Guerrilla Farms, to produce 4 Foodies Pumpkin Ale, a Fall Seasonal made with 1,000 pounds of Baby Pam Pie Pumpkins from Lewis Timpson's Guerrilla Farms in Niwot, roasted by Old Chicago, and spiced with cassia cinnamon, cloves, nutmeg, galangal root, Jamaican allspice and cubeb berries from Dan Hayward's Spice Shop in nearby Boulder.

This crisp ale shines like an amber-sunset, brilliant and clear with frothy eggshell-white cream laying on the surface. Flavors are light and clean, with a pleasant pumpkin aroma permeating the foundation of the beer. A merging of spices lingers in the air, uninhibited, but balanced against the malt and fresh pumpkin. This very versatile beer merges well with a variety of dishes, and Mark Newman of Old Chicago is proud to show just how versatile 4 Foodies Pumpkin Ale can be.

Whether paired with a cider poached apple and walnut salad with honey leek yogurt dressing; gruyere cheese, peppered bacon and mushroom soup; or pumpkin spice cake with rum raisin caramel sauce, this pumpkin ale sings on the palate.

But don't stop there. Hundreds of great Pumpkin Ales are crafted to fit your tastes, so don't surrender until you find the one that sends shivers to your toes.

More Not-to-Miss Pumpkin Ales

Pumking – Southern Tier Brewing Company, Lakewood, New York at 8.6% ABV

Oak Aged Pumking – Southern Tier Brewing Company, Lakewood, New York at 8.6% ABV

Post Road Pumpkin Ale – Brooklyn Brewing Company, Brooklyn, New York at 5% ABV

New Holland Ichabod Ale – New Holland Brewing Company, Holland, Michigan at 5.5% ABV

Night Owl Pumpkin Ale – Elysian Brewing Company, Seattle, Washington at 6.10% ABV

Samuel Adams Harvest Pumpkin Ale – Boston Beer Company, Boston, Massachusetts at 5% ABV

Blue Moon Harvest Moon Pumpkin Ale – Blue Moon (Coors) Brewing Company, Denver, Colorado at 5.7% ABV

The Bruery / Elysian / Stone La Citrueille Celeste De Citracado – Stone Brewing Company, Escondido, California at 5% ABV

La Parcela – Jolly Pumpkin Artisan Ales, Dexter, Michigan at 6% ABV

Punk'n Harvest Pumpkin Ale – Uinta Brewing Company, Salt Lake City, Utah at 4% ABV

Good Gourd Imperial Pumpkin Ale – Cigar City Brewing, Tampa, Florida at 8.5% ABV

Pumpkin Ale – Williamsburg AleWerks, Williamsburg, Virginia at 8% ABV

Many others, available in all regions of the country, need to be explored. This brief sampling is here to pique your desire to find your own bit of pumpkin heaven.

Cheers!

How about your own home-made Pumpkin Pie to pair with your pumpkin beer:
Good Cook 9 Inch Ceramic Pie Plate, Red


Speaking of yummy pairings:
Pumpkin Spice Malted Milk Balls (1 Pound Bag)
You Should Also Read:
Fruity Esters in Beer
Ales and Tales and Halloween Spirits
Beer at West Laurel Hill Cemetery


Related Articles
Editor's Picks Articles
Top Ten Articles
Previous Features
Site Map





Content copyright © 2022 by Carolyn Smagalski. All rights reserved.
This content was written by Carolyn Smagalski. If you wish to use this content in any manner, you need written permission. Contact Carolyn Smagalski for details.