Parents Need to Teach Animal Awareness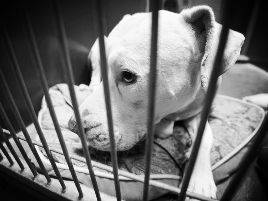 It seems there is a need to examine the displacement of blame where animal attacks and children are concerned. Let's get straight to the heart of the matter, as it is a repetitious theme throughout this article. It does not matter how busy, stressful, or hectic parents believe their lives to be. The
first
rule of survival: Teach children
Stranger Danger
, and start those lessons with animals – whether the household has family pets or not.
So, why is
Stranger Danger
the first rule of safety and survival? Very simply, we need to teach the human animal how to avoid being eaten by other animals before they can properly defend themselves. What this means is that it is essential for adults to remember that they are part of an animal food chain and their children are the most vulnerable. This is not to suggest that everybody should walk the Earth fearing animals. Rather, it is to the contrary.
Stranger Danger
teaches children the importance of respecting animals, nature, and life cycles. It is also an effective tool on teaching children how to use caution around persons unknown.
The absence or inadequate tutelage of
Stranger Danger
brings with it scores of unwanted media attention that turns these animal attacks into social fodder for a bump in ratings, rather than an opportunity to raise social awareness of
Stranger Danger
. What is most shocking, the animals involved in these circumstances receive villainous labels, while people receive the empathy of a victim. Even though more frequently than not, human actions initiate the attacks. Still, as a society, people expect other members to react with great venom and demand the law intervene with an order of euthanasia. Granted, there are always going to be exceptions to the rule. However, that is the point – unprovoked animal attacks are the exception and not the norm. Yet, news report after news report prattles on about the muster of pet owners, dangerous breeds, and perpetuates mass fear. While reporting nothing whatsoever about the importance of teaching
Stranger Danger
. The popularity of these "unprovoked random animal tacks" (most notably with dogs) in the media is generating a hazardous social polarization of "pro animal" or "pro people." Both of these outlooks are inaccurate, as they are both incomplete perspectives.
Pet owners do have social accountability. However, when the owners are responsible, loving, and take the necessary precautions of fencing off their yard and still face losing their dog, society is setting up unrealistic social expectations. As an example, it is not within reason to expect a pet owner to anticipate a neighborhood child randomly entering their fenced off area. Then, somehow glean that the child will deliberately walk over to their dog, which is outside enjoying the day and minding its own business, only to have the child incite a confrontation by aggressively attempting to shake the dog's bone from its mouth. The pet owners did everything correctly. Yet, people are shocked that a child was attacked. Hence, the dog, the breed, and the owners are improperly stereotyped and the dog is hauled away from a loving home, simply for enjoying his bone outside by his doghouse.
What is within reason is to expect parents to make ongoing time to teach
Stranger Danger
. The survival of children does not fall to the babysitter, the teacher, the police officer, or the pet owner. It falls to the parents. It is a sad commentary of our time when a community believes it is more appropriate to punish an animal that did not cause deliberate harm than it is to question why on Earth any child would walk up to a strange dog, in a strange yard, with the desire to pick a fight over a bone. Yet, there remains one spine tingling comment made by neighbors, in the above example, which sums up how people choose to view animal attacks. "What if that were my child? What about all those medical bills?" So, let's process this. Somehow, the pet owner who takes proper precautions, but lacks significant psychic abilities to see into the future is the party that should pay! Really, it is not bad enough that their eclectic family has been torn apart. Society actually expects them to carry the financial burden. The mentality of "the animal is always guilty" sets an unrealistic bar for responsible pet ownership and frankly gives license for lazy parenting. From the clarity that common sense holds, this keeps coming right back around to had the child been taught to obey the rules of
Stranger Danger
this "unprovoked attack" would have been completely avoided. The dog would still be in his backyard enjoying the day and his bone; rather than sitting in a kill facility awaiting a judge's ruling.
This is Deb Duxbury, for Animal Life, reminding you to please spay or neuter your pet.
You Should Also Read:
Do Animals Have Emotions?
Decoding Animal Languages


Related Articles
Editor's Picks Articles
Top Ten Articles
Previous Features
Site Map



Follow @WildlifeWelfare
Tweet





Content copyright © 2022 by Deb Duxbury. All rights reserved.
This content was written by Deb Duxbury. If you wish to use this content in any manner, you need written permission. Contact Deb Duxbury for details.