While perusing favorite author
Patricia Cornwell's official website
, I found a news byte in which she was interviewed by Parade.com. It included her favorite picnic recipe for a wild rice salad with cashews. I made the salad and it was delicious; however, as most foodies do, I changed it a little to suit my and my family's tastes. My recipe is quicker and easier to prepare as well as crunchier with more fresh veggies and a little less fat.
Almost, But Not Quite, Patricia Cornwell's Wild Rice Cashew Salad
can be made several days ahead, and is perfect to take to a pot-luck gathering or to serve at an outdoor get-together. It's also perfect for Christmas and other holiday parties, since it has flecks of red and green, and will look festive on a holiday buffet.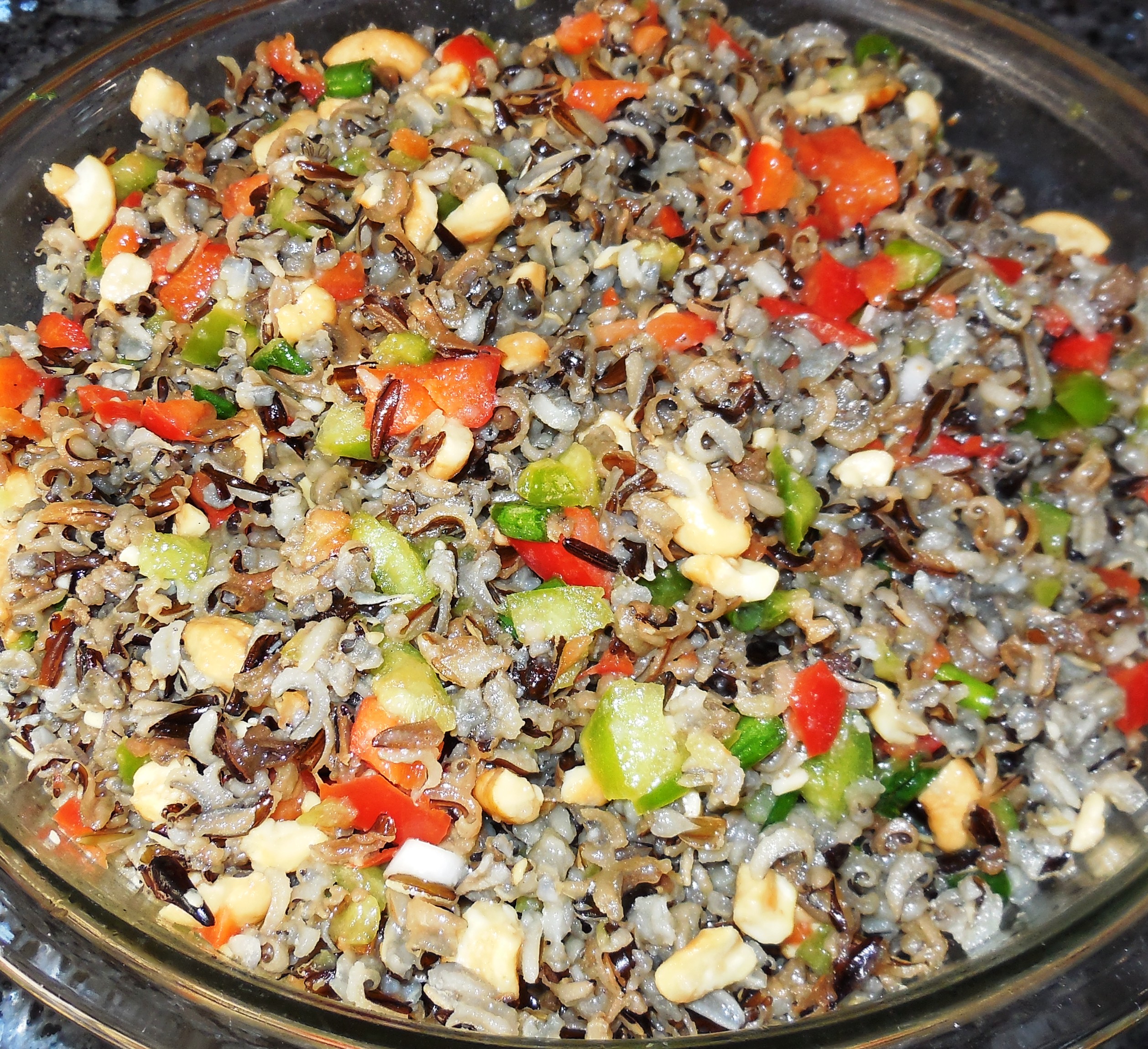 The
actual article with Patricia Cornwell's original recipe
is a fun, short read; she was recently named the second most successful crime writer (just barely behind David Baldacci) by the
Daily Mail
, a popular British newspaper, with good reason – her suspense-thriller books are incredible - perfect, in fact, to read while eating this yummy salad.
12 Servings
1 cup wild rice, (2 4-ounce packages)
4 1/2 cups chicken broth, or 4 bouillon cubes dissolved in 4 1/2 cups water
1 cup coarsely chopped cashews
1 large red bell pepper, chopped
1 large green bell pepper, chopped
4 green onions, sliced
Dressing:
3 tablespoons rice vinegar
2 tablespoons olive oil
1 tablespoon Oriental sesame oil
1 clove garlic, minced
1/2 teaspoon salt
1/4 teaspoon freshly ground black pepper
Place the wild rice in a fine strainer and rinse under cold water, drain well, and transfer to a rice cooker.
Add the chicken broth and start the rice cooker.
Alternately, if a rice cooker isn't available, bring the chicken broth to a boil in a saucepan and stir in the rice; when the mixture boils again, cover the pan, turn the heat to low, and let cook 40-45 minutes or until most of the liquid has been absorbed and the rice is tender.
Whichever method is used, transfer the cooked rice to a colander and drain off any excess liquid, then place in a large bowl.
Meanwhile, spread the cashews on a microwave-safe plate; microwave in 1 minute increments, stirring after each, until the nuts smell good and are lightly toasted (They won't turn as brown as when toasting in the oven); set aside to cool.
When the rice is room temperature, stir in the fresh vegetables and toss with the dressing.
If making ahead, cover and refrigerate two hours or up to 3 days; if serving within four hours, stir in the cashews before refrigerating; otherwise, stir in the cashews just before serving.
Dressing: Place all ingredients in the blender or MagicBullet; blend until well mixed. If no blender is available, whisk the ingredients together.


Amount Per Serving
Calories 165 Calories from Fat 86
Percent Total Calories From: Fat 52% Protein 11% Carb. 37%

Nutrient Amount per Serving
Total Fat 10 g
Saturated Fat 2 g
Cholesterol 0 mg
Sodium 647 mg
Total Carbohydrate 15 g
Dietary Fiber 0 g
Sugars 0 g
Protein 4 g

Vitamin A 26% Vitamin C 71% Calcium 0% Iron 5%