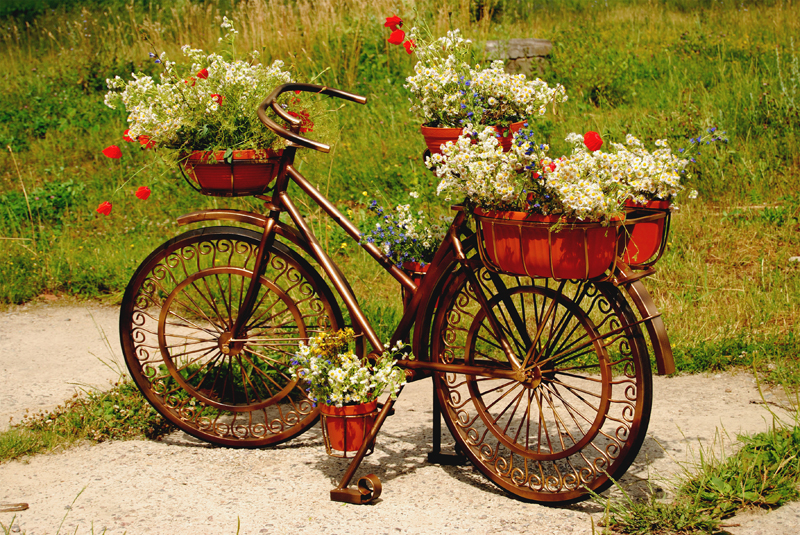 Wood is an excellent material for container gardens because it lets the plant roots breathe and it is relatively light weight. You can also make your own containers to whatever size you like. The wood will deteriorate after several years, however, so wooden planters are best used for shorter lived plants rather than trees or shrubs which you will keep planted for many years. Making your planter from redwood or cedar will make it longer lived, as these woods resist insects and wood rot.

Here are instructions for making a 12 x 12 x 12 inch planter. It can be easily modified to make whatever size planter you like: some suggestions for making larger or smaller planters are included at the end of this article.

Necessary tools:
Wood saw (hand or power)
note – some hardware/lumber stores will cut wood for you for a small fee
Hammer
Drill and 1/2" to 3/4" drill bit

Helpful tools:
T or L square (for making sure your corners are square and sides straight)
Miter box (for making straight cuts)
Workbench with vise or clamp (to hold wood as you cut or join together)

Materials:
20 or more nails, 2" to 2 1/2" long (6d to 8d size)
8 or more nails, 1 1/2" long (4d size)
50 or more finishing nails
4 feet of redwood or cedar 2x2" board, cut to about 10.5" long (see Making the Base, below)
(note, these 2x2 will actually be about 1.5 x 1.5, as the wood is cut to 2x2 and then finished so that it is smooth)
8 1/2 feet of redwood or cedar 1x2" board (actually about 1/2" x 1 1/2"), four cut into 12" long sections, four cut 13" long
4 feet of redwood or cedar 1x1" board (about 1/2 x 1/2") cut to 12" lengths
10 feet of redwood or cedar fence board, 6" wide, cut into ten 12" long sections

Making the Base
Measure the width of your 2x2 board. Cut four lengths, each 12" minus the width. For example, if your board is 1 1/2" wide, cut four lengths 10 1/2" long.

Lay out your four pieces so they form a 12" square, with one end of each length overlapping the next going around the square.

Nail the square together, using one 2" or 2 1/2" nail at each corner, going through the overlapping section into the board next to it.

Making the Bottom
Cut two 12" long sections of the fence board for the bottom of the planter. If the fence boards have the corners cut off the tops, you can use these pieces for the bottom since they won't show and they'll be supported by the base.

Lay these fence board sections over the base, matching up edges and corners. Use 8 of the 1 ½ inch nails to attach to the base, four for each board (two along the edge and one at each end). Note: you can use more nails if you like for a more secure fit.

Drill five 1/2" to 3/4" holes for drainage, one in the center and one near each corner.

Making the Sides
Place a 12" fence board section on one edge of the base, even with the bottom and corner, to form the start of one of the four sides of your planter. Place one of the 12" 1x2 sections on top of it at the base, and nail through both boards to the base board using a 2" nail about 1" from the corner. Now hammer a second 2" nail through both boards to the base about 1" from the other edge of the fence board. Place a second fence board next to the first (and between the base and the 1x2) and hammer through both boards to the base in two places 1" from either edge, just like the first.

Turn over, and on the opposite side nail in two more fence boards to the base with a 12" 1x2 section on top, using the 2" nails.

For the remaining two sides in between, hammer together as the first two but using the 13" long 1x2 sections, overlapping with the first two at the corners. Use finishing nails at the corners to secure the 1x2 to each other for a tight fit.

Finishing the Top
Using two of the 12" long 1x2 boards, nail them along the top outside edge of the fence boards using the finishing nails, above where you used the 12" long boards along the base. Nail the remaining 13" long 1x2 boards on the opposite outside edges, overlapping the corners. Use finishing nails at the corners to nail the 1x2 to each other, making a strong corner and a more finished look.
Note: placing a 2x4 or 4x4, a tool box, or something else substantial against the edge inside the container will make hammering the top and corners much easier.

Place one 1x1 section inside each corner for additional strength. Hammer at least two finishing nails per each side of the corners through from the outside into the 1x1, about 3" from the top and bottom.


Decorations
You can paint or oil your planter box on the outside for a more finished look. Decorate it with rope or macramé cord tied around it, or add wooden cut-outs or flower decals available from craft stores. Experiment and make the container uniquely yours.

To Make a Different Size Planter Box
The same basic design can be used for smaller or larger planters.
For a small planter you can use 1x1 boards for the base and ½ x 1 for the edge boards, using smaller and shorter nails.
For a really large planter use 2x4 or 4x4 for your base boards and 2x4 for your edge boards, with 2x2 reinforcing the inside of your corners. You may want to use boards thicker than fence boards for your sides, or reinforce the sides with additional 2x4 in the middle and at the corners.
................................................................................

CASUAL VISITOR … and just browsing? Why not sign up to the Container Garden newsletter? It won't matter what space or how many pots you have or even how much time you have to spend in your container garden; what will matter is that you get our reminders and good advice and ideas all in one interesting article.


You Should Also Read:
Starting a Container Vegetable Garden
Specialized Potting Soil recipes


Related Articles
Editor's Picks Articles
Top Ten Articles
Previous Features
Site Map





Content copyright © 2022 by Jessica Carson. All rights reserved.
This content was written by Jessica Carson. If you wish to use this content in any manner, you need written permission. Contact Lestie Mulholland for details.