Start Vegetable Containers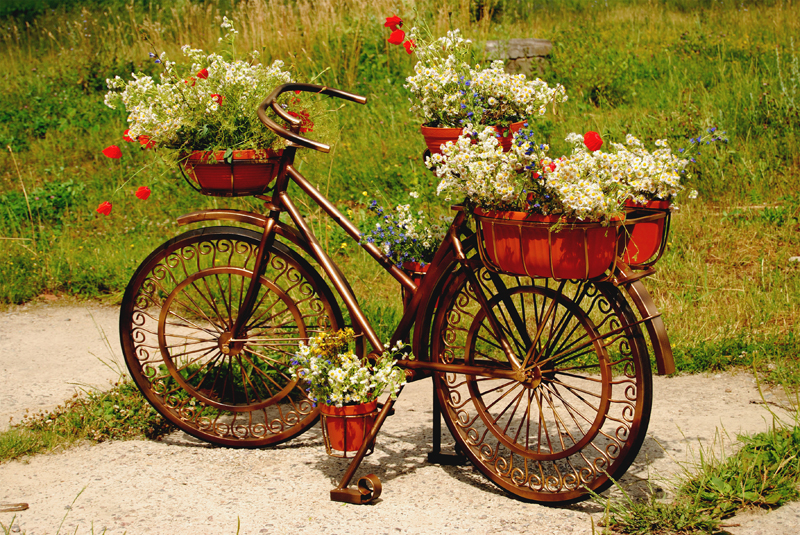 There's nothing like taking that first warm, sweet, juicy bite of the tomato you grew yourself and just picked from the vine, or the cool tang of the cucumber you just sliced - the cool fresh aroma making the hot summer day feel Oh So Fresh. Can't do it, you say? Well, if you have even a small deck or porch that gets some direct sun every day then yes, you can!

Container vegetable gardening is really very simple. Though it does take some discipline (regular watering and watching for pests are a must) it is much easier than most people think. Below I outline for you the basic steps it takes to get started. In future articles I'll be giving you the step-by step simple instructions you'll need throughout the season to make your garden the success you've always wanted.

1. First, what do you want to grow?
Some of the easiest first-time container vegetables/fruits are tomatoes and cucumbers. These are hardy and climb well on a trellis or in a cage and so they take up little space. Others that do well are squash (especially zucchini), peppers, beans (I love growing pole beans up a trellis), and snap peas. Don't go too wild your first season as you'll need to care for the plants regularly. It's good to start out small then expand your garden as your knowledge and experience grows.

2. What do you have to grow your garden in?
Virtually any large container will do, plastic or fiberglass pots from a garden store, large wooden boxes, old wine barrels, or even garbage cans - it doesn't have to be anything fancy. But it does need to be large enough that the plant roots won't be too cramped. If the container is too small the plants will be cramped and the harvest small. A 16" - 20" pot for a full-sized tomato plant is ideal, and also good for 3 or 4 cucumber vines. A good guideline is to think of the size of the full-grown plant and use a pot at least 1/2 the height and 1/2 the width that the plant(s) will reach.

3. Soil preparation.
This is probably your most important decision - growing plants in containers requires good quality soil. I have found the best choice is a packaged potting mix from the local garden supply or hardware store. You can go organic or with one of the pre-fertilized brands, either will work well. Note that a mix with vermiculite or something similar for holding moisture is a real plus when gardening in containers.

Make sure there is a drain hole in the bottom of your container and add an inch or two of rock or broken pottery around the hole to ensure drainage.

Fill the pot most of the way (to within 1" of the top if you'll be planting seeds) and pack it down until it is firm.

4. Seeds or seedlings?
If you want to grow something exotic then starting from seeds will be your best choice. But if you want to grow a common type of plant then buying seedlings in six-packs or 4" pots from your local nursery will give you a jump-start. Just make sure the seedings aren't too 'root-bound'. Look for a plant which has a strong stem, nice green leaves, and few, if any, roots coming out the bottom of the pot.

5. Planting
Plant your seeds or seedlings in your pot with your prepared soil.

If you are planting seeds then follow the directions on the package for depth of seed placement. You can usually place your plants much closer together than recomended on the package. For example, for pole beans I plant them just inside the rim of a 24 inch pot, spaced every 2 or 3 inches. Then I train them up a conical trellis made of bamboo stakes in the middle of the pot.

If you are planting seedlings, carefully remove from the pot and plant in your soil, making the top of your container soil even with the soil level of the young plant. One exception to this rule is tomatoes - they love to be planted deep and will actually grow new roots from the main stem that is planted underground.

Water in your newly planted seeds or seedlings, making sure the soil is well moistened all the way through and settled around the plants with no air pockets.

6. Care
Check your plants daily for dryness. If the soil is dry below 1 inch in depth then water well (I water until I see water seeping out the bottom of the pot). Make sure your pots have good drainage, however - your plants won't want to be waterlogged!

Check regularly for discolored leaves, holes in leaves, curling leaves, or other signs of pests or disease. Growing a container vegetable garden is much less prone to these than growing in the ground, but you still need to watch for them.

................................................................................

CASUAL VISITOR … and just browsing? Why not sign up to the Container Garden newsletter? It won't matter what space or how many pots you have or even how much time you have to spend in your container garden; what will matter is that you get our reminders and good advice and ideas all in one interesting article.

You Should Also Read:
Caring for your Vegetable Container Garden
Specialized Potting Soil Recipes


Related Articles
Editor's Picks Articles
Top Ten Articles
Previous Features
Site Map





Content copyright © 2023 by Jessica Carson. All rights reserved.
This content was written by Jessica Carson. If you wish to use this content in any manner, you need written permission. Contact Lestie Mulholland for details.