Saison de Rose - Erin Wallace on the Personal Side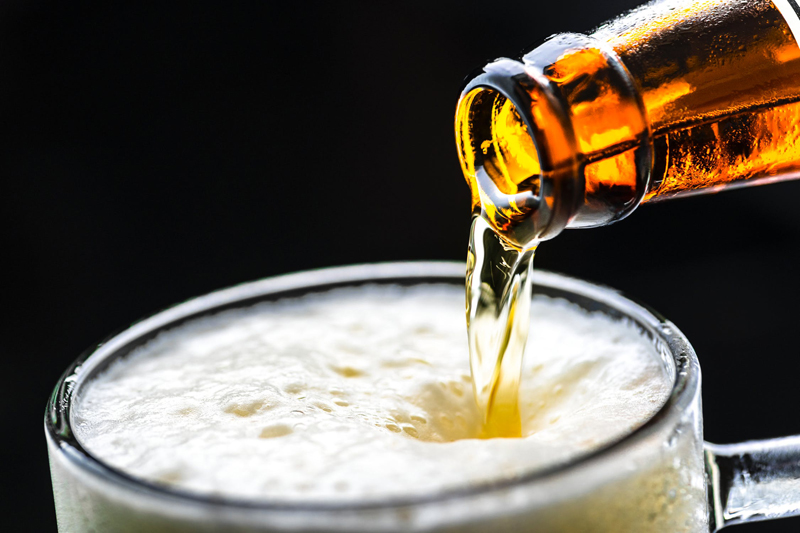 When you hear the words Saison de Rose, what do you think of? Its meaning, "Season of Pink," is multi-faceted, much like the Hope Diamond – and in this case, it symbolizes hope for the return to a normal life.

Saison de Rose Collaboration Beer was created in honor of the many women – and a limited number of men – who are challenged with breast cancer. Erin Wallace is the catalyst behind the beer – a woman whose brain never seems to rest. This beer, designed by Erin and three beer mavens in the Philadelphia region, is crafted by Free Will Brewing Company in the heart of the Philly suburbs.

Brewed with traditional saison malts and yeast, pink grapefruit, and Asian ginger, it is lightly finished with pink and black peppercorns to wake up the palate. Dosed with Hibiscus flowers, the beer is vibrantly pink – an effervescent quencher beneath a head of fluffy white foam. At 5% ABV, it satisfies a thirst, while merging well with spicy, light, or creamy foods.

We asked Erin Wallace to fill us in on some of the details that drove this beer to market:

Q. Did each of you play a particular role? What part did you have in this project?

A. I guess I was the one who got the ball rolling. The general idea of the project – to brew a beer for the Rena Rowan Breast Center - was mine, but I love that we were able to get a group together to hear and see everyone's take and perspective.

I never actually considered the pink fruits that we chose for the beers. I would have most likely gone with the obvious cherries, raspberries, etc. I love that we took a different approach. But I think I'm more of the event-planner of the group. My thoughts as the bar owner have been around how to promote the beer once it's at the bars and how to market the beer to the bar owners, and ultimately the beer drinkers. I have to say I really wasn't helpful when it came to naming the beer.

Q. Did you field-test batches to any of your patrons?

A. Yes. We were able to get a few growlers of two different batches of the beer, and handed out samples to the staff and some customers at both the Den and the Eagle. It was very interesting to see the difference in tastes.

Batch 1 had less ginger and was nicely carbonated, with a really crisp and dry finish. In Batch 2, the ginger was more present, but needed a bit more carbonation.

At the Den, Batch 2 was the overall favorite, with samples going to both men and women. Chef and one customer preferred Batch 1, but Chef's more of an English style beer fan.

At the Eagle, Batch 1 was the overall favorite. Samples went out to more men - there weren't too many women in the bar that night. Our staff and the women drinking preferred batch 2.

Q. How was it, working with this group of people? Was it as good as you anticipated?


A. This was great for me. This really gave me a chance to work with a group of people that I didn't really know that well but that I respected. Usually you end up collaborating and working with people you have known for awhile and who you have worked with in the past.

As I stated earlier - Dave Wood and I have known each other for a while. He lived in Manayunk with his now wife, they were regulars at the Old Eagle, and he was a member of the YTM Homebrew Club, which I sponsor. Dominic & John, I have known over the past year or so. We met two Philly Beer Weeks ago, but got to know each other better though planning and running Free Will events at my bars.

Carolyn, you and I have known each other over the years due to the bars and Philly Beer Geek. Tara and Marnie, I've just meet this past Philly Beer Week - by the way, Philly Beer Week is a terrific way of meeting people - but I have read their writing, and respect and admire their work. So it was really great for me to get to work with and get to know a group of amazing people.

Q. How does it feel being a woman involved in this project?

It feels terrific being a part of this project. I think it would feel the same even if I wasn't a woman. I'm happy that I can help a great cause out and give back to the community and city that is my home.

Q. Have you ever been affected by Breast Cancer, either personally or peripherally?

A. My aunt passed away from Breast Cancer when I was young. And I have met many breast cancer survivors over the years of working in the business. When I was in college - I went to Moore College of Art & Design - one of my classmates was a breast cancer survivor. She had had a mastectomy and I helped her make a plaster mold of her chest for her to cast. It was a very eye opening and emotional class for a group of us.

Cheers!

Additional donations are encouraged through the Rena Rowan Breast Center website. When making donations by check, write "saison de rose" in the memo field on the check; online, type "saison de rose" in the "In Honor of" box.


You Should Also Read:
Saison de Rose - Dominic Capece Builds the Guts
Saison De Rose - Counting Down with Tara Nurin
Saison de Rose - David Wood Intercepts the Pass


Related Articles
Editor's Picks Articles
Top Ten Articles
Previous Features
Site Map





Content copyright © 2022 by Carolyn Smagalski. All rights reserved.
This content was written by Carolyn Smagalski. If you wish to use this content in any manner, you need written permission. Contact Carolyn Smagalski for details.