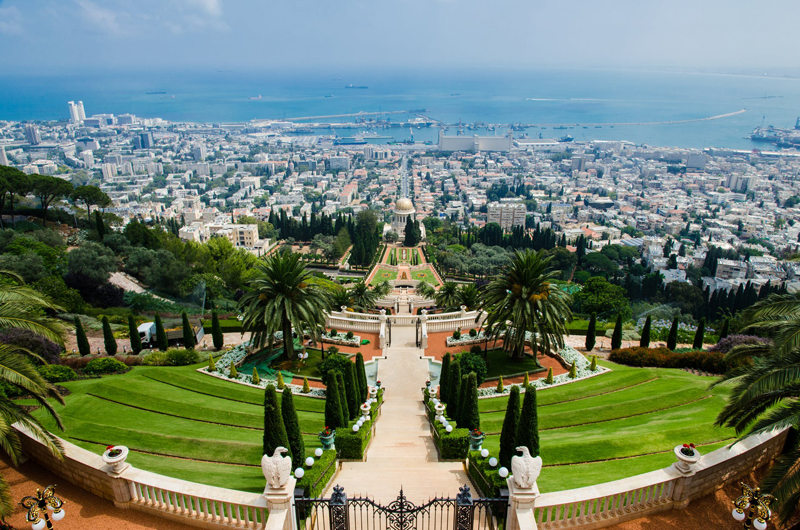 Bahá'ís believe they have a plan that can change the world, and will eventually build God's Kingdom on Earth. It is evolutionary, rather than revolutionary, because the Bahá'í Faith teaches that true change begins with the individual believer transforming his or her own self--not in changing others. Holding on to that belief is the challenge.

Of course, faith in positive outcomes is what has always allowed religion to facilitate human progress. Believers respond to resistance by working harder and sometimes even sacrificing their lives . Where does their support come from; what keeps them going in the face of such huge obstacles?

"Take ye good heed lest this calamitous day slacken the flames of your ardour, and quench your tender hopes. Today is the day for steadfastness and constancy. Blessed are they that stand firm and immovable as the rock and brave the storm and stress of this tempestuous hour. They, verily, shall be the recipients of God's grace; they, verily, shall receive His divine assistance, and shall be truly victorious. They shall shine amidst mankind with a radiance..." - Selections from the Writings of 'Abdu'l-Bahá, p. 17

But, here's my problem: daily stresses accumulate with age. I have way less energy to be patient with others, or my own shortcomings. News media do not help, with their steady stream of negativity and reports of disasters and stupid human behaviors around the world. When I'm tired, it is much easier to be grumpy!

How do people maintain the faith that fuels persistence? Losing faith and assurance can leave the soul overwhelmed by desires and passions, and prevent feeling the love of God, according to 'Abdu'l-Bahá, in Some Answered Questions, p. 130. Not feeling loved or loveable equals depression!

Religion has always promised rewards for the faithful, but sometimes only hindsight reveals them, in my experience. Also, I need to remember that, "Such a reward, it should be noted, is not to be regarded as purely an abstract blessing confined to the future life, but also as a tangible benefit which such courage, faith and perseverance can alone confer in this material world." - Developing Distinctive Bahá'í Communities

Instructions I can use towards being the change I want to see in the world: "Thou must exert much effort and show forth perseverance and constancy that, God willing, through the reviving breaths of His mercy, souls may be so educated as to become like radiant candles shining in the assemblage of divine knowledge and understanding. This matter is highly important. It is binding on every one and must be regarded as an obligation...." - The Compilation of Compilations vol. I, p. 194

So, it is an obligation to work on developing my character, instead of arguing with others, or complaining about what they are doing. Some days, it will take a hefty chunk of faith to achieve that! Bahá'u'lláh, Prophet/Founder of the Bahá'í Faith, instructs His followers, "Be ye the embodiments of such steadfastness amidst mankind that ye will not be kept back from God by the doubts of those who disbelieved..." - The Kitáb-i-Aqdas (The Book of Laws), p. 67

In the end, though, I really have to rely upon divine assistance most days. "And furthermore, perseverance in prayer will give you the strength to continue your efforts." - Lights of Guidance, p. 220

I like this prayer asking help for me: "Glorified art Thou, O Lord my God! ...I entreat Thee to enable me to cleave steadfastly in Thy love and Thy remembrance. This is, verily, within my power, and Thou art the One that knoweth all that is in me. Thou, in truth, art knowing, apprised of all. Deprive me not, O my Lord....No God is there beside Thee, the Most Powerful, the All-Glorious, the Ever-Forgiving." - Bahá'u'lláh, Baha'i Prayers, p. 162

And this one asking assistance for everyone else: "O Lord my God! Assist Thy loved ones to be firm in Thy Faith, to walk in Thy ways, to be steadfast in Thy Cause. Give them Thy grace to withstand the onslaught of self and passion, to follow the light of divine guidance. Thou art the Powerful, the Gracious, the Self-Subsisting, the Bestower, the Compassionate, the Almighty, the All-Bountiful." - 'Abdu'l-Bahá, Baha'i Prayers, p. 165
You Should Also Read:
What is Faith?
How Faith Will Change the World
Finding Joy


Related Articles
Editor's Picks Articles
Top Ten Articles
Previous Features
Site Map





Content copyright © 2023 by Cheryll Schuette. All rights reserved.
This content was written by Cheryll Schuette. If you wish to use this content in any manner, you need written permission. Contact Cheryll Schuette for details.