New Guidelines for Gluten Free Beer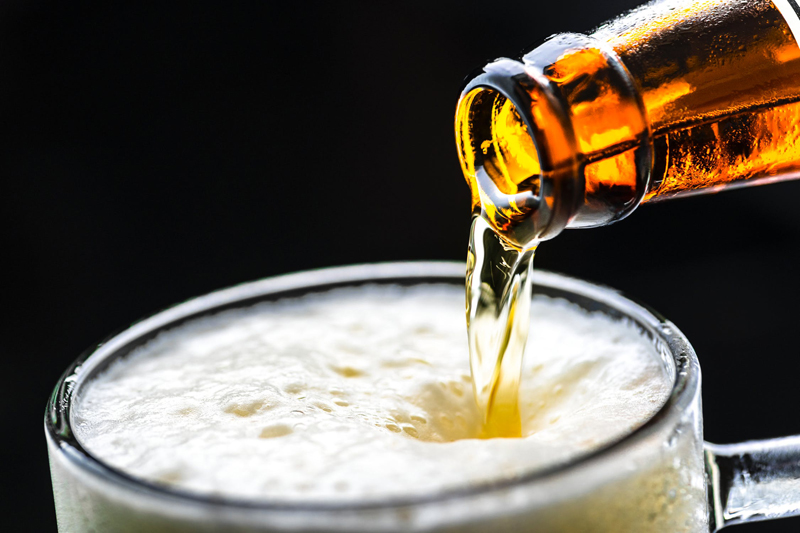 In 2002, Kevin Seplowitz and Craig Belser, both diagnosed Celiacs, began serious experimentation to develop a line of beer using gluten free ingredients. As Bard's Tale Beer Company, they developed a tasty American lager using 100% malted sorghum. Originally called Dragon's Gold, Bard's Beer has become their iconic brand, distributed in 45 U.S. states, Washington D.C., nine Canadian provinces, and Costa Rica.

Russ and Jim Klisch of Lakefront Brewery in Milwaukee crafted the first "official" Gluten Free "beer" in the country, a major milestone in cutting the red-tape surrounding the definition of beer. They called it New Grist, but it could not be called "gluten free" at the time, because government guidelines had not yet been established on standards for detection of gluten in foods.

In December, 2006, Anheuser-Busch came to market with Redbridge, "beer made from sorghum, without barley or wheat," as the label read. A-B's development team, following meticulously designed market research, arrived at a formula using sorghum and corn, generously hopped with Imported Hallertau and Cascade hops.

In those early days, the gluten free market in other countries was slightly ahead of the USA, with major beers being made by Green's in England, Billabong and O'Brien in Australia, Glutaner in the Netherlands, and BiAglut of Heineken in Italy, along with those experimenting on de-glutenization techniques in Germany and Finland.

In recent years, the market in North America has become quite robust, and it is possible to find gluten free beer in nearly every region. In addition, there are several small craft breweries dedicated to gluten free beer, including Brasseurs Sans Gluten in Montreal, Quebec; New Planet in Boulder, Colorado; Harvester Brewery in Oregon, and the soon to open Burning Brothers Brewing in St. Paul, MN. The Craft Brew Alliance operates Omission Brewing Company which crafts gluten reduced beer using de-glutenizing methods from traditional ingredients.


You can look for GF beers from Deschutes in Bend, OR; Five Season's Westside in Atlanta, GA; Joseph James Brewing in Henderson, NV; Dock Street Beer in Philadelphia, PA; Minhas Craft Brewery in Monroe, WI; Steadfast Beer Co in Albany, NY; Sprecher Brewing in Glendale, WI; and on it goes.

In August 2013, the FDA finally implemented standards to define "gluten free." Other nations had established their own interpretation of the standards much earlier. In Europe, the Codex Commission of the Codex Alimentarius had established gluten-free labeling standards in 1998, revised them in 2000, and updated them in 2008. FSANZ, Food Standards Australia and New Zealand, did have a definition, but did not stipulate a testing standard. Now that the line has been drawn in the sand, we will no doubt see an expansion of gluten-free products in the marketplace – and that includes gluten free beer.

De-glutenized beers, such as those made by Omission Brewing Company, still cannot be called gluten free, even if they test below the 20ppm level as set by the FDA. This is because "testing methods on fermented beverages are not conclusive, so they will not allow beers with barley to be called gluten free," says Peter Archer of New Planet Beer Company. "Until the TTB-ruling body for alcohol changes the ruling from 2012, only beers brewed with non-gluten containing grains can qualify as gluten free," he adds. For those celiacs who have a very high sensitivity to gluten, they must be aware of products which have some level of gluten in them versus those that are zero-tolerance beers, and make the effort to purchase only those Gluten Free beers that keep them healthy.

Brewers initially tried to focus on creating gluten free beers from sorghum, using different methods of heating, enzymes, or processes, but an unpleasant harshness still lingered. From there, they expanded their methodology, blending different gluten-free grains – sorghum with rice or corn, quinoa, teff, buckwheat, flax and millet. Some brew with Brett and other wild yeasts, or add fruit during fermentation. Many brewmasters have discovered the luscious flavors that can be developed with chestnuts. Italian brewers have used chestnuts in beer for many years, and several GF American brewers have embraced the practice.


Marketing is becoming easier with the raised level of awareness in the general population. Grocery stores have entire aisles dedicated to GF products, and the taboo is disappearing. And, of course, with the recent definition of "gluten free," labels will be allowed to carry the designation like a badge of honor.

As noted earlier, A-B InBev came out with Redbridge in 2006, when they were still Anheuser-Busch, in an effort to create a gluten free beer for a defined, but small, market. That said, the super-sized brewing companies still view the GF market as a limited market. The primary goals of the mega-brewers are to focus on big numbers, gain market share, and develop markets that have huge growth potential. Brewing Gluten Free beer falls into its own category of serving a niche market in an effort to be socially responsible, and not one of great profitability for mega-corporations. Therefore, most breweries who do brew gluten free beer are craft brewers - that is, small, independent and traditional.

Although some people have picked-up the gluten free lifestyle to be stylish, eating gluten free for the Celiac has nothing to do with being trendy. It is a necessity. The awareness of Celiac Disease in this country has been growing, along with the ability to detect and diagnose the condition. On average, it still takes 10 years for a Celiac to be diagnosed. In the meantime, many of the undiagnosed endure unexplained anemia and hair loss, tooth enamel defect, abdominal bloating, stomach cramps, chronic diarrhea, headaches, and infertility in the early stages. This can develop into osteoporosis, muscle wasting, depression, dermatitis herpetiformis, and adenocarcinoma of the small intestine.

Since each state is given jurisdiction over how they handle alcohol, it is unlikely that you will find a dedicated, gluten free beer-section in most supermarkets in the near future. What I do think should happen is that GF beer can be sold in the GF aisles along with other GF foods, protected in the coolers that serve those aisles. In fact, beer, in general, should be made available for purchase in all supermarkets, as the healthy drink it is.

There is still much uncharted territory in the development of Gluten Free beer. The medical community has been able to determine the symptoms of Celiac Disease, tests for its diagnosis, the protein fractions in foods that must be avoided by the Celiac, and what foods are free of toxic gluten proteins; but mysteries still remain.

A clear understanding of why the proteins in gluten-rich foods do damage to the Celiac remains unknown. We appreciate the diversity that "de-glutenized" - or technically, gluten-reduced - beers bring to the market, but it is important to distinguish between the two. As with coffee, there is a difference between de-caf (which has trace amounts of caffeine) and caffeine-free (zero, as in none). When using technology to alter the proteins in grains such as barley and wheat, questions remain about whether these proteins can re-fold and re-activate after processing or filtration. For highly sensitive celiacs, it is recommended that they practice zero tolerance. This includes purchasing beer from a brewery that is 100% dedicated to GF beers.

Cheers!

Get creative inthe way you complement your Gluten Free beer:
Coconut Milk Recipes, Paleo Coconut Oil & Flour Recipes. Low Carb Paleo, Allergy Free, Dairy Free and Gluten Free Recipes (Paleo Diet: Paleo Diet for Weight ... People - The Caveman Diet Food List Guide)


Serving in style:
Serving Cart with Black Glass Shelves in Chrome Metal Frame
You Should Also Read:
Celiacs Guide to Gluten Free Beer
Common Grains & Nuts for Brewing Gluten-Free Beer
Gluten Free Beer in Local Markets


Related Articles
Editor's Picks Articles
Top Ten Articles
Previous Features
Site Map





Content copyright © 2023 by Carolyn Smagalski. All rights reserved.
This content was written by Carolyn Smagalski. If you wish to use this content in any manner, you need written permission. Contact Carolyn Smagalski for details.