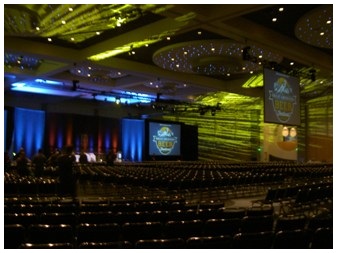 If you are as much of a Beer Geek as I am, you have a passion for statistics. Along with the renaissance of craft beer comes so many stats that you could make spreadsheets that would glut up a hard drive. But we love the numbers, crazy though it may be.

For the sake of brevity, I will only focus on the main parts for now, but keep checking in. I may be adding enough to satisfy your sweet tooth.

The first Great American Beer Festival (GABF) was held in 1982, featuring 22 breweries who poured 40 beers to a rousing crowd of 800 beer enthusiasts.

The 2013 GABF featured 624 breweries pouring 3,100 beers for 49,000 attendees.

GABF Commercial Beer Competition: 4,809 beers competed for gold, silver, and bronze medals, assessed by 201 international judges. There were 84 categories, plus the Pro-Am, in which 732 breweries competed from 48 U.S. states plus Washington, DC.

There were 142 volunteers on staff for the 2013 GABF, many with over 25 years of experience.

As of June 30, 2013, there are 2,538 breweries operating in the United States. Approximately 1,100 of these are brewpubs. The Brewpub Pavilion at the GABF featured 36 of these breweries, all of which were selected lottery-style.

Tickets for the 2013 GABF sold out in 20 minutes during the Public Sale.

The number of journalists attending the 2011 GABF were 250. In 2012, that number increased to 368, and in 2013, there were 460 media professionals attending the 32nd GABF.

Twenty-six companies were nominated for Distributor of the Year. First Place was awarded to De Crescente Distributing Company of Mechanicsville, New York.

83 Gold medals were awarded. There were 230 first-time entrants in the GABF competition in 2013.

For the first time in GABF history, a new award was presented for Great American Beer Bar. Julia Herz handed out the award to Mekong Restaurant of Richmond, Virginia.

The Pro-Am Competition featured 100 entries. The Gold medal winner was Poblano, crafted by Wayne Wambles of Cigar City Brewing of Tampa, Florida and AHA member Jeff Gladish.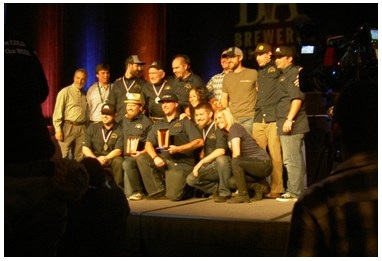 Colorado took the lead with 19 Gold medals, followed by California with 16. In Colorado, Left Hand Brewing led with three Golds, followed by Sandlot and Dry Dock – South Dock, each with two Golds. In California, Firestone Walker led with three Gold medals, followed by Figueroa Mountain Brewing Company – Buellton and Beechwood BBQ and Brewery, each with two.

Oregon won 10 Gold medals, led by Bend Brewing with two and Baker City Brewing – also with two. Of note: Harvester Brewing won Gold in the Gluten Free Beer Category.

Missouri won 4 Golds, led by Anheuser-Busch with two for their American Style Lager and Cream Ale.Virginia also won 4 Gold medals, led by Devil's Backbone with two. Texas won 4 Golds, with each winner tallying one medal.

Pennsylvania brought in three gold medals, with Trφegs showing as a consistent winner in past GABFs.

Georgia, Indiana, Massachusetts, New Mexico, Ohio, and Wisconsin all won two Gold medals.

States winning one Gold medal each were: Arizona, Delaware, Florida, Illinois, Kansas, Michigan, North Carolina, Nevada, New York, Utah, and Wyoming.

Categories with the largest number of entries in the competition:
American Style India Pale Ale – 255
Imperial India Pale Ale – 149
Herb and Spice Beer – 134
American Style Pale Ale – 124
American Style Strong Pale Ale – 120
French and Belgian Saison – 119
Wood and Barrel Aged Strong Beer – 117
Coffee Beer – 92
Field or Pumpkin Beer – 91
Categories with the smallest number of entries in the competition:
Gluten Free Beer – 14
Baltic Style Porter – 16
European Style Dunkel – 19
American Style Dark Lager – 22
German Style Schwarzbier – 26
English Style Summer Ale – 27
German Style Wheat Ale; Bock; Indigenous Beer – each with 28
Brewpub Awards went to Small, Mid-Sized, Large, and Brewpub Group and Brewer in brewpub category.

Brewery Awards went to Very Small, Small, Mid-Sized and Large Brewing Company and Brewer in the brewery category.

A complete list of winners can be viewed at the Great American Beer Festival website:

List of 2013 GABF winners

Cheers!

Photos are: (from top): The Mile High Ballroom at the Colorado Convention Center, site of the 2013 Great American Beer Festival Awards Ceremony; Firestone Walker team of award-winning brewers

If you don't have a good digital camera for your professional festival photos, you need to look for one that will suit your needs, while delivering clean, crisp shots:
Fujifilm FinePix S4200 Digital Camera


Take care of your feet at the festival:
New Balance Men's MX623 Cross-Training Shoe,White/Navy,10.5 2E US