Hyderabadi Chicken Biryani Recipe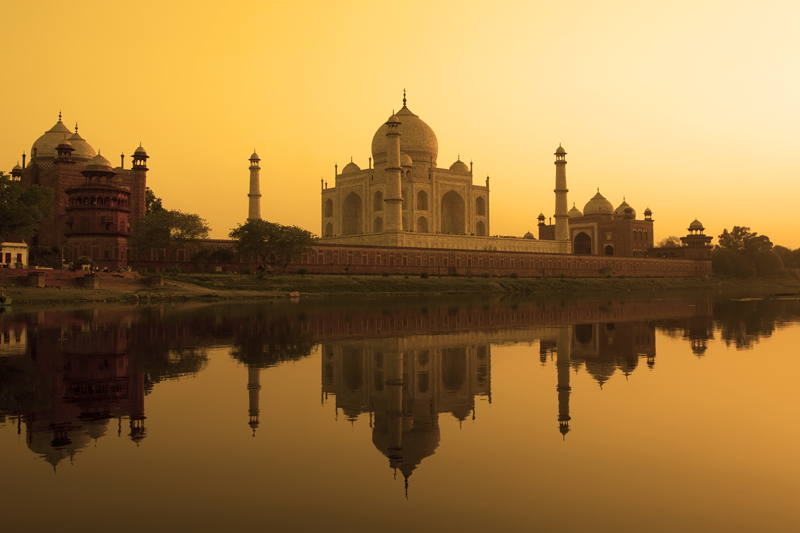 Hyderabadi Biryani is a world class recipe that originates from the famous South Indian city of Hyderabad, located in the state of Andhra Pradesh. Hyderabad was a former stronghold of the Nizams who were viceroys that ruled on behalf of the Mughal emperors of Northern India. This delicious recipe combines the aromatic spices from the south with the cooking techniques and methods from the north (Mughlai cuisine). Hyderabadi Biryani is a "must have dish" for special holidays & celebratory occasions. This dish wonderfully manages to represent Indian cuisine at its absolute finest & is usually applauded when served. Your guests will really appreciate all the love, hard work & effort that went into making this dish – they will actually taste it in every heavenly bite.
Traditionally, this dish was usually made using lamb or mutton (goat) but I have made it with chicken instead. Feel free to make this recipe with lamb if you prefer, just adjust the cooking times accordingly. Please don't let the lengthy ingredient list discourage you, this dish is completely worth every single yummy bite. You can also buy ready made Biryani Masala Powder at any Indian grocery store, it's a huge time saver. I highly recommend you read the recipe carefully in its entirety since it is slightly complex & there are several steps involved. Remember Hyderabadi Biryani is a dish fit for royalty ☺.
HYDERABADI CHICKEN BIRYANI
Ingredients:
1½ lbs bone-in, skinless chicken pieces, chicken thighs & legs work best (gently score each piece)
2 cups Basmati rice (washed, soaked in water for 15 minutes & then drained well)
1 star anise
1 cinnamon stick, about 1½" in length
1 bay leaf
2-3 cloves
2-3 green cardamom pods, gently crushed
4-5 black peppercorns
salt, to taste
2 tbsp biryani masala powder
2 large onions, thinly sliced
½ cup toasted unsalted cashew pieces (or almond slivers or pistachio pieces or a combination)
½ cup golden raisins, soaked in enough warm water to cover
huge pinch of saffron, soaked in a ½ cup of warm milk
6-8 tbsp ghee (clarified butter) or you can use butter or oil (vegetable or canola), as needed
few drops rosewater (or rose essence)
freshly chopped cilantro leaves for garnish
Chicken Marinade:
1 cup thick yogurt
juice of ½ lemon
¼ cup mint leaves, finely minced
½ cup cilantro leaves, finely minced
4-5 large garlic cloves, finely minced
1½" piece in ginger, peeled & finely minced
3-4 small green Thai chilies, finely minced (to taste)
½ tsp turmeric (haldi)
½ red chili powder, to taste
½ tsp ground coriander powder
1 tsp ground cumin powder
1 tsp garam masala
salt & pepper, to taste
1 tbsp oil (vegetable or canola)
Biryani Masala Powder:
1 star anise
1 large black cardamom pod
1 cinnamon stick, about 2" in length
2 bay leaves
5-6 cloves
4-5 green cardamom pods, gently crushed
8-10 black peppercorns
½ tsp freshly grated nutmeg
1" piece of mace (or ¼ tsp ground mace powder)
1 tsp shahi jeera or black cumin seeds (or you can use regular cumin seeds)
1 tsp fennel seeds
1 tsp dried pomegranate seeds (or ½ tsp dried anardana powder)
2 tsp coriander seeds
METHOD:
In a large mixing bowl, combine all of the ingredients for the chicken marinade & mix well to combine. Then add the chicken pieces & mix well to coat all the pieces evenly. Let marinade for at least 6-8 hours, but overnight is best.
In a small dry skillet on medium low heat, toast all of the biryani masala powder ingredients one by one until aromatic & fragrant. Remove from the heat & allow to cool. Grind into a fine powder & store in an airtight bottle for up to 6 months.
In a large deep wide pot (a Dutch oven works great) on medium high heat, add 2 tbsp of the ghee. Next, add the rice along with the star anise, cinnamon stick, bay leaf, cloves, green cardamom pods, black peppercorns & salt. Stir for a few minutes until each of the rice grains are well coated with the ghee & the rice emits a nutty aroma. Then add 2 heaping tbsp of the biryani masala powder. Mix well to combine & let cook for another 4-5 minutes to allow the spices to fully develop their flavor. Now add enough cold water to cover the rice by 1 inch. Then bring to a gentle boil, cover, reduce the heat to low & let simmer for about 8-10 minutes (most of the water should have been absorbed). The rice is only partially cooked at this point but will finish cooking later. Now remove the rice & spread it out on a large baking sheet to cool. If there is too much water remaining, just strain it before spreading the rice out on the baking sheet.
In the meantime, rinse out & dry the pot. Then add 3 tbsp of ghee to it on medium high heat. Next, add the onions & sauté them until completely browned & caramelized. This may take some time (up to 10 minutes or so), keep stirring them every so often. Then remove the onions & set aside until needed.
Now to the same pot, add 1 tbsp of ghee if needed. Drain the raisins, reserving their soaking liquid for later use. Sauté the cashews & raisins until fragrant & lightly browned. Then remove & set aside until needed.
Now to the same pot, add another 2 tbsp of ghee if needed. Then add the marinated chicken pieces, sprinkling them with a little of the biryani masala & lightly browning them on both sides. Now reduce the heat to low & then add about half the rice in a layer on top of the chicken pieces. Drizzle the rice layer with a little ghee, then add half of the saffron & the soaking milk. Sprinkle half of the cashews & raisins over the rice. Next, add about one-third of the caramelized onions. Now add the remaining rice on top, drizzled with another tbsp of ghee creating a second layer. Next, add the remaining saffron & any soaking milk over the rice. Then add another one-third of the caramelized onions. You can also add the reserved soaking liquid from the raisins. Now carefully cover the pot with a small kitchen towel, making sure it is nowhere near the flame. Cover tightly with the lid & let cook on low heat for 20-25 minutes. Then turn off the heat completely & let the pot rest for another 10-15 minutes before opening. Gently fluff the top of the rice with a fork. Garnish with the cilantro leaves, remaining caramelized onions & the rosewater. The rice & chicken should both be fully cooked yet tender & the chicken succulent. Just after presentation, gently mix the biryani before serving. Serve with raita (Indian salad) as part of any special occasion meal or celebration.
You Should Also Read:
Wild Mushroom Biryani Recipe
Indian Paella Recipe


Related Articles
Editor's Picks Articles
Top Ten Articles
Previous Features
Site Map



Follow @SadhanaGinde
Tweet



Content copyright © 2022 by Sadhana Ginde. All rights reserved.
This content was written by Sadhana Ginde. If you wish to use this content in any manner, you need written permission. Contact Sadhana Ginde for details.