Wild Mushroom Biryani Recipe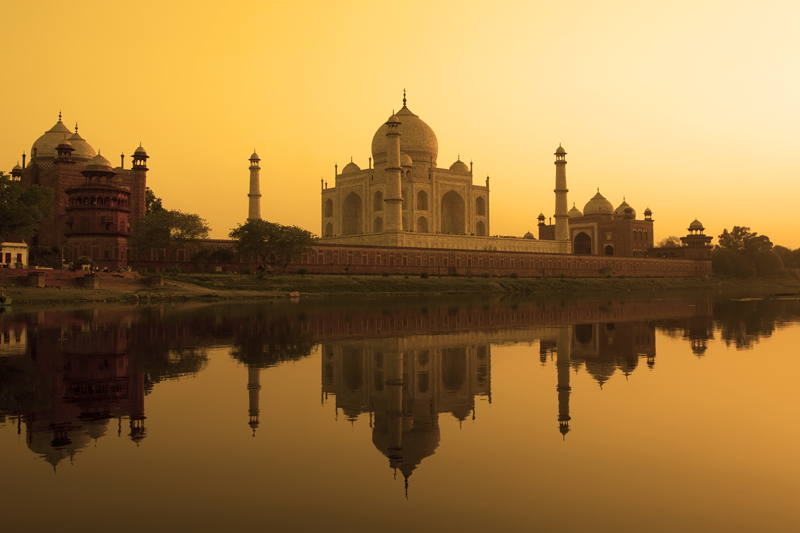 India is famous for its delicious rice dishes and biryani is no exception. Biryani is a rich aromatic dish made with various combinations of spices, rice, meats/poultry and vegetables. Biryani is thought to have originated in Persia (modern day Iran) and brought to India by Mughal invaders in the 16th century.
I created this particular recipe in the style of Awadhi cuisine which originated in the capital city of Lucknow, located in the northern Indian state of Uttar Pradesh (UP). Awadhi cuisine is famous for its mouth-watering biryanis made using the "Dum Pukht" or slow oven cooking style. This method of cooking is more than 200 years old and involves long cooking times over very low heat using a sealed cooking vessel (known as a handi). This allows for the development of maximum flavors and results in a perfectly cooked dish. Naturally, I have adapted and tweaked this recipe for the home kitchen with delicious results.
What differentiates a biryani from a pulao is that in a biryani, all the ingredients are cooked separately, then layered together and finally baked. In contrast, a pulao combines all of the ingredients together in one cooking pot which is then cooked directly on the stovetop or in a pressure cooker or rice cooker.
Personally, I love wild mushrooms and creating this recipe gave me the perfect opportunity to use them in an Indian dish. The earthy and nutty flavors of the mushrooms blend perfectly with the spices. If you can find fresh wild mushrooms, by all means, use them. If not, any variety of dried wild mushrooms is perfectly fine; they just need to be reconstituted. If you are unable to find any wild mushrooms, white button mushrooms will work just as well. Don't be discouraged by the length of the recipe or its ingredients, trust me when I say this dish is absolutely worth the time and effort.
WILD MUSHROOM BIRYANI
Ingredients:
2 cups Basmati rice
2 cups of mushrooms (shiitake, crimini, trumpets, hedgehogs, chanterelles, oyster mushrooms…)
1 large onion, finely diced
1" piece of ginger, peeled and finely minced
3-4 cloves of garlic, finely minced
1 large tomato, roughly chopped and pureed
½ cup fresh chopped cilantro leaves
½ cup fresh chopped mint leaves
½ tsp red chili powder, to taste
½ tsp turmeric
1 tsp ground coriander powder
1 tsp ground cumin powder
1 tsp garam masala
2 Bay leaves (fresh or dried)
½ tsp black cumin seeds (shah jeera) or cumin seeds
2-3 black peppercorns
3-4 cloves
2-3 green cardamom pods
1 black cardamom pod
2" piece of cinnamon
1 piece of mace (outer covering of the nutmeg), optional
pinch of freshly grated nutmeg
good pinch of saffron, soaked in 2 tbsp of warm milk
½ cup yogurt
½ cup golden raisins, soaked in a little warm water
salt, to taste
3-4 tbsp oil (vegetable or canola) or you can use butter or ghee
½ cup toasted unsalted cashew pieces for garnish
lemon wedges for garnish
METHOD:
First rinse the rice and then soak it in enough water to cover for 30 minutes. Drain well and set aside until needed.
To reconstitute the dried mushrooms, soak them in boiled water (enough to cover) for 15-20 minutes. This will allow the mushrooms to absorb some water and become hydrated. Remove the mushrooms and carefully dry them on a kitchen towel. Reserve the soaking liquid as it has excellent flavor. I recommend straining the soaking liquid before use. Simply pour the soaking liquid through a small sieve lined with a piece of cheesecloth, tea towel or even a small coffee filter. This will remove any fine unwanted particles found in the soaking liquid. Then trim away any woody stems and cut the mushrooms into half or even smaller pieces if necessary. Set aside until needed.
If you are using fresh mushrooms, just give them a good gentle scrub with a soft brush to remove any excess dirt. Trim away any tough stems and cut into half or smaller sized pieces.
In a large Dutch oven on medium heat, add 1 tbsp of the oil. When hot, add the shah jeera or cumin. After a few seconds, add the rest of the whole spices (black peppercorns, cloves, green cardamom pods, black cardamom pod, cinnamon, mace and Bay leaves). Stir for a few minutes until fragrant and then add the rice. Stir to coat the rice evenly in the oil and spices. Keep stirring and let the rice grains get a delicious toasty aroma. This may take up to 4-5 minutes. Add salt to taste. At this point you will need to add 4 cups of water. Stir and bring the mixture up to a good boil. Cover with a tight fitting lid, reduce the heat and let simmer on low for 10-15 minutes. Resist the urge to peek. The rice should be partially cooked (about ¾ths done). Drain well, salt to taste and set aside until needed. The rice will finish cooking in the oven. Transfer the rice to a mixing bowl and set aside until needed.
To the same Dutch oven on medium high heat, add a little oil. When hot, add the onions. Stir fry until the onions just start to brown around the edges. Now, add the ginger and garlic. Let cook for 2-3 minutes and then add the rest of the spices (red chili powder, turmeric, ground coriander powder, ground cumin powder and garam masala). Stir fry for a few minutes while stirring continuously. Let the spices cook for a few more minutes and then add the tomato puree. Let cook for 5-6 minutes and then reduce the heat to low and slowly whisk in the yogurt. Stir well so that all of the ingredients are combined. Now add about half of the mint and cilantro leaves into the mixture. Salt to taste, let cook for just another minute or so and then turn off the heat.
Preheat the oven to 350 degrees F. In a well oiled oven proof baking dish or casserole with a tight fitting lid, arrange the rice and onion mixture in layers. Both the top and bottom layers should be rice. Next, add the strained mushroom soaking liquid, the raisins along with their liquid and the saffron/milk mixture. Cover the dish tightly with aluminum foil and then close with a tight fitting lid. Bake for 10-15 minutes.
To the same Dutch oven on medium high heat, add a little oil. When hot, add the mushrooms. Stir fry and let the mushrooms cook until they are browned. Remove from the pan, lightly salt and set aside until needed.
Just before serving, arrange the mushrooms over the top. Traditionally, the mushrooms should be added in layers before baking but I think adding them later ensures that the mushrooms will not be overcooked. Sprinkle with toasted cashew pieces and any remaining cilantro and mint leaves. Garnish with lemon wedges and serve immediately with raita or yogurt.
You Should Also Read:
Mushroom Curry Recipe
Hyderabadi Chicken Biryani Recipe


Related Articles
Editor's Picks Articles
Top Ten Articles
Previous Features
Site Map



Follow @SadhanaGinde
Tweet



Content copyright © 2022 by Sadhana Ginde. All rights reserved.
This content was written by Sadhana Ginde. If you wish to use this content in any manner, you need written permission. Contact Sadhana Ginde for details.