Meiwah Restaurant
, was just across the street from my hotel on a recent visit to Washington, DC, and since Chinese New Year was just around the corner, I chose to eat there to get some ideas for easy Chinese dishes to post on this Quick Cooking Site. Almost every dish on the vast menu at Meiwah sounded so good, it was hard to choose. The Velvet Crabmeat Asparagus Soup sounded divine, so I ordered it as a first course. Unfortunately, the soup I was served was nothing like I expected: the soup base was so bland no amount of soy sauce could redeem it, and the asparagus pieces were cut from the ends I usually break off and throw away (needless to say, those pieces were so tough, I felt like I was chewing on 100 year-old tree bark). "Oh Well," I thought, at least the crab should be tasty, and it was, at least the two miniscule microdots of crab that were hidden in the bowl were tasty. I would not recommend this soup if you happen to be eating at Meiwah, but I would recommend the following version of
Velvet Crabmeat Asparagus Soup
, which is actually edible and will make a fabulous first course to the many Chinese dishes you are no doubt planning to serve during Chinese New Year.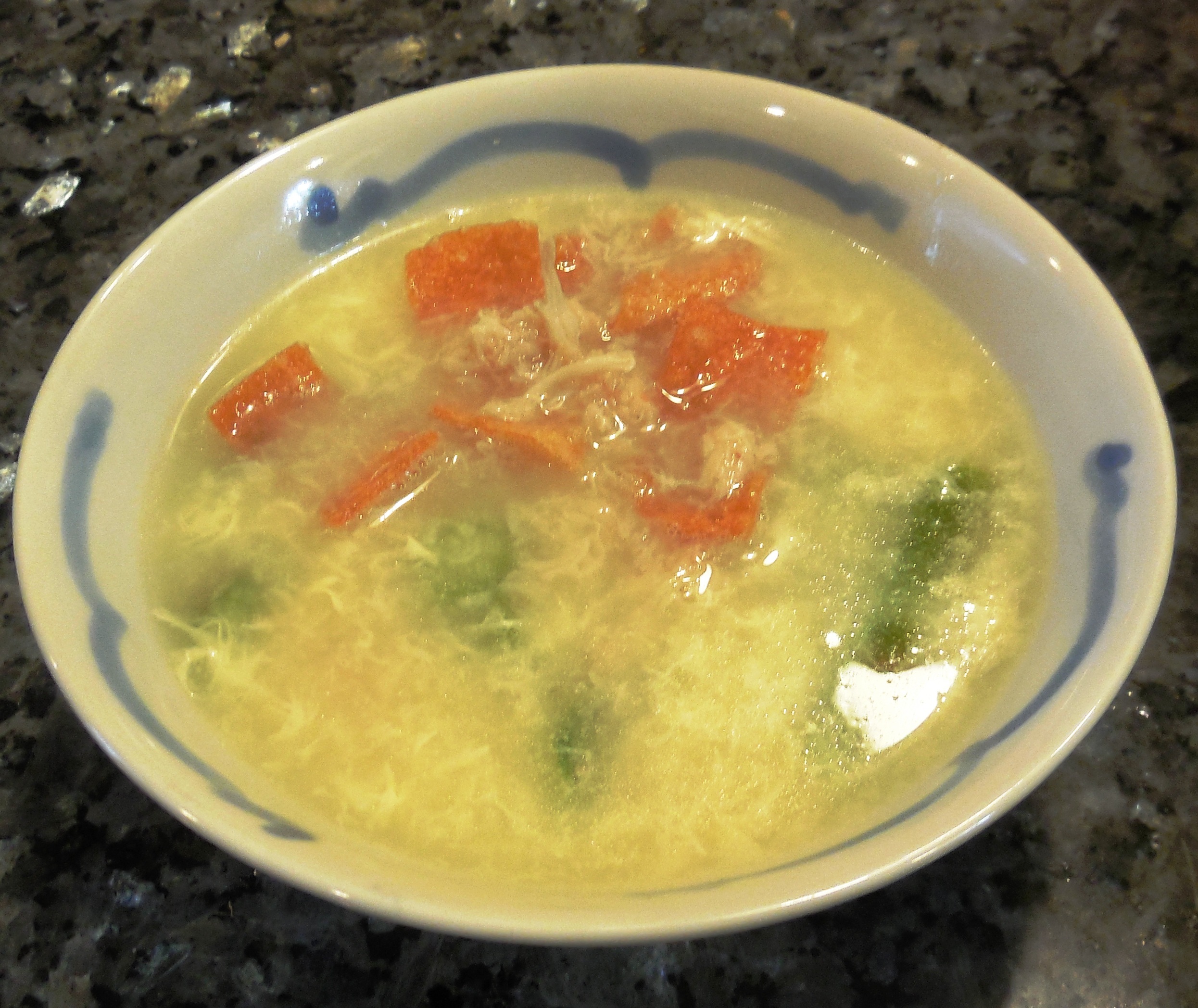 This soup is quick and easy to make, due to the versatile
Basic Cream Soup Mix
. There are minimal ingredients, so it goes together in less than 30 minutes. The secret to getting feathery drops of egg is to pour the beaten eggs into the simmering soup while stirring in one direction: it only takes a few seconds and makes soup to rival even the best Chinese restaurant.
8 Servings;
6 cups chicken broth, (2 46 ounce cans)
1 pound fresh asparagus, ends snapped off and the tender parts cut into 1" lengths
1 cup Basic Cream Soup Mix
4 eggs, beaten
1/2 - 1 pound crab, picked over and chopped
Fried wonton strips, or chow mein noodles for garnish
Bring the chicken broth to a boil; stir in the asparagus and let cook 2 minutes.
Whisk in the cream soup mix and stir until smooth and slightly thickened.
Turn the heat down to a simmer and stir in one direction while pouring the eggs in to make egg drops; stir in the crab and serve immediately.
Amount Per Serving
Calories 201 Calories from Fat 76
Percent Total Calories From: Fat 38% Protein 41% Carb. 21%
Nutrient Amount per Serving
Total Fat 8 g
Saturated Fat 4 g
Cholesterol 149 mg
Sodium 1892 mg
Total Carbohydrate 11 g
Dietary Fiber 0 g
Sugars 0 g
Protein 21 g
Vitamin A 14% Vitamin C 38% Calcium 0% Iron 7%