String Gardens - Kokedama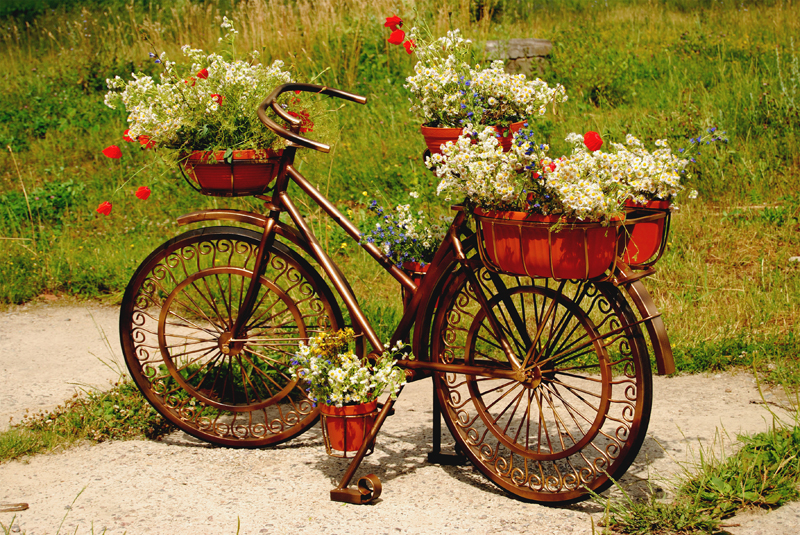 It's true – gardening keeps on being reinvented, almost like re-inventing the wheel ... or giving a different spin on it anyway! Containerless containers? I wish I had thought of it! People speak of space, big and small and too small and too big or difficult but here is an idea that has taken off with alacrity and at all levels of skill. There are specialist florists and interior designers and decorators who have a brand name and whose product is to be found in boardrooms and at fancy dinner tables, to the home hobbyist and indoor or container gardener who has fun making their own.

So what am I talking about?

Kokedama or String Gardens. Kokedama is a Japanese concept of a hanging moss-balled (no pot) plant which offers a really different accent for your balcony space – or even indoors where there is light and warmth. Kokedama actually means 'moss ball'.

Oh my, I have never tried this arty style of gardening but will do so very soon. It's not difficult if you follow a few rules and you have some time to care for them – mainly watering. And then their display is also by choice. You can hang a single plant, group a series of plants at different heights to make an architectural 'splash' or you can display them on designer plates or bases on a coffee table or side board. Great choice! Right, so let's get to it.

INTRODUCTION TO KOKEDAMA.
Kokedama in some form or another is not really new as an idea – it's just the way it presents itself these days that makes it special and current. Think of the Hanging Gardens of Babylon way back in 600BCE, or the Victorians in the early 20th Century who loved swinging ferns. I remember when we were at school there was a Macramé craze, a sort of string knotted hand crochet where plants in pots were suspended (or books on a glass sheet or whatever). I don't think Macramé went out of fashion completely and who knows, it may be making a comeback these days.

Essentially making a string plant means removing a plant from its pot, taking away most of the soil from the roots, then surrounding these in a kind of mud ball made up of a potting soil, sphagnum moss and clay mix. After this, the ball is surrounded by fresh live moss and string is wound around the root ball to keep the live green moss in place. Enough string is left to serve as your hanger from a hook in the ceiling or a top beam or similar.

Alternatively you can crochet a small 'bowl' into which you place your mud ball before you moss it, or even use those string packets that come with onions and garlic from the greengrocers. As with anything, if this interests you at all, then experiment a little and see what suits you best.

When just done, the string will show, but as the moss grows, the string is covered. Also, as the plants find their balance as it were, they grow and become heavy; but because they are 'bonsaied' as such, their roots are contained so you will not be grown out of house and home by your Kokedama. I would suggest they need to be 're-mossed' every 12 to 18 months, depending on the plant you chose.

This sometime-described as quirky gardening form has also been described as perverse – after all, plants should come in pots shouldn't they? It would seem though, that those who think this is perverse also have a dark opinion about the practice of Bonsai or Topiary.

WHAT YOU NEED.
Your chosen shade loving plant(s), bonsai/akadama soil mixed with peat moss and water till muddy and clay like; cotton thread, natural or biodegradable string or a crochet pocket or 'onion' bag, sphagnum moss, living sheet moss (or another easy solution is to use preserved sheet moss which can take more sun than the other); a spray mister, and other tools for making like scissors, a small scoop, dibber, newspaper etc.

PLANT CHOICES
Anything goes really as long as the basics of the plant requirements are met like light and sunshine or shade, soil, watering, wind and pests etc. In my research I have seen roses, lilies in bloom, violets, vegetables, all sorts of plants actually and even bonsai fruit trees! Still, the most usual to use seem to be amongst the following suggestions.

Anthurium, cyclamen; epiphytes such as orchids; ferns of all sorts, philodendrons; begonias; angel hair vines; coleus, all types of succulents and many (but please not all) cacti especially escheveria; herbs like creeping rosemary and thyme; any kind of ivy.

Tomatoes would surely grow in a moss-ball, but then the idea of Kokedama is that the moss ball is part of the display and loses its impact if it is covered by the plant. Like many others, I grow cherry tomatoes in a hanging basket instead and would not make a kokedama for tomatoes. Other everyday house plants include the Money plant (Epipremnum aureum), Heart Leaf Philodendron (Philodendron hederaceum) and Dracaenas such as the Lucky Bamboo (Dracaena braunii) are suitable too.

When it comes to the moss, you can buy large sheets of Christmas Moss (Vesicularia montagnei)

MAINTAINING YOUR KOKEDAMA
The conditions you require are simple – indoors or on your balcony, you need shade or at most dappled sun, a beam or roof or ceiling and hooks to hang the moss ball(s) and a set watering regime; once a week for most plants, and for ferns maybe twice a week. While string gardens are easy to maintain and generally considered low maintenance gardens, they are not any maintenance gardens. You need to check on your watering (depending on your position and plant/s you chose) and ensure that the moss surround is misted and moist – but not wet.

HOW TO MAKE – 6 plus 1 EASY STEPS
As you know by now, Kokedama are made by removing the plant from its pot and surrounding the freed roots with a mud ball and moss around about the same size as the pot from which you took the plant. This is then tied with string and either displayed on a suitable base or hung from the ceiling…

•Prepare a nice working space, ready your soil mix, have everything you need near you.

•Remove the plant from its pot; loosen the soil around the roots carefully and gently; you want to avoid transplant shock. Once free, swish the roots in some room temperature water.

•Wrap the roots in sphagnum moss making sure they are comfortable and then tie the moss to the roots with cotton thread (which will disintegrate over time), neatness not required but don't tie too tightly, you don't want it to cut into the roots.

•Make a mud ball to suit the size of your plant (mud cakes anyone?) and squeeze out the water until the ball holds its shape. This is fun and much like baking … if it's too wet, add more soil, and if too dry add more water.

•Break the ball in half (it should 'snap' easily because of the clay like mix) and place the halves around your mossed root ball, pat together, squish and reshape accordingly into a neat ball.

•Surround this with your sheet moss ensuring all is covered and holding together. Bind securely with the string going round and round and up and down and diagonally sideways (does that make sense?). It will look a little odd for a while, but the moss will soon grow over the string to hide it. Leave enough string from the top side of the plant to be able to hang it up.

•STAND BACK and admire your magical handiwork, others are surely going to!


What do you want your container garden to do?

................................................................................
CASUAL VISITOR … and just browsing? Why not sign up to the Container Garden newsletter? It won't matter what space or how many pots you have or even how much time you have to spend in your container garden; what will matter is that you get our reminders hot off the press and get good advice and ideas all in one easy read.

Join now, it's easy and your privacy is guaranteed.



You Should Also Read:
Miniature Gardens
DIY Hypertufa Pots
Terrariums and Mini Gardens


Related Articles
Editor's Picks Articles
Top Ten Articles
Previous Features
Site Map





Content copyright © 2023 by Lestie Mulholland. All rights reserved.
This content was written by Lestie Mulholland. If you wish to use this content in any manner, you need written permission. Contact Lestie Mulholland for details.