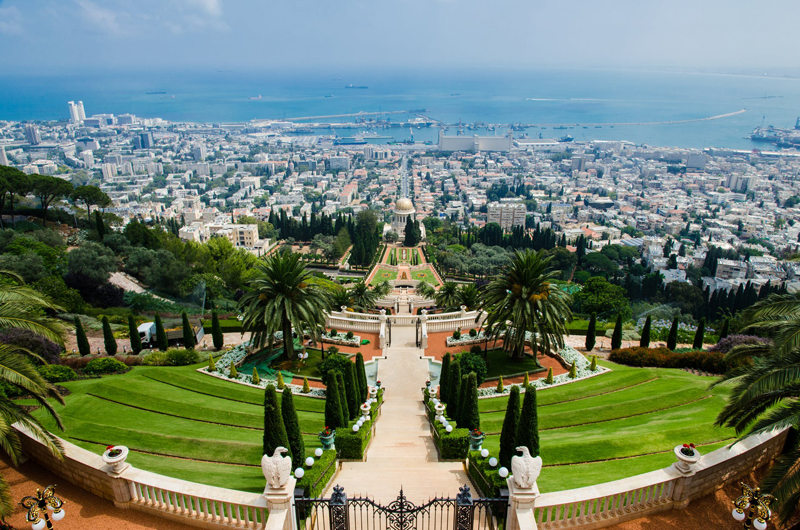 Well, yes--and no. Everyone is subject to anxiety--from the stress of a daily dose of disasters in our news media, crises in our families and neighborhoods, war, aging and disease. There is no way any sensible person cannot be worried when exposed to this much mess, and with good reason. "...the world has witnessed startling changes which have profoundly altered the character of society and plunged it into an unprecedented state of worry and confusion. Indeed, the world in its current condition has lost its bearings through the operation of forces it neither understands nor can control. It is a period in which great dynasties and empires have collapsed in rapid succession, in which powerful ideologies have captured the hearts of millions only to expire in infamy, in which two world wars wreaked havoc on civilized life as it was known at the beginning of the twentieth century." - The Bahá'í Universal House of Justice, 1992 Nov 26, Second Message to World Congress in New York City, USA (See the link below for what Bahá'ís think is really going on.)

Worry is based upon fear, and both are useful tools for survival, but any tool can be misused or misplaced. Excessive fear and worry do not solve problems, or enable us to better meet a crisis if it does arise. We can't predict the future exactly, or how soon a new ordeal worse than the last one will arrive on our doorstep. Further, as individuals, we can't shoulder the suffering of millions, and should not try.

It is good to remember that all men are in God's hands, and even if they do die, religion tells us that there is another life beyond this one. It is basic religious teaching that the soul is immortal, and the Bahá'í Faith confirms that this earthly life is only temporary. Although it can provide joy, it is also a potential source of pain and suffering. Nevertheless, human beings have a job to do here--to develop their spiritual realities, those virtues needed for the rest of eternity. Pain, then, is a signal that something must change, whether physical, emotional, attitudinal or spiritual.

Focusing on Nature is easier than worrying about the spirit. Yet, how often in history have cultures been doomed when they become immersed in the pursuit of material goods, physical longevity, fame and power--all of which religion has always warned against? "The Manifestations of God have come into the world to free man from these bonds and chains of the world of nature. Although They walked upon the earth, They lived in heaven. They were not concerned about material sustenance and prosperity of this world...The purpose of Their coming, Their teaching and suffering was the freedom of man from himself.... Shall we pursue the phantom of a mortal happiness which does not exist or turn toward the tree of life and the joys of its eternal fruits?" - 'Abdu'l-Bahá, The Promulgation of Universal Peace, p. 185

Most of us may no longer have to worry about being eaten by predators or living a nomadic life. And yet, technology has opened up access to world events in such a way that it is obvious just how dangerous it is to live on this planet! Advertisers know that a message which creates anxiety will increase sales and influence the balance of power. Thus, humanity is showered with messages calculated to cause the most stress. We may not have lions and tigers and bears to fear, but we know about natural and human disasters from far and near and in great detail.

So, I'm not saying there is nothing to worry about. The Bahá'í Faith teaches that what we really need to focus on isn't what is happening around us so much as how we choose to react, how we live our lives, and how we develop spiritually. The virtues are more important than gold, political power, nationality, prayer in schools, hair color or body odor. And further, what must always be considered before action is whether it will be good for our immortal souls, because, "...until perfect, reasoning faith shall be implanted in the minds of men, it will be impossible for the social body to be inspired with security and confidence. Nay, on the contrary, enmity and strife will increase day by day, and the differences and divergences of nations will be woefully augmented." - 'Abdu'l-Bahá, The Promulgation of Universal Peace, p. 321

Such a change must first be courageously modeled, then fearlessly taught, then lovingly encouraged and supported. Bahá'ís, therefore, are attempting to be those people who have such a broad and clear vision of what they are to do that they can't be perturbed by adverse events, or panic-stricken by circumstance. They endeavor to face such convulsions without fear and trepidation, and be undeterred, even for a moment, from fulfilling their sacred responsibilities--one of which is to exemplify in their lives those virtues which are the backbone of every religion.

Little by little, day by day.
You Should Also Read:
What Bahá'ís Think is Happening in the World
The Duty of Encouragement
Spiritual Basis for Ills


Related Articles
Editor's Picks Articles
Top Ten Articles
Previous Features
Site Map





Content copyright © 2023 by Cheryll Schuette. All rights reserved.
This content was written by Cheryll Schuette. If you wish to use this content in any manner, you need written permission. Contact Cheryll Schuette for details.