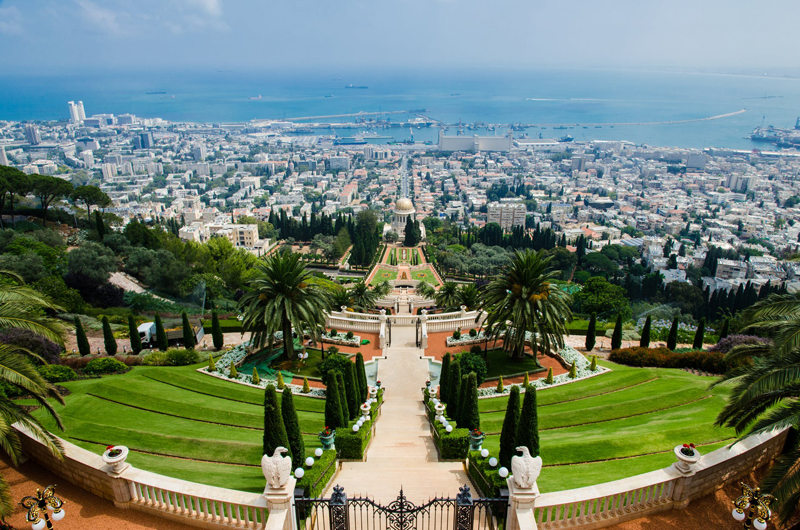 There is no mystery about the process, although for each person there will be varying amounts of mystical experience. Belief is a very personal thing, even when professed publicly. Religion at its core is a heart thing; the soul/spirit responds and the mind follows. However, such a decision should also include rational investigation and thought.
Finding out about the teachings of Bahá'u'lláh and the progressive worldview of His Faith is not too difficult. Though the Bahá'í Faith has no clergy and few buildings, it does have followers in just about every corner of the world. Its sacred texts have been translated into more than 2000 languages and are available in libraries, bookstores, and free to read on the Internet. Local Bahá'í communities provide study circles and materials for their believers and openly welcome interested seekers to join the discussions. There are devotional programs, children's classes and junior youth clubs, as well as social and holiday events that are open to the public. There may also be local socio-economic projects that welcome anyone willing to work at building peaceful neighborhoods, foster healthy attitudes in children and youth, and make a better world. All these activities provide a way to meet Bahá'ís and learn about community life.
When an individual's heart has been touched, he/she may wish to join this worldwide congregation. "...the very essence of the reason a person has accepted Bahá'u'lláh is that he has decided this Way alone is the solution to the absolutely hopeless problems facing humanity. A Bahá'í must be wholly a Bahá'í, concentrate on the work of the Cause, and put aside from his mind the distracting influences that scream at him from every newspaper these days." This does not mean denial of family or exclusion of 'real' life, however, for, "When a person becomes a Bahá'í, he gives up the past only in the sense that he is a part of this new and living Faith of God, and must seek to pattern himself, in act and thought, along the lines laid down by Bahá'u'lláh. The fact that he is by origin a Jew or a Christian, a black man or a white man, is not important anymore..."
Lights of Guidance,
pp. 68-69
Becoming a Bahá'í has two parts, one spiritual and one administrative. First, the spirit is moved, recognizes its home, then, declares belief. That declaration may be to just one other person, perhaps the Bahá'í who introduced the faith, but it will be announced to the whole community. Parties may ensue when this new person is welcomed into the local community.
In the United States, enrollment also includes some paperwork, which will allow for identification and communication with local and national administrative bodies (which run things, since there are no clergy). Here is what the wording will be like on the form:
"In signing this card, I declare my belief in Bahá'u'lláh, the Promised One of God. I also recognize the Báb, His Forerunner, and 'Abdu'l-Bahá, the Center of His Covenant. I request enrollment in the Bahá'í Community with the understanding that Bahá'u'lláh has established sacred principles, laws, and institutions which I must obey."
A signature and date complete the card or form, which can be given to a Bahá'í or mailed to: Bahá'í National Center, Wilmette, IL 60091. It is also possible to enroll online at:
www.bahai.us
.
The new believer will be introduced and included in community life, added to the voting list for annual elections and newsletter mailings. Moreover, he/she will be able to give to the Bahá'í Fund, which only believers can do, as this religion is self-supporting.
Becoming a Bahá'í is a lifelong journey, not an ultimate achievement. Personal transformation takes time and commitment, faith and perseverance. A large part of such a commitment is building a community of friendship and support, being of assistance to others along the way, and working to make the world a better place by developing a good character--the virtues espoused by all religions.
Declaring one's belief that Bahá'u'lláh is the Messenger of God for this day isn't the end of the road to salvation; it's more of an agreement to go along for the ride.
You Should Also Read:
The Concept of Rebirth in the Bahá'í Faith
How Does the Bahá'í Faith Grow
What the Bahá'í Faith Has Done


Related Articles
Editor's Picks Articles
Top Ten Articles
Previous Features
Site Map





Content copyright © 2022 by Cheryll Schuette. All rights reserved.
This content was written by Cheryll Schuette. If you wish to use this content in any manner, you need written permission. Contact Cheryll Schuette for details.