Smile with CLEVVA Containers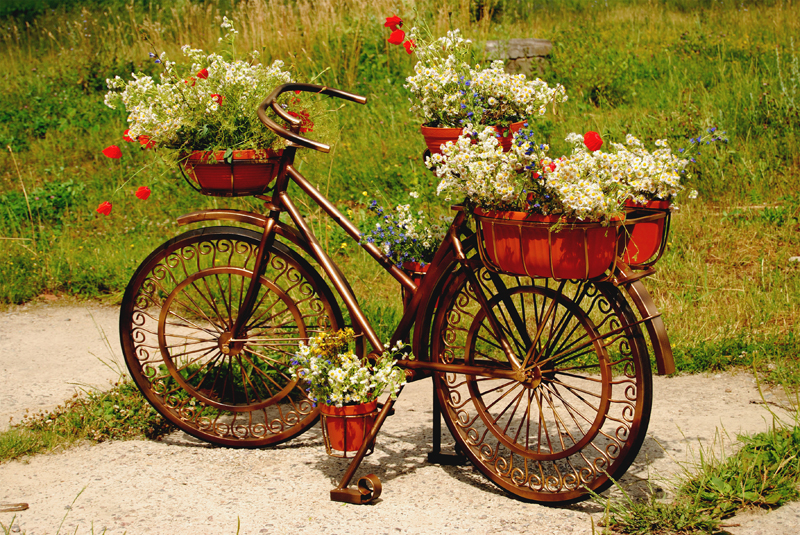 I was fascinated the other day at a lecture that I attended via our local garden club about a groundbreaking new organic-based plant material that is being put to use in many areas but especially with the manufacture of garden containers. Apparently a CLevva container™ made of this material adapts it shape, size, colour and watering requirements according to the plants planted in it.

"You must be joking!" I thought ... but it seems that they weren't. Unfortunately the speaker of the day did not have any marketing bumf on the product, said he had been promised some but that it had not yet arrived. The meeting was interesting and as informative as always but, rather than linger and chat as I usually do, I left early, came straight home and went to my friend Dr Google where there was much excitement in the articles I finally sourced – Google was not googled I say.

I read up about Potting Alongtale plc. It is the newly established natural materials manufacturing and distribution company that has the sole rights for this product in Africa south of the Sahara. It seems that the Head Office is based in China.

Reading more I found out that CLevva Containers™ are just that – plant containers that adapt themselves to the shape and root systems of plants planted in them. Now that just has to be clever. I remember when I was studying horticulture way back then, one important thing I learnt when it came to planting pot roses in containers, for instance, was that you should always to use a square pot, or your rose bush might drive itself crazy by going round and round in circles. Well now, with a CLevva Container™ it won't matter, as this specially made vessel would just adapt to the rose as it grows ... a most ingenious advancement.

In an interview aired on the local community radio station APR -1FM recently, based in Johannesburg, the COO of the Southern African Regional office, Ms April Tzeezy had recently returned from a trade visit to the manufacturers based in Hong Kong. She said "I am extremely pleased with the results of the research that has gone into the manufacture of these CLevva containers™. Costs have been kept down to a minimum as no money was spared in the research and trials of the new material. Further, no extra budget had been needed to fund designers or extra machinery as far as production was concerned." She continued, " Besides this saving (which we are quite certain to pass on to our consumers), there is a further saving occasioned by the ability of the CLevva to adapt to the colour choices of its surrounds or again, according to the plants that are planted. We have been able to introduce what we call the 'Chameleon factor.' This means that it is very easy for anyone, including beginner gardeners, to concentrate on plant choices and not pot choices."

As I understand it, this shows that the CLevva Container™ is able to blend in with the colours of the plants closest to it. One of the callers to the radio station didn't think that this was such a clever aspect because since most plants were green, most CLevva containers™ would be green as well. He didn't think this was a very smart move and in fact observed "How boring!" However Ms Tzeezy was quick to reply. She noted that the CLevva Container™ was smarter than that. She admitted that the containers would pick up the green colours but "It is also able to pick up, blend and complement the different colours of the plant blooms themselves – so multi-coloured pots are possible."

She went on to say that the company had been inundated with requests for stock from all and sundry including specialist garden centres and that CLevva Containers™ would be available as soon as the stock in the bonded warehouse had been cleared by Customs and Excise in Johannesburg.

One size fits all as it were so the radio interviewer asked why there were different versions of the CLevva Container™ available. "Marketing research has turned up some interesting results," Ms Tzeezy noted, "consumers are not easily fooled but it it's obvious that, despite our amazing product and all we claim, people do like a choice," said Ms Tzeezy smiling, "so Potting Alongtale plc has produced three sizes of pots (small, medium and large) as well as three designs (one plain, one with top handles and one with hook slots for vertical and hanging gardens). We are standing firm on the natural stone colour as consumers just have to trust us when we tell them about the chameleon factor" she averred.

What else? Well, from the notes I took at the lecture here are a few extra comments:
• Container care – not much is required as these containers are long lasting and adapt to different weather conditions, temperatures and climate conditions.
• Re-potting um-necessary, as again, the properties of the container are such that they renew themselves seasonally. Re-potting will only be necessary if, for instance, you wanted to grow a different plant in the pot.
• Plant container recipes for colourful containers are available especially suited to the CLevvas – and tricks to getting the container colours you are after or for colours to suit your balcony decor will be easy and 'bespoke' as it were.
• Exchange rates for international currencies against the dollar means that in certain countries CLevva Containers™ would be more pricey, but that this would be offset by the many opening specials available to gardeners who believed in these exciting developments. And anyway, since a CLevva Container™ lasted for so long and was so useful and adaptable, the long-term savings on the cost of just one container would be readily worth the initial investment.
• As the CLevva Container was made from organic and natural materials, anyone interested in greening the planet would certainly be able to do a little bit more for mother earth.

Well I never! I can't wait for these sloof lirpa CLevvas to come to a shop near me – I just won't wait!

What do you want your container garden to do?
................................................................................

CASUAL VISITOR … and just browsing? Why not sign up to the Container Garden newsletter? It won't matter what space or how many pots you have or even how much time you have to spend in your container garden; what will matter is that you get our reminders hot off the press and get good advice and ideas all in one easy read.

Join now, it's easy and your privacy is guaranteed.


You Should Also Read:
The SLENDERBERRY Bush


Related Articles
Editor's Picks Articles
Top Ten Articles
Previous Features
Site Map





Content copyright © 2023 by Lestie Mulholland. All rights reserved.
This content was written by Lestie Mulholland. If you wish to use this content in any manner, you need written permission. Contact Lestie Mulholland for details.