Recently, while perusing Pinterest, I saw a pin from my Granddaughter, Bella, for a fancy little spiral slicer gadget that easily transforms vegetables into long thin strands.
I checked it out on Amazon and found several that were identical, but much cheaper than the one she pinned, so I ordered one for her. Due to the fact that I am a bona fide kitchen appliance and gadget junkie, I ordered one for myself too. When it arrived, I immediately tried it out with some zucchini that I had in my fridge, and the long strands were so intriguing, I developed the following
Chicken, Zucchini & Pasta with Gorgonzola
to use them in. Of course, you don't really need this gadget to make this quick and luscious dish; the zucchini can be cut into fine julienne strips, or it can be finely chopped, grated, or even sliced. You won't have as much fun making this dish without the gadget, of course, but nobody will care, since the dish tastes really good.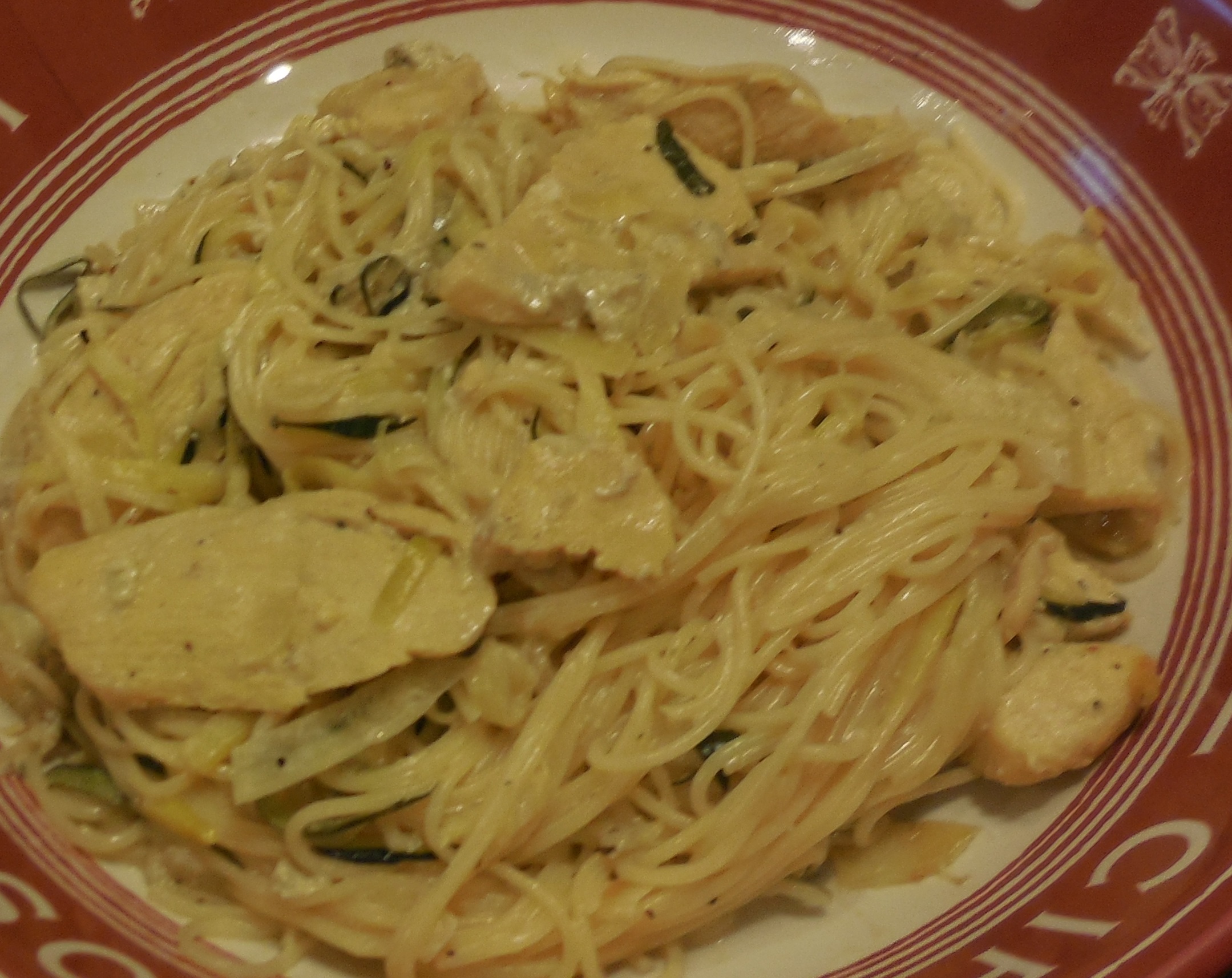 Chicken, Zucchini & Pasta with Gorgonzola can be made in less than 30 minutes. Crusty bread and a green salad make nice accompaniments if there's time.
6 Servings
4 ounces angel hair pasta
2 tablespoons butter
1 cup chopped onions
1 pound boneless skinless chicken breast halves, cleaned and thinly sliced
1 teaspoon lemon pepper
3/4 cup dry white wine
1 teaspoon granular chicken bouillon
1 pound small zucchini squash, spiral sliced into thin strands, cut lengthwise into very thin julienne, or shredded
1/2 cup heavy whipping cream
1 cup crumbled Gorgonzola cheese
Cook the pasta in boiling salted water until al dente; set aside and keep warm.
Meanwhile, melt the butter in a large skillet; add the onions and cook until softened.
Add the chicken, sprinkle with the lemon pepper, and stir-fry until almost cooked through.
Turn the heat to high, add the wine, sprinkle the bouillon over, and stir until the wine boils.
Add the zucchini and cook 2-3 minutes until the zucchini is tender.
Stir in the pasta, whipping cream, and Gorgonzola. Mix well and heat through. Serve immediately.
Amount Per Serving
Calories 391 Calories from Fat 202
Percent Total Calories From: Fat 52% Protein 27% Carb. 16%
Nutrient Amount per Serving
Total Fat 22 g
Saturated Fat 12 g
Cholesterol 119 mg
Sodium 544 mg
Total Carbohydrate 16 g
Dietary Fiber 1 g
Sugars 0 g
Protein 26 g
Vitamin A 18% Vitamin C 15% Calcium 0% Iron 7%
The spiral slicer can be ordered from Amazon:
Basily Spiral Slicer, Stainless Steel Vegetable Spiralizer with Japanese Blades and 2 Julienne Sizes