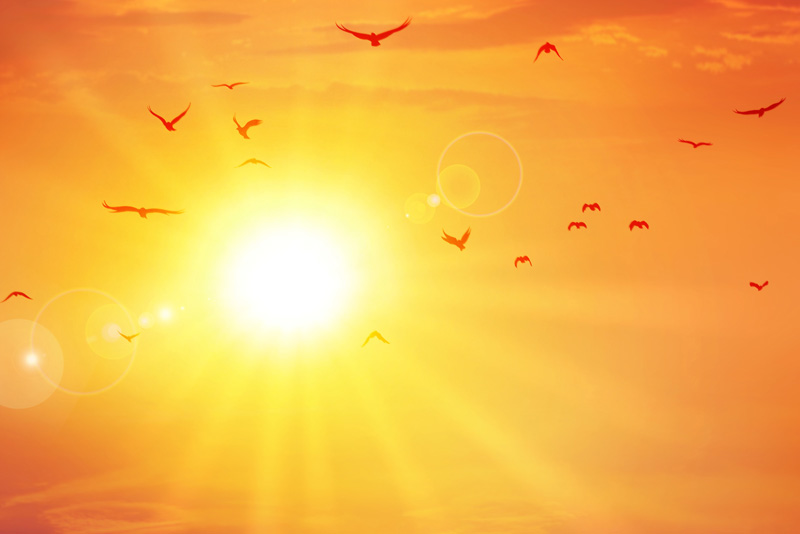 Christian living is not an easy path. I like to fit in and I often don't. My Christian convictions often conflict with the contemporary habits of my friends. The book of Romans tells me that I'm not to be conformed to the pattern of this world, but to be transformed by the renewal my mind. (Romans 12:2) Thankfully, I've found that the transformation is inward, as the Holy Spirit resides in me. When I believed, I began, slowly, to conform to the image of Jesus.
Jesus tells of the change in Matthew 5:1-11. That change often requires something of us but includes a reward. We call it the beatitudes.
The pattern of this world is being self-sufficient, self-reliant and proud of what we do. "I'll do it my way."
Jesus says that the 'poor in spirit' are blessed. This person knows his need for God's help in accomplishing anything good. He has realized that he can't be good enough or strong enough without God. (Matthew 5:3)
Action required: Flee from anything evil. Draw near to God. Get on your knees and admit your need.
Reward: You will have spiritual joy and ultimate well-being. The kingdom of heaven will be yours.


The pattern of this world says that sin is not such a bad thing, especially if you don't get caught. Worldly wisdom advises against admitting being wrong.
Jesus says that those who mourn sin, their own and the sins of the world, are blessed. (Matthew 5:4)
Action required: Recognize sin, own up to what you have done. Confess your sins. Ask for God's forgiveness.
Reward: Jesus forgives and comforts those who confess sin.


The pattern of this world tells us to stand up for our rights. We should be the best and be proud.
Jesus says blessed are the meek. Happy are those who are humble, not prideful. Jesus blesses those who submit to God's control. (Matthew 5:5)
Action Required: Be content with who God made you to be. Stop trying to be more important. Practice humility.
Reward: You will inherit the earth - the new earth of Revelation 21:1.


The pattern of this world tells us that more money, more things, and even more food will make us happier. It tells us to pursue what we want, even if it involves sinful or harmful behavior.
Jesus says those who hunger and thirst for righteousness are blessed. (Matthew 5:6)
Action required: Pursue God. Develop an appetite for his word and for what is right.
Reward: Jesus says you will be filled.


The pattern of this world tells us that strength and power is important. It tells us not to worry about another's misfortune. If he has a problem, it is his problem to deal with.
Jesus says that those who are merciful are happy. Being kind to others brings happiness. (Matthew 5:7)
Action required: Care about others. Help those in need.
Reward: You will be shown mercy.


The pattern of this world tells us that happiness comes from doing what we please and conforming to worldly standards that change to fit changing desires. It tells us to deceive others when necessary.
Jesus says that the pure in heart, those who want to please God, are happy. (Matthew 5:8)
Action required: Study God's word and conform to God's standard of living.
Reward: You will see God.


The pattern of this world tells us not to get involved and to stay out of the problems of others. Worldly wisdom tells us that it is okay to join in gossip and talk at other's expense.
Jesus was a peacemaker. He says that to help others get along is to be blessed. (Matthew 5:9)
Action required: Cooperate. Give up competition. Promote peace. Show others the way to peace with God.
Reward: In reflecting God's character, you will be called sons and daughters of God.


The pattern of this world is to conform to popular standards. It tells us there are many right ways to live and to try out one that makes us happy. Worldly wisdom tells us that if we are persecuted for our commitment we can turn away and commit to something else.
Jesus says that those who are persecuted, because of following him, are blessed. Just as Simon from Cyrene was close to Jesus when he carried the cross, we stay close when we are persecuted. (Matthew 24:32, Matthew 5:10)
Action required: Draw closer to Jesus through the persecution. The harder the troubles, the closer you cling. Ask him for his strength and peace.
Reward: Inherit the kingdom of heaven
You Should Also Read:
A Callused Spirit
Expectations


Related Articles
Editor's Picks Articles
Top Ten Articles
Previous Features
Site Map



Follow @LynneChapman
Tweet





Content copyright © 2022 by Lynne Chapman. All rights reserved.
This content was written by Lynne Chapman. If you wish to use this content in any manner, you need written permission. Contact Lynne Chapman for details.