Herbs in Action - CURRY PLANT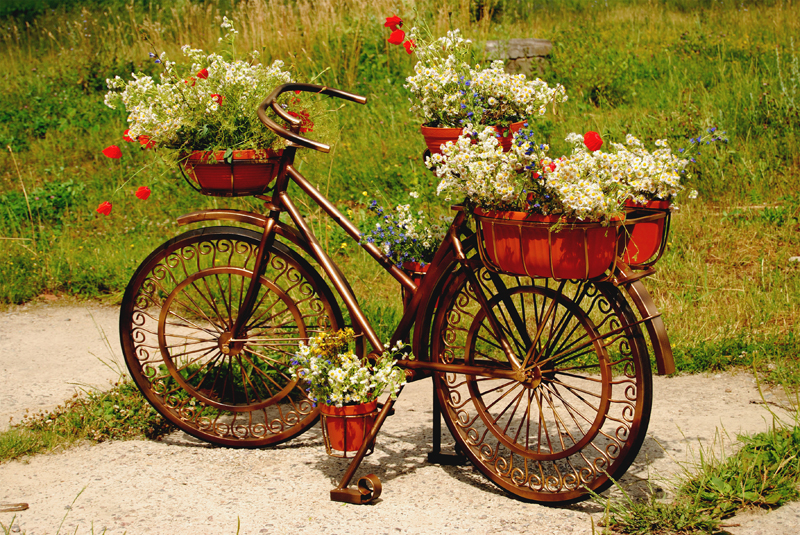 At the garden circle meeting the other day, we had a sort of a competitive discussion on how to convince someone who isn't a container gardener to become one. Well, as you know, we know that we will all do what it is we want to do in the end, and not everyone is persuaded by such simple arguments to change their ways or take advice from others.

Still, we 'tooed and froad' with the usual arguments that didn't do much for the converted – you know, like it is easy, its tastes good, it makes you feel useful and whole and green and so on; and in the end, we decided that the winning formula was to give a gift to the non-gardener in your life, of something that you had grown on your balcony yourself.

That day our hostess served hamburgers and salad with a wicked salsa relish and this is what made it all work. We tasted the outcomes from her gardening. The end result? I determined to grow some different chillies and to try growing my own sweet corn in a container (never done before)and to grow a curry plant again ... and I heard a couple of people saying much the same.

So, the theme for today, is growing an 'unusual' herb.

We all grow the popular herbs (basil, parsley, mint, sage, thyme, rosemary etc.), and for very good reasons and we should continue to do so, but there are so many herbs that we miss or pass by, perhaps because we don't know what to do with them or we think it is too much of a fuss. It's not any more fuss than growing anything else – so here follows a list of just a few of the 'other' herbs you may like to try. Something new in your containers might be a hit for you.

In no specific order, what about trying Borage; Sorrel; Amaranth; Fenugreek; Hungarian Pepper; Golden Rod; Catnip; Bee Balm; Milk Thistle; Pennywort; Winter Savory; Soapwort; Tansy; Ginkgo; Melissa; Echinacea; Bergamot; Epazote; Perilla; Anise Hyssop; Chervil; Caraway; Sweet Cicely; Red Orach or Feverfew.

Ah well! There are many more, and anyway some of these on the list above may not be unusual for you as you may already be growing some. Still you can add your own if they are new, and make notes in your gardening journal as you do. Set about growing something different – not only will it stretch your container gardening experiences but it can offer some new recipes for you to try on your family and friends.

Here is one you could try.

The Curry Plant (Helichrysum italicum)

This is a really pleasurable herb to grow, a hardy chap that does not demand too much attention and will often grow in areas that nothing else will grow in. It doesn't like a lot of fuss, is fairly low maintenance and an easy date; and for these few reasons alone it deserves your consideration. Deer hate it by the way – so if you need to grow a line of pots and train it as a hedge of sorts to keep them away from your garden space, then this is one of the plants you can use. In fact, the Curry Plant is a natural pesticide as bugs don't like its scent – so it makes a good 'bookend' plant too.

The plant has silvery grey leaves that grow to two to three feet high and looks as if it could be a mix between rosemary and lavender. If you trim the top then it will spread out to compensate, but if you leave it to grow, it will wave about in a strong wind so may need to be staked for support. It just depends on where you decide to place your pots. It produces tiny yellow buttony flowers.

The Curry Plant likes full sun and warm conditions (it does not do well in frost) and the soil you use should be loose and well drained. It does need water, but not so much and will do well in a low water garden and in areas of drought and or poor soils. Where others may not grow, the Curry Plant may just surprise you.

This herb is considered an aromatic – and as its name tells you, it has a warm spicy, sweet flowery fragrance that smells like a curry blend. It is gentle on the nose and is enticing and welcoming. Now of course you can use it in the kitchen though much of the aroma is lost in the cooking process. Still, chop it finely and use it to give a nice lift to mild cheese dishes, eggs and white sauce served with fish ... and you can add it to a sweet omelette – it may make the difference in taste you seek.

If you are going to grow a Curry Plant, choose a container that is big enough to accommodate the mature plant, so go for one that is at least 12 inches deep and sturdy. I prefer ceramic, but it's your choice. Remember to place it in a spot on your balcony that gets plenty of sun and or bright light and protect it from icy temperatures and very strong winds as it is a tender perennial – it grows from seed and can be propagated from stem cuttings. To repeat, good drainage is important and do not over water you plant.

Expand your herb collection by growing a Curry Plant – it's aromatic and culinary and an 'easy-grow.'

What do you want your container garden to do?

................................................................................

Are you a CASUAL VISITOR … and just browsing? Why not sign up to the Container Garden newsletter? It won't matter what space or how many pots you have or even how much time you have to spend in your container garden; what matters is you. You are what makes the container gardening site work when you come and join in the conversations on the forum, so please do.


You Should Also Read:
Herbs in Action CHILLIE PEPPERS
Growing Sweet Bell Peppers
Herbs for Culinary Use


Related Articles
Editor's Picks Articles
Top Ten Articles
Previous Features
Site Map





Content copyright © 2022 by Lestie Mulholland. All rights reserved.
This content was written by Lestie Mulholland. If you wish to use this content in any manner, you need written permission. Contact Lestie Mulholland for details.