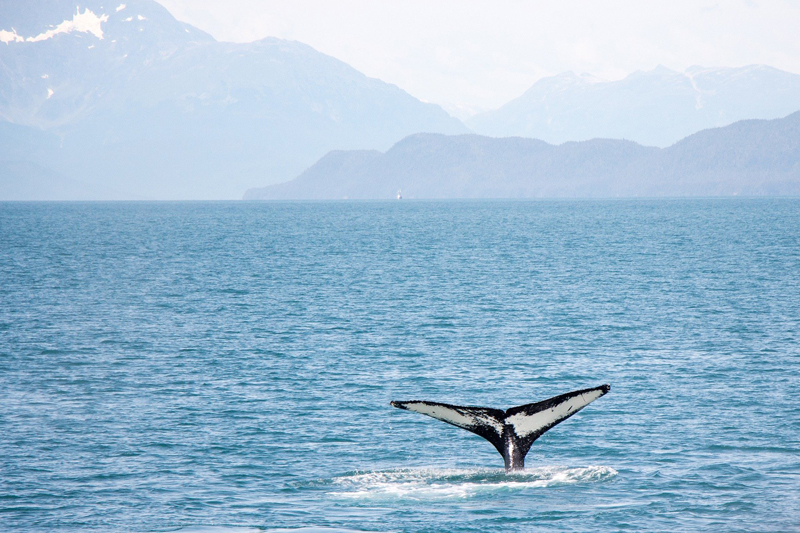 Glaciers are a build-up of snow. How's that for simple? Over time the snow compacts as it melts, and because of the temperature staying generally cool in Alaska, this compacting just builds and builds over time…a long time. There are advancing and retreating glaciers, doing the same thing they have been doing for millennia, with or without global warming. As they move along, they collect sediment and debris. This is called moraine. It collects along sides, top, bottom, and the forward or terminal, areas of the glacier. Where glaciers meet water, they calve, or drop off the main glacier. They take with them whatever is attached, in some cases this can be huge boulders. Rock originating in the St. Elias and Chugach Mountains, has been found 1,000 miles away on the Pacific Ocean floor, taken there by calved icebergs.
Kayaking amongst the glaciers and icebergs is very popular and very dangerous. It is said that for every bit of ice you see floating above the water, six times that size is below. As the ice melts, it shifts, in some cases turning and all of a sudden that larger piece of ice has rolled and shot up to the surface of the water with no warning. I would not want to be in a kayak at that moment! Another fun thing to try, is selling pieces of calved ice from glaciers. During the 1970's, there was a demand for glacier ice all over the world, and many people tried to gather, store, and ship the chunks. It became a short-lived experiment in spending a lot of money, to attempt to have the ice survive from point of origin to the destination!
A great way to see glaciers is with a guide or touring company. The cruise lines all include a viewing of a glacier or two within the itinerary. You can book air tours including planes that fly over and helicopters that will actually land on the glacier and allow walking on them in a safe area. The crevasses on them can be very large and are constantly shifting. Because of the air pockets created within the ice, there is a constant crackling compared to the sound made when milk is poured over Rice Krispies cereal. There are some adventurous souls that actually hike the miles of crevasses within the ice though it is not a recommended sport, as the shifting has taken lives when paths become cut off.
There are many types of glaciers. Just to confuse the non-scientists among us, they are classified either by size, thermal characteristics, and/or by varying traits. So, one glacier can be a small cirque, polar glacier that is found on the Brooks Mountain Range north of the Arctic Circle. Another, like Hubbard Glacier, is a large valley glacier, also known as a temperate, tidewater glacier, it being found south of the Arctic Circle and terminating into sea water. The easiest way to understand the differences is to look at some of the more well-known glaciers such as Hubbard, Mendenhall, Piedmont and Portage which are explained in Alaska and Glaciers II.
I took this picture of Portage Glacier in 2000 on a trip with my family.
You Should Also Read:
Alaska and Glaciers II


Related Articles
Editor's Picks Articles
Top Ten Articles
Previous Features
Site Map





Content copyright © 2022 by Dawn Engler. All rights reserved.
This content was written by Dawn Engler. If you wish to use this content in any manner, you need written permission. Contact Deb Frost for details.