International Women's Day?? What?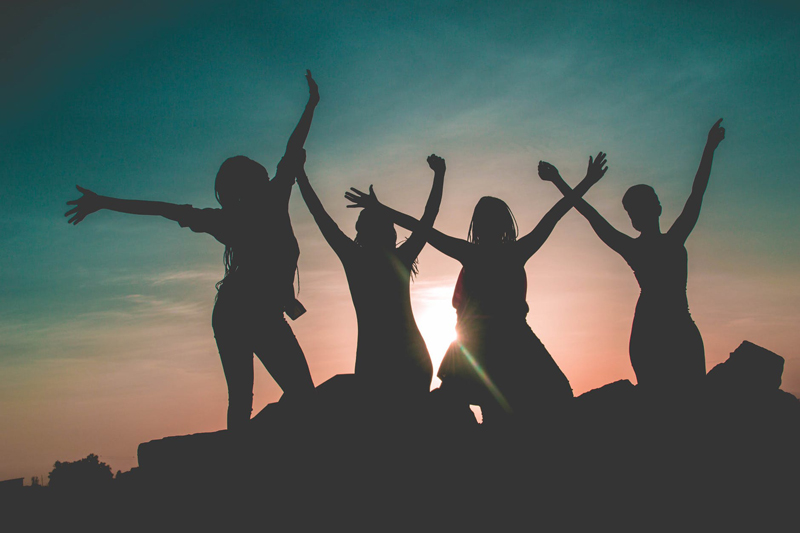 Did you celebrate International Women's Day? Were you aware of it?

I wasn't.

International Women's Day (IWD) began as National Woman's Day (NWD) on the 28th of February 1909 in the United States upon declaration by the Socialist Party of America. The year preceding saw fifteen-thousand women, mostly textile workers, march through the streets of New York City demanding better and safer working conditions for women, improved pay and voting rights.

The following year, Clara Zetkin, administrator of the "Women's Office" for the Social Democratic Party in Germany, proposed that "International Women's Day" be celebrated in every country on the same day every year to bring attention to the causes most relevant to women and to promote universal suffrage. Upon her urging in 1910 at the second International Conference of Working Women in Copenhagen, International Women's Day was approved by the unanimous vote of over one-hundred women representing seventeen countries. In 1911 on the 19th of March, IWD was recognized by over one million people in Austria, Denmark, Germany and Switzerland. Tragically, less than one week subsequent to this first observance of IWD, in excess of one hundred and forty garment workers died in the Triangle Shirtwaist Factory fire in New York City. The majority of the dead were Italian and Jewish immigrant women.

Alexandra Kollontai, a Bolshevik socialist feminist, following the October Revolution in 1917, convinced Lenin to make IWD an official holiday in the Soviet Union. He did so and Kollontai founded the Zhenotdel or "Women's Department" in 1919. Through her work with the Zhenotdel, she sought to improve the living conditions of Soviet women which included a thorough education as to post revolution laws which affected their rights. While Kollontai advocated an abandonment of the "traditional" family in accordance with her feminist and political views, she did praise "maternal attachment." IWD remained a political holiday with slogans in the USSR such as, "8th of March is the day of the rebellion of the working women against the kitchen slavery" and "Down with the oppression and narrow-mindedness of the household work!" The holiday came to life simultaneously with the nationalization of Soviet banks, the seizure of land and private bank accounts (including church accounts along with church property), the seizure of factories, the introduction of the eight hour work day and the repudiation of all foreign debt.

There is no denying the IWD's roots in socialist politics yet it has evolved over the years to become a day of global recognition in developed and developing countries alike. The holiday is recognized and urged observed by the UN as a day for women to celebrate "their" day which represents "nine decades of struggle for equality, justice, peace and development. International Women's Day is both officially and unofficially observed in many countries in different ways. In some countries it has retained its political bend in others it is apolitical. In some it is celebrated as a day for human rights, in others it appears to have morphed into a hybrid of Mother's Day and Valentine's Day. The holiday is extremely controversial in the Czech Republic.

So how is it possible that I - an educated, well read, and relatively street smart American woman – never heard of International Woman's Day, the seeding of which was one hundred years old on the 28th of February 2009. It was neither observed nor mentioned in any class I ever attended in grades Kindergarten through twelve – nor college – neither grad school. Mother's Day, yes. International Women's Day, no. Could it be that the day itself firmly grounded in strong female socialist politics became dangerously offensive to a collective American way of thinking - that it was omitted from the history texts from whence came my lessons along with lessons regarding the "Bread and Roses Strike" and references to the "Bread and Peace" campaign. Much in the same way I learned about Margaret Sanger and Planned Parenthood without ever once hearing the term "eugenics." Or the way my youthful brain was inundated with Henry Ford and his assembly line without ever once hearing of "The Dearborn Independent." Or the way I never heard that Abraham Lincoln's primary concern was the preservation of the Union and not slavery – that the most prudent way to keep the South from succession was to free its workforce – and so he did.

It should be of no surprise to anyone that much of political history is a spin. Many people are comfortable with the spin - un-spinning is often shocking, tiresome and disappointing – even frightening at times though admittedly, I have an extremely difficult time with individuals who shield when they should shepherd. I know for a fact that I am not the only American woman completely unaware of International Women's Day and I am confident I know the reasons as to why I never heard of it. In any event, as I prefer to shepherd, my daughter (and my son) have now both been IWD informed and I think that warrants a pretty righteous gift on Mother's Day – which is right around the corner – and highly celebrated in this country.

Oh, and men – your day is celebrated on November 19th. In order to maintain "equality" and to highlight discrimination towards your gender, International Men's Day came to life in 1999. It has likewise received UN recognition and support; is celebrated in several countries including America - and its popularity is growing globally.



Related Articles
Editor's Picks Articles
Top Ten Articles
Previous Features
Site Map





Content copyright © 2019 by Gina Cowley. All rights reserved.
This content was written by Gina Cowley. If you wish to use this content in any manner, you need written permission. Contact Barbara Gibson for details.