Phalaenopsis Leaf Problems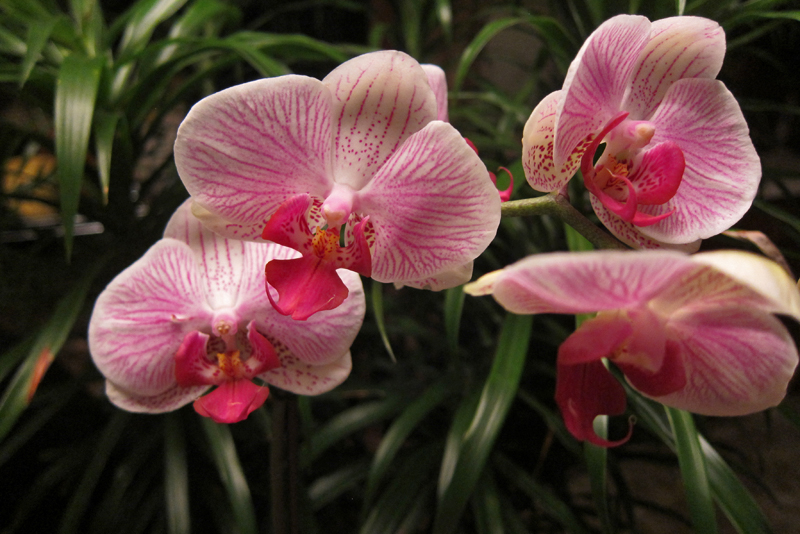 Phals are easy to grow plants for most people due to the fact that they will prosper under fairly low light conditions. But after they've flowered and you have cut off the inflorescence (flower stem) you can have problems with the leaves as you try to grow them for another year of flowering. Here are some of the most common problems and what to do about them.
Reddish or discolored leaves at the bottom of the plant are probably just getting ready to drop.
Monopodial
orchids grow new leaves at the top and discard old leaves at the bottom. This is a normal process and nothing to worry about unless the bottom leaves have an appearance of black soot which might be mold. If so, clean with Neem Oil or spray with a bactericide such as Consan or Physan 20.
If you get an area of discolored yellow on the middle of a top leaf, it is most probably sun burn. Check out the amount of sun that the plant is getting. As the sun moves with the seasons an area that is perfect in the winter may provide too much sun in the late spring or summer. Feel the leaves during the brightest part of the day and if they are warm, then the plant is getting too much sun. Either add shading, such as a sheer curtain, or move the plant further away from the light source.
Low humidity can cause a number of problems with Phals. The leaves can curl at the edges, appear dull in texture or exhibit a crinkled appearance. In the house, provide a humidity tray for the plant and group other plants with it to help increase humidity. A summer vacation outside in the shade will also work wonders for most plants since natural humidity will help immensely.
Something you need to watch for is discoloration at the base of leaves or in the center of the plant. This could be crown rot which will quickly kill your plant. In general this is caused by standing water in the crown coupled with low temperatures and inadequate air circulation around the plant. As soon as you see this, spray your plant with a good fungicide such as Physan or Consan. Crown rot will kill a plant in about a week if you leave it untreated. If you already have dead leaves at the top of the plant, cut them all out with a sharp razor and apply Neosporin™, cinnamon powder to the cut part or spray with fungicide. Even if you lose the growing part of the plant, you may be able to get a keiki (baby plant) to grow which will flower next year.
You Should Also Read:
Phalaenopsis Orchids—A Primer
Phalaenopsis--What next?
Reflowering Your Phalaenopsis


Related Articles
Editor's Picks Articles
Top Ten Articles
Previous Features
Site Map





Content copyright © 2018 by Susan Taylor. All rights reserved.
This content was written by Susan Taylor. If you wish to use this content in any manner, you need written permission. Contact Anu Dharmani for details.