Absolute Beginners - Start Observing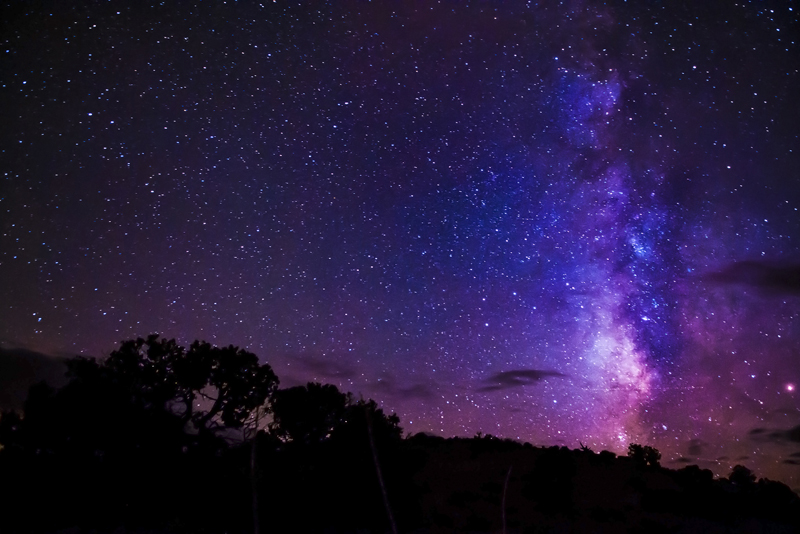 Have you ever wondered about the name of that bright star you can see? Or which star is the North Star? Or if Mars is really red? If you wish you knew more about the night sky, it's easier than you think to get started.
Even in a city, all you need is an open view away from direct bright lighting - and a clear night, of course.
But you wouldn't head off for a new place without a map or instructions, and you also need them to find your way around the sky. If you don't have a sky guide, you can download and print a map from the internet.
On your map, dots represent stars. The bigger the dot, the brighter the star. The lines help you to see the star patterns you're looking for.
If you hold the map over your head and look up at the map - as you would the sky - the objects directly overhead (the zenith) are in the center. The edge shows the horizon, so anything near the edge is low in the sky. At first glance, east and west may seem to be the wrong way around, but not when you're holding it above your head.
Most people can recognize the the Big Dipper ("the Plough" in Britain). Click for a diagram showing how
two stars in the bowl point to Polaris
, the North Star. Your star map will show you where to look for the Big Dipper. See if you can find Polaris in the sky.
But remember, the map shows you what the sky looks like at a particular time. Since the Earth rotates, the view changes. The stars appear to rise in the east and set in the west and also seem to revolve around Polaris.
Planets are actually often the easiest things to find. Without a telescope they just look like bright stars, but they generally don't twinkle. If you see what looks like a bright star around dawn or dusk, that is a planet. They can also be seen in light-polluted skies.
You will often be able to find out about planets currently visible in the Astronomy forum and newsletters at BellaOnline. More details and star maps are available from internet sites such as Heavens-Above.com and SkyandTelescope.com.
In general, Mercury is quite difficult to see because it's close to the Sun. Venus, on the other hand, is often the brightest natural object in the sky, except for the Moon. Depending on where it is in its orbit, you may see it in the west after sunset or in the east before sunrise.
When and where you see Jupiter, Saturn and Mars varies. Your sky map will show you where they are and Mars really does have a reddish color, which will help you spot it.
Stars also come in different colors. You can see some of the colors with the unaided eye, such as red Antares in Scorpius and blue Rigel in Orion. Absolute Beginners guides for each season will point out some of these.
When observing, your eyes need to adapt to the dark. You'll be surprised to see how many stars seem to have appeared after you've been outside for awhile! But it's difficult to keep your eyes adapted if there's lighting outside or if you want to look at your star map. The lighting may be out of your control, but you can tape red cellophane or something similar over your flashlight. Using red light lets your eyes stay adapted.
Other things you can see with the unaided eye are the Moon, comets, meteor showers, the International Space Station (ISS), artificial satellites and sometimes aurorae.
You can find out when the space station will pass over your locality at heavens-above.com. If you register your location, you won't have to reset it every time you visit. The space station is a bright and lovely sight as it seems to float across the sky.
But wait, what about the telescope? Absolute beginners don't need one as they are learning about the sky. There are many telescopes abandoned in back rooms because their owners didn't do this first. However if you have some binoculars, they can be quite useful.
Astronomy should be fun, so consider looking for an astronomy club near you and learn with others. They are usually quite welcoming.
But if you decide to skywatch, do take all the security and safety precautions you'd take for any night-time activity. This includes some warm clothes, even in summer, and remember that even your own yard can be hazardous in the dark. It's also safer - and more fun - with a friend.
I wish you clear skies.
If you are now ready to go out and see what's in the sky, here is some seasonal advice:

Absolute Beginners - Summer Skies
Absolute Beginners - Autumn Skies
Absolute Beginners - Winter Skies
Absolute Beginners - Spring Skies
You Should Also Read:
Start Observing - with Binoculars
Absolute Beginners -Observing the Moon
Absolute Beginners - Seeing Mercury and Venus


Related Articles
Editor's Picks Articles
Top Ten Articles
Previous Features
Site Map





Content copyright © 2019 by Mona Evans. All rights reserved.
This content was written by Mona Evans. If you wish to use this content in any manner, you need written permission. Contact Mona Evans for details.