Deer Ked Cause Moose Balding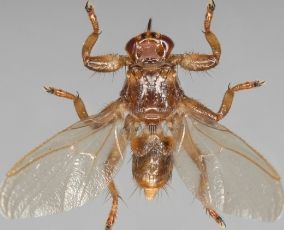 Throughout parts of Northern Europe and North America, moose face an increased threat of dying from exposure because of rapid body baldness. Exposure is a particular concern, as moose enjoy living in densely forested, snow-covered areas with access to clean water resources. They are cold weather climate dwellers that get cranky when their habitat regions exceed 80°F (27°C). One of the bigger impacts from increased global temperatures is the aggressive proliferation of a parasitic fly called a deer ked (Lipoptena cervi). This winged parasite looks like a fly, but once it has found a host, it sheds its wings and takes up lifelong residency on the animal.

To feed, deer ked burrow below hair follicles to gain access to a plentiful blood supply. Remarkably, a moose normally has around 3,500 of these bloodsucking occupants. However, with prolonged planetary warming, these uninvited guests are able to breed for longer periods. Their larvae need to gestate in a blood-rich environment, otherwise they would die. When the larvae pupate, they hop off the moose and bury themselves in the soil, where they enter their next gestation phase, and emerge a parasitic winged thing endlessly questing for a rich blood supply. Could we get anymore vampire here?

Research concluded that the number of flies found on an average moose has risen to 16,500, which is almost five times the average. Studies suggest that moose skin cannot withstand the level of inflammation caused by this parasitic demand, resulting in body balding. A deer ked differs from a tick in that it will continue to travel over the body of its host, rather than staying in one spot like that of a tick. Further, studies show that these flies are substantially less affected by cold temperatures when attached to a host. This makes the pupate phase their most vulnerable time, as it is the only stage spent apart from a host.

Moose rely on their fur for survival. Without it, they are left standing outside – naked – skin exposed to freezing temperatures. Humans can empathize with this conundrum, as we are short-lived in extreme climates without appropriate clothing attire to protect the skin. The moose are the largest of the deer species, so it seems almost a cruel cosmic joke that this gentle herbivore is being taken down by a bloodsucking carnivore the size of a pinky nail (3.5mm). Moose generally weigh 1800 lbs. (820kg) and their antlers can span up to 6 feet (1.8m) over the course of their 20-year life span. Until the outbreak of balding, the deer ked was considered as a nuisance insect, as it is not known to spread disease through its saliva. However, without taking every measure possible to cut down carbon dioxide emissions to reduce atmospheric heat and reduce ecological imbalance, this fly could be what fells mammals in the wild.

This is Deb Duxbury, for Animal Life, reminding you to please spay or neuter your pet.

You Should Also Read:
The Importance of Rainforests and Animal Diversity
The Weeping Spirit Bear
Meet the Furry Caterpillar


Related Articles
Editor's Picks Articles
Top Ten Articles
Previous Features
Site Map



Follow @WildlifeWelfare
Tweet





Content copyright © 2022 by Deb Duxbury. All rights reserved.
This content was written by Deb Duxbury. If you wish to use this content in any manner, you need written permission. Contact Deb Duxbury for details.