Leonard Peltier's Sacrifice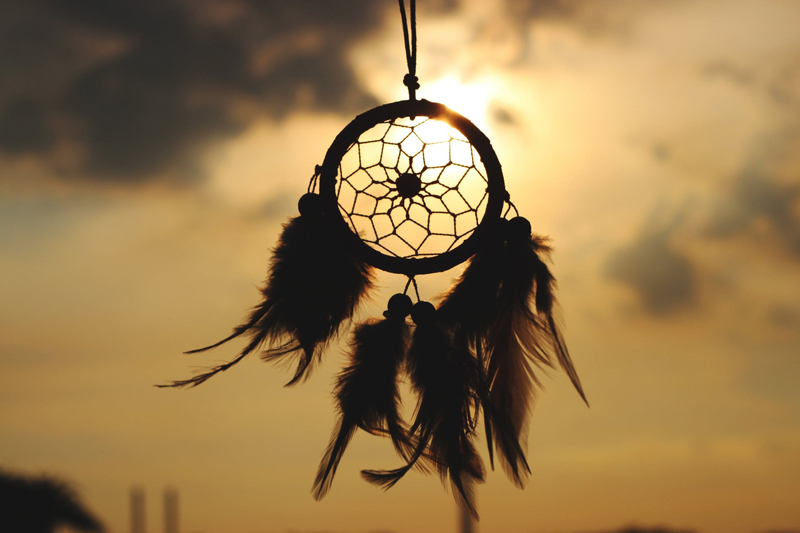 Leonard Peltier was only four years old when his parents divorced. He and a sister were sent to live with their paternal grandparents on Turtle Mountain Reservation in North Dakota. At only nine years old, he was enrolled in the Wahpeton boarding school run by the Bureau of Indian Affairs (BIA). He completed this school and attended the Flandreau Indian School in South Dakota, but dropped out in the ninth grade. Returning to Turtle Mountain, he lived with his Father until 1965, when he moved to Seattle, Washington.
While working his way up to owner of an auto body shop, he was involved in civil rights issues with American Indians, and joined AIM. Although not a leader in this organization, he was targeted by the US Federal Bureau of Investigation (FBI). Accused of the fictitious attempted murder of a police officer in Milwaukee, Wisconsin, he had an outstanding warrant and was considered a fugitive when he traveled to Pine Ridge Indian Reservation in 1975.
The People of Pine Ridge had been living in terror since the 71 day stand off at Wounded Knee in February, 1973. The private militia known as the Guardians of the Oglala Nation (GOONs), had continued a rampage against anyone who did not support the corrupt Tribal Chairman. Armed by the FBI, who had also descended in force onto the Reservation, the GOONs set up roadblocks, attacked, and pillaged. Leonard Peltier had arrived in the midst of a powder keg set to explode.
In June, 1975, Peltier was staying at the Jumping Bull Ranch with fellow AIM members and others when two FBI Agents pulled up and the gun battle began. When law enforcement swarmed the ranch, everyone had escaped into the hills. But two agents had died and someone had to pay for it. Three men, Peltier, Robideau, and Butler were identified by three witnesses as being nearby and were charged in the deaths of the agents. Robideau and Butler were tried together and both were acquitted based on self defense.
All three of the witnesses recanted their testimony, claiming they had been tied to chairs, threatened, beaten, and denied legal counsel. Peltier was the only one left to face the charges, but he had fled to Canada. Extradition was based on the testimony of an Indian woman who claimed to be Peltier's girlfriend and witness to the agents' deaths. However, she did not even know him and was not at the ranch that day. She also later testified to being threatened and coerced into signing the affidavit used for extradition.
Misconduct by the FBI, prosecutors and even the judge in Leonard Peltier's trial is mind boggling and thoroughly documented within the appeal records. Evidence was contradicted, falsified, and withheld. Pertinent testimony for the defense was excluded, and excessively prejudicial and unrelated testimony was allowed for the prosecution. The judge even denied review requests from the jury.
Leonard Peltier has been serving two consecutive life sentences since 1977. His appeals for a new trial, with the pro bono service of a former US Attorney General have been denied. It's hard to fathom a US judge stating acquittal was possible had information not been withheld during a trial, but refusing to allow a new one, especially when the government's attorney states, with numerous shooters, they don't know who shot the FBI agents. Even the parole board acknowledges Peltier's prosecutors had no direct evidence proving that he killed anyone, but parole is consistently denied.
The US legal system is one of the best historically, but it is not perfect. Debate continues over whether or not Leonard Peltier actually killed, or contributed in the deaths of the FBI agents. Some have stated he admitted to it, others have said they have knowledge this is correct. However, our system is based on "Innocent until Proven Guilty." It's a travesty of justice he was convicted, but not "proven" guilty of the charges, and that this is acknowledged by the courts, yet upheld.
Leonard Peltier's time in prison has been harsh, with transfers, solitary confinement, and assaults. But he accepts the sacrifice of his freedom. Although caged, his warrior spirit remains. His book
Prison Writings: My Life is My Sun Dance
©1999 is well reviewed. His story has inspired a documentary, a movie, and numerous songs in various music genres. In Robbie Robertson's song
Sacrifice
©1997 Capitol Records, Leonard Peltier speaks to us via a prison phone.
I'm just one of a million or more stories that could be told.
There's a lot of nights that I lay in my cell and can't understand why this hell, this hell, and this terror that I've been going through for 21 years hasn't ended.
But yet I know in my heart that someone has to pay sacrifice to make things better for our People. The sacrifice I have made, when I really sit down to think about it, is nothing compared to what our People of 100 years, or 50 years, or 25 years ago made. Some gave their lives. Some had to stand there and watch their children die in their arms. So I mean the sacrifice I made is nothing compared to those.
I've gone too far now to start backing down. I don't give up, not until my People are free will I give up. And if I have to sacrifice some more, then I sacrifice some more.
For information on how you can support Leonard Peltier, here is the link to his Defense Committee
Who is Leonard Peltier
You Should Also Read:
Leonard Peltier - A Question of Justice
FORUM - Leonard Peltier


Related Articles
Editor's Picks Articles
Top Ten Articles
Previous Features
Site Map





Content copyright © 2021 by Jane Winkler. All rights reserved.
This content was written by Jane Winkler. If you wish to use this content in any manner, you need written permission. Contact Jacqueline Olivia Pina for details.