Roses grown in Containers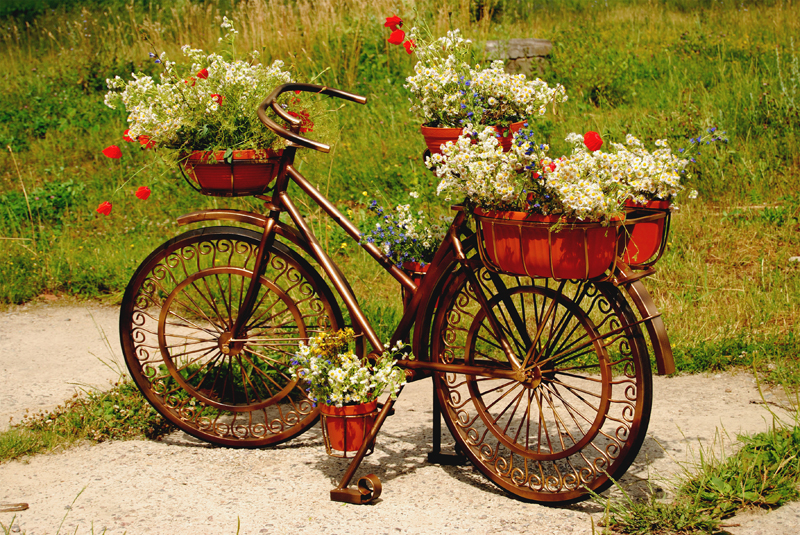 Nearly any rose can be grown in a container (in fact, I don't know of one that can't), you just need to match the container and location to the needs of the rose.

In general, the larger the rose will grow the larger the container it needs. Miniature roses can be grown in 10" or 12" pots, where large climbers will need ½ wine barrels. Also, some cultivars will do well in partial shade. The key to successfully raise roses in shade is to choose disease resistant cultivars and ones which will flower with limited sun. In general, the light or pale colored roses will flower better in shade than dark and vibrant colored ones – one exception is Cecil Brunner which does not flower well in shade.

Grafted vs. Own-Root Roses
Roses can be purchased two ways: bare root in winter and spring, and in containers during the summer. Roses also come in two versions: own-root roses, which are grown from seed or cuttings and have their own natural roots, and grafted roses, where one cultivar of rose is grafted to the root stock of another. Grafted roses were once considered the best choice because beautiful bloomers could be grafted to hardy root stock, but they were found to be more prone to disease and cold-weather damage. Own-root roses are now becoming more common and many rose experts will recommend growing them over the grafted variety. I have grown both with success.

Container Soil
Roses prefer a slightly acidic to neutral soil, pH 6.5 to 7.0 is ideal. Check your container soil several times each season and adjust accordingly, as water and fertilizers can change the acidity. If the pH is too high (alkaline) use an acidifying fertilizer or add aluminum sulfate to the top inch of soil. If the pH is too low (too acidic), add some garden lime.

Watering
Roses prefer a good soak once in a while over light, frequent waterings. Water your roses when the top 1-2 inchs of soil is dry and until the water drains out through the bottom. Make sure your container has good drainage and never let your roses sit in water.

Fertilizers
Roses prefer a balanced fertilizer for vigorous growth, disease resistance, and beautiful blooms. A fertilizer too high in nitrogen will yield vigorous growth but hamper blooming. Roses are heavy feeders and should be fed a liquid or granular fertilizer every 4-6 weeks throughout the growing season, beginning when buds first appear in the early spring and ending in late summer just before autumn.

Pest Control
Roses have a few pests you will need to watch for and control. Aphids and thrips will attack the buds and blooms, and aphids will also go for young leaves. Mites attack the foliage, leaving tiny webs and turning the leaves a mottled yellow and brown. Caterpillars will eat the young leaves and sometimes the bloom buds. Certain beetles will also attack roses. All of these pests, and several diseases as well, can be controlled with regular sprays of a Neem Oil mixture.

Disease Control
Roses are susceptible primarily to three fungus diseases: black spot, powdery mildew, and rust. All three of these diseases prefer moist conditions, so the first rule of prevention is to never water your rose from overhead – water directly to the container soil or better yet, use a self-watering container. Second, remove all diseased leaves from the container and ground when they drop, and locate your roses in an area with good air circulation. If you see signs of any of these diseases, quick response is important for control or eradication. A neem oil spray or other spray for rose disease control should be applied as soon as possible and according to the product directions. Note that the sprays will not repair the damage (discolored leaves will not heal) but will prevent spread of the disease to other foliage and new leaves. A systemic disease formula may also be used along with your fertilizing regimen; there are some products available as combined rose fertilizer and disease prevention formulas.

Pruning
Prune your roses in late winter to remove dead branches, shape the plant, and promote better air circulation between and among the branches. Prune after risk of frost has past but before vigorous growth starts. You can also prune throughout the growing season to maintain the shape or reduce the size of your rose. Stop pruning in late summer to allow the rose to rest before the cold of winter.


You Should Also Read:
Disease and Insect Spray Recipes
Potting Soil Specialized Recipes
Compost Tea Recipe: Fertilizer and Disease Prevention


Related Articles
Editor's Picks Articles
Top Ten Articles
Previous Features
Site Map





Content copyright © 2022 by Jessica Carson. All rights reserved.
This content was written by Jessica Carson. If you wish to use this content in any manner, you need written permission. Contact Lestie Mulholland for details.