Getting Started Making Polymer Clay Jewelry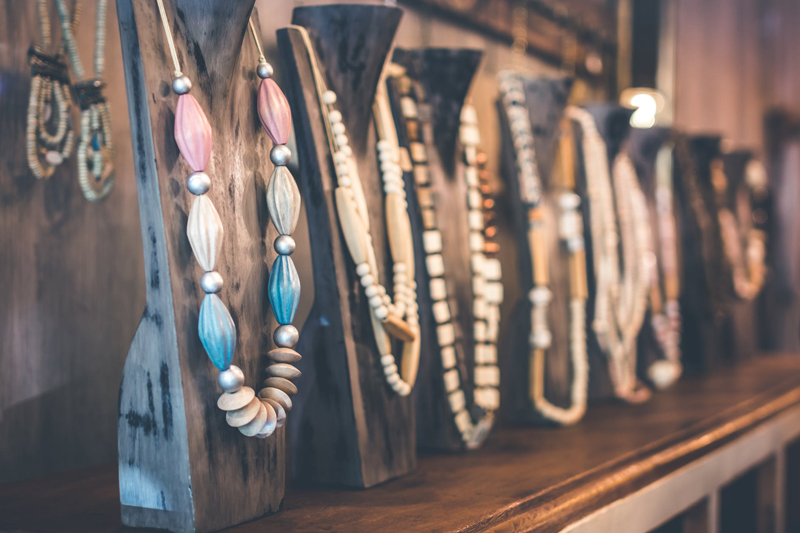 Click here to read the first article in this series, Getting Started Making Polymer Clay Jewelry - Preparation
Once you have your basic equipment and work area prepared, you'll be ready to start experimenting with polymer clay.
Conditioning Polymer Clay
Conditioning makes polymer clay soft and pliable enough to work with. You'll need to condition your clay each time you take it out for use. There are two ways to do this: manually or with a pasta machine.
To condition clay manually, squish and roll the clay in your hands repeatedly until it warms and softens. Squeeze the clay down, roll it into a snake or log shape, then fold it on top of itself again and again. Do this until you have a nice consistency to work with.
You might find it less tiring for your hands to use a pasta machine to condition clay. (Be sure to use a machine that is reserved only for polymer clay use and not for making pasta.) Set the machine on its thickest setting. Squish, roll, and fold the clay in your hands briefly to begin conditioning, then shape it into a long snake. Pinch down one end of the snake and slowly begin feeding it into the machine.
Turn the hand crank as you feed the clay, creating a thin sheet of clay. When the sheet has come completely through the machine, fold it in half lengthwise, and feed it through the machine again. Repeat this process 10 to 20 times, or as long as it takes for the clay to become soft and workable. If air bubbles appear in the sheet as you go along, collapse them with a needle or sharp pin.
From time to time you'll need to clean your pasta machine to remove clay remnants. Follow the instructions that came with your pasta machine for dissembling it, then gently scrape off old clay and wipe down the rollers and mechanisms with a little rubbing alcohol or mineral oil.
When it comes to designing with polymer clay, your imagination is the limit. Begin by using a cutter to slice off a piece of clay the size you'd like to use. Place the remaining conditioned clay in a plastic baggie or plastic wrap while you work. Simple round beads can be formed by rolling around smaller pieces of clay between your hands. For more uniform beads, use an acrylic bead roller like the one shown to the right. These have pre-formed grooves for rolling perfect beads in a variety of shapes.
There are several possible methods for creating holes in beads. The most professional results usually come from drilling beads after they've been fired. (This is a more advanced technique we'll cover in a future article.) However, you can also experiment with using a needle or pin to make smaller holes.
Before creating a hole, firm up the clay by placing it in plastic wrap (or a baggie) and into the refrigerator for a few hours. Prepare your needle or pin for piercing by lubricating it with mineral oil. Then, slowly pierce away. This may take a little practice, but a nice characteristic of polymer clay is that it can be squashed and used over again, until it's finally fired.
There are a number of simple techniques for making pendants as well. Use an acrylic clay roller (available at craft stores and online) to roll out the clay like cookie dough, and cut it into shapes using small cookie cutters. (Lubricate the cutters with a bit of mineral oil for best results.) Experiment with texturing the clay using various objects as stamps. Create holes at the tops of your pendants using larger sized needles or bamboo skewers.
Firing Polymer Clay
Polymer clay can be fired in a standard kitchen oven or toaster oven. For flat pieces (like flat pendants), lay each piece on parchment paper on the bottom of a metal or glass baking pan. For round beads, you can avoid creating flat spots by stringing them onto florist's wire wrapped around and over a baking pan so the beads are suspended.
Carefully follow the firing instructions for the brand and type of clay you're using. Some may require slightly lower or higher temperatures and varying firing times. It's important to monitor your oven's temperature during firing and make temperature adjustments as needed. Since most oven sensors are a little inaccurate, consider using a separate oven thermometer that you place inside the oven on one of the racks.
As a general rule, do not allow the oven to exceed 300 degrees Fahrenheit, and try not to fire for longer than a few hours. The actual time needed to fire your clay will depend not only on the brand and type, but also on the thickness of the design. Logically, thicker pieces will take longer to fire.
After firing and cooling, your polymer clay pieces can be glazed, sanded, or simply left as-is.
Advanced Work
Once you master these basics, you can begin incorporating more advanced techniques into your designs. These include elaborate design work such as color layering and mixing, cane fabrication (including millefiori), mold making, faux finishes, image transfers, and imbedding. We'll look at some of these in future articles. In the meantime, here are some books you might find helpful and inspiring:
Some links in this article point to websites not associated with BellaOnline.com. BellaOnline.com is not responsible for the material found there.
---
Chris Franchetti Michaels is a writer and jewelry artisan specializing in beaded designs, wire work, and metal fabrication. She is the author of the books Teach Yourself Visually: Jewelry Making and Beading, Beading Quick Tips, and Wire Jewelry Quick Tips. Visit her website BeadJewelry.net for more jewelry-making help and inspiration.
You Should Also Read:
Getting Started Making Polymer Clay Jewelry - Preparation
Getting Started Bead Stringing - Preparation
Trashmash DIY Bangles eBook - Review


Related Articles
Editor's Picks Articles
Top Ten Articles
Previous Features
Site Map





Content copyright © 2023 by Chris Franchetti Michaels. All rights reserved.
This content was written by Chris Franchetti Michaels. If you wish to use this content in any manner, you need written permission. Contact Susan Mendenhall for details.