Getting Started with Polymer Clay - Preparation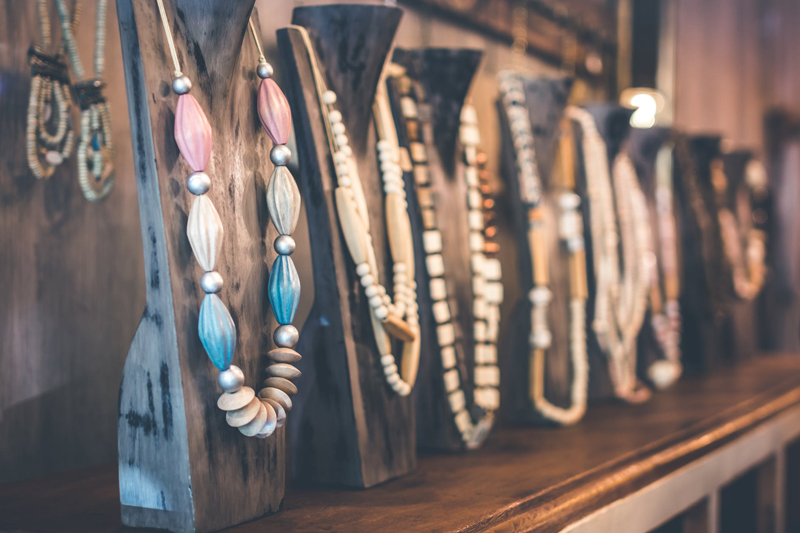 Polymer clay is a soft, dense material made from polyvinyl chloride, more commonly known as "PVC." It can be formed into all kinds of shapes and colorful patterns, and cured in a regular kitchen oven. In jewelry making, it's used as a medium for creating custom beads and pendants.
Here's what you'll need to get started:
package of polymer clay
work surface
acrylic roller and/or pasta machine dedicated to polymer clay use
a thin blade or non-serrated knife
sewing needle or skewer for hole-making
kitchen oven or toaster oven and oven thermometer
glass baking dish (like a lasagna pan) or metal pan with parchment paper
wire or jewelry findings (optional)
epoxy glue (optional)
waxed paper
plastic wrap or plastic zip lock bags for storage
There are several popular brands of polymer clay on the market, including Fimo, Sculpey, and Friendly Clay. It's sold in little wrapped brick shapes and is relatively affordable. You can purchase it from online or local jewelry supply or craft shops, and even from many large discount stores.
Before you begin working with polymer clay, you'll need a nice smooth working surface. Plastic and wood surfaces may not be perfectly smooth and can be damaged by the clay. Clay can also be "contaminated" by wood dust and slivers. Sheet glass or smooth stone (such as marble or granite) are much better choices. In a pinch, create a disposable work surface by taping a large sheet of waxed paper to a table or counter top.
Manual (crank) pasta machines are very popular for polymer clay conditioning and rolling. (We'll discuss these techniques in the next article in this series.) It's important to use your pasta machine only for polymer clay, and not for making food. You wouldn't want PVC getting into your pasta! Simple pasta machines can often be found on eBay, kitchen stores, or if you're lucky, a local thrift store.
An acrylic roller is also useful. Normally, you can pick one up where you purchase polymer clay.
You'll also need a tool for cutting through the clay. There are lots of possibilities here, and different cutting methods require different types of cutters. If you're just experimenting, feel free to start out with a non-serrated butter knife or similar flatware. (Again, be sure not to use the knife for food after using it on clay.)
For better results, look for a very thin, sharp blade. Probably the thinnest, sharpest type available is called a tissue blade. These can be difficult to find, but are sometimes available at scientific supply stores or craft stores. Tissue blades are extremely sharp, and you must be very careful not to cut yourself when using one.
Another option is a wallpaper scraper blade, available at most hardware stores. These blades are almost as sharp as tissue blades, and you must also exercise extreme caution when using them. Some of the polymer clay companies also offer their own blades. For example, Sculpey makes a Sculpey blade. (Follow any safety directions provided on the package.)
A simple sewing needle is good to have on hand for making tiny holes in small beads and pendants. A skewer or similar instrument can be used to make larger holes.
When you're ready to cure, or fire, your polymer clay creations, you'll need a regular kitchen oven or toaster oven. Most artisans recommend using a separate oven thermometer to properly regulate oven temperature. Oven thermometers are usually available at kitchen and drug stores. Unfired clay pieces can be laid directly into a smooth glass baking dish, or into a metal baking dish on a sheet of parchment paper, and placed in the oven.
Once the clay has been fired, you may attach metal jewelry findings using epoxy glue. (We'll cover this technique in the next article in the series.) However, most polymer clay beads require no special findings, and pendants can be strung using simple jump rings.
Finally, it's good to have some waxed paper on hand to cover your clay when you need to take a short break before firing. Plastic wrap or plastic zip-lock bags should be used to store left-over clay.
There are many other tools and supplies you can use when working with polymer clay, and this list only scratches the surface. But once you have these basics assembled, you'll be ready to start creating!
You may also be interested in:

An affordable kit for the beginning polymer clay bead maker. It includes 2 mandrels for hole-making, a roller, cutting blade, and several more implements to help you achieve professional looking results.
Next in this article series:
Getting Started Making Polymer Clay Jewelry - Basic Techniques
Links in this article point to websites not associated with BellaOnline.com. BellaOnline.com is not responsible for the material found there.
---
Chris Franchetti Michaels is a writer and jewelry artisan specializing in beaded designs, wire work, and metal fabrication. She is the author of the books Teach Yourself Visually: Jewelry Making and Beading, Beading Quick Tips, and Wire Jewelry Quick Tips. Visit her website BeadJewelry.net for more jewelry-making help and inspiration.
You Should Also Read:
Choosing a Technique - Polymer & Metal Clay
Getting Started Bead Stringing - Preparation
Getting Started Bead Stringing - Stringing and Finishing


Related Articles
Editor's Picks Articles
Top Ten Articles
Previous Features
Site Map





Content copyright © 2022 by Chris Franchetti Michaels. All rights reserved.
This content was written by Chris Franchetti Michaels. If you wish to use this content in any manner, you need written permission. Contact Susan Mendenhall for details.