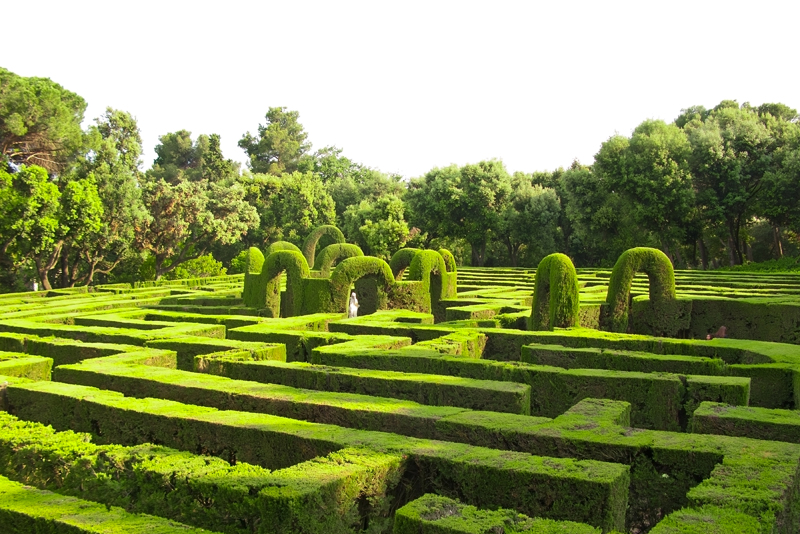 Think of English gardens and you'll probably think of a knot garden. It is a classic element of English garden design, and fun to create.

What is a knot garden?
Knot gardens go back to Tudor times, when they were extremely popular. They are traditionally square beds planted with low, evergreen woody herbs such as rosemary, germander, hyssop, or santolina. These plants would give off a pleasant fragrance, adding to their pleasure. Later, dwarf yew and boxwood became more popular, and those are the plants you'll usually see in knot gardens today.

The plants were placed in an interweaving, geometrical pattern. The design was frequently based on medieval embroidery patterns.

The Tudors didn't have access to colorful plants on a year-round basis, so they usually filled their knot gardens with colored stones, gravel, or sand.

The Victorians fed their passion for bedding plants by filling their knot gardens with colorful annuals.

Creating your own knot garden

Knot gardens are most effective when seen from above. So, if you have a window in your house where you can look down onto the garden, that's the perfect spot for a knot garden.

The planting bed should be strictly level.

Take some time to decide on your pattern. For inspiration, browse through embroidery pattern books, Elizabethan paintings, oriental rugs, or Celtic ornaments, all of which feature classic knots.

Choose a simple pattern. A complicated knot will be hard for the eye to discern.

It's crucial to lay out your knot on paper before you begin planting.

Then lay out your plan on the ground, using posts and string to make it conform to the exact standards of your paper plan.

Plants for a knot garden

For a traditional knot garden, use rosemary, germander, santolina or lavender for the outline. Plant these about a foot apart so they'll fill in densely. They'll have to be trimmed annually to keep them in nice shape.

You can define the knot design further by using different plants for different shapes. For example, the outside square might be germander, but the inside circles might be rosemary or lavender.

Fill the spaces with colored gravel, sand or seashells. Be warned that the gravel or sand will have to be raked weekly to keep out weeds. (I do not recommend weed fabric under the sand – I find that weed fabric only works for a year or so – then weed seeds germinate on top of the fabric, send the roots under it, and that makes it impossible to get the weeds out of the fabric.) You should also plan to add a light layer of fresh material to the paths every year.

For a more modern approach to a knot garden, use dwarf yew or boxwood as the knot outline. Plant the shrubs about 12-18" apart. It'll take a few years for them to fill in enough to make a solid line. Don't prune much during that time, especially in between the plants. Just trim the tops to keep them level. Once they're filled in, prune annually to keep them neat. August is usually the best month to prune them.

Fill the spaces with whatever flowers you like. Bulbs for early spring color, perennials or annuals in the summer and fall. You could go with a one-color scheme – all blue flowers, for example, or all yellow. Whatever suits your fancy.
Buy a good book on Knot Gardens at Amazon:


You Should Also Read:
What is an English Garden?
English Garden History
English Garden Mazes


Related Articles
Editor's Picks Articles
Top Ten Articles
Previous Features
Site Map





Content copyright © 2023 by Carol Chernega. All rights reserved.
This content was written by Carol Chernega. If you wish to use this content in any manner, you need written permission. Contact Carol Chernega for details.