Espalier - How to Trellis a Tree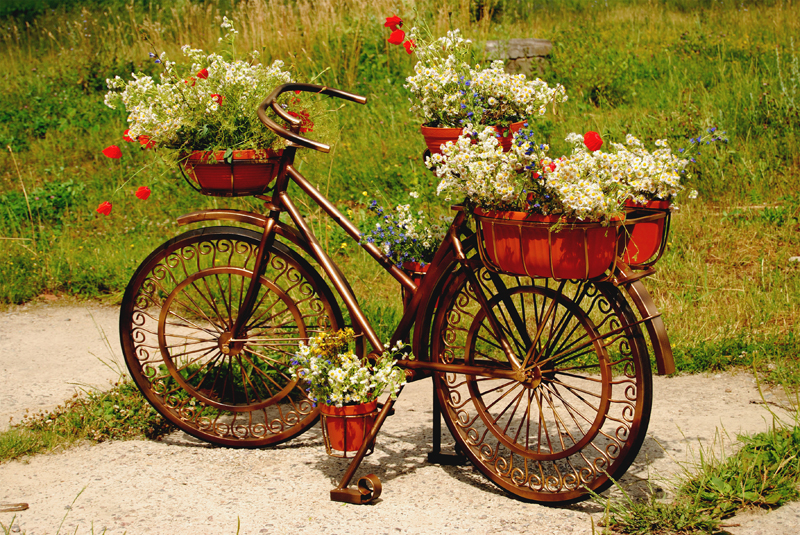 The art of espalier (ess–PAL–yer) was first developed in colder regions of Europe where fruit trees were trained against a south-facing wall. The fruit would ripen earlier and warmer climate trees could be successfully raised in marginally colder regions. The term espalier originally referred to the trellis or frame on which the tree was trained, but has now come to mean the frame, the plant, or the technique of training the plant.

Trees and shrubs can be espaliered into a variety of beautiful two-dimensional shapes. The least formal is an irregular fan shape where the normal growth of the plant is simply pruned and confined to a flat surface. A variety of formal shapes can be made in horizontal tiers, vertical V shapes, or resembling candelabras, and the branches can be woven into any variety of patterns.

To successfully espalier a tree or shrub you must first select a plant which has flexible branches and a long growth habit. Most of the trees suitable for container growing also make excellent espalier specimens. Unless you can find a tree which has already been trained into a suitable starting pattern it is best to start with a young tree or shrub with little side growth.

Fruit Trees Suitable for Espalier
Apple
Apricot
Cherry
Citrus trees
Crabapple
Fig
Peach
Pear
Persimmon
Plum
Loquat
Nectarine
Note: Some fruit trees, such as cherry and plum, bear fruit on shoots from the previous year's growth. This will require modification to the pruning methods to ensure your tree bears a good crop. Trees of this sort do best espaliered in an informal, more natural form.

Ornamental Trees and Shrubs Suitable for Espalier
Bottlebrush
Bronze Loquat
Camelia
Cape Honeysuckle
Cotoneaster (tall varieties)
Ficus
Flowering Maple
Flowering Plum
Flowering Quince
Forsythia
Hibiscus (Chinese)
Japanese Maple
Laurel Sumac
Pyracantha
Red Bauhinia
Viburnum
Note: Many vining plants, such as wisteria, bougainvillea, and climbing roses, may also be successfully trained as espalier plants.

Espalier Design
Sketch out the shape into which you would like to train your espalier. Graph paper is helpful for transferring your design to the actual space where you will grow and train your plant.

If your espalier is a fruit tree, be sure to leave enough space between branches for fruit – at least sixteen inches between branches will allow space for the leaves and fruit and empty spaces for the full artful effect. Small-leafed non-fruiting varieties could have the branches closer, but be sure to leave space for flowers and ornamental berries to show effectively between the branches.

If this is your first espalier, keep the design simple. Training an espalier takes regular care and pruning over the course of a year or more (depending on how fast your plant grows), and it is best to learn and experiment with a simple design.

Depending on your design and the type of tree/shrub you choose, you may need a trellis on which to train your plant. Once you have your design you can use a trellis purchased from a nursery, or you may find it beneficial to make your own according to your sketch. One-inch redwood stakes make excellent trellises; simply cut and nail together matching your espalier design and stake into your plant's container. Note: For added strength and stability you may need additional cross-beams on your trellis. Add these between the beams where you will train the branches of your espalier.

Training your Tree or Shrub
The best time to prune your espalier is in the late winter and early spring. This will stimulate new growth and give new shoots for shaping in the late spring and summer. Pruning in mid-summer tends to have a dwarfing effect on plants, and pruning in late summer, with the exception of removing a few small late-forming shoots, should be avoided. Always make proper pruning cuts and use a clean, sharp pruning tool.

Branches not wanted for the final design should be removed, and branches to be included should not be pruned until they reach their full desired length. Side shoots to be included should be allowed to grow to at least 12 inches before shortened, to ensure the health and strength of the shoot. If your tree or shrub has already leafed out when you prune, be sure to leave enough leaves for the tree to be healthy.

The best time to bend and shape your espalier is when the branches are young and tender, usually in the spring and summer. If the branches are stiff you may need to wrap them with wire, as is done with bonsai, and gradually bend the branches into the desired shape.

As you shape the branches, tie them into place using soft twine or gardening stretch-tie. Ties made of natural fibers will eventually rot away, where the plastic and rubber ties will need to be removed once the branches have permanently grown to the desired shape. Make your ties loose enough so there is room for the branch to grow. Check your ties several times throughout the year to make sure they are not strangling the branch, and loosen or replace as necessary.

Maintenance
Water and fertilize your espalier as you would any other container tree. Be sure to watch for insects and disease and treat accordingly. One advantage of having an espaliered tree or shrub is that it is easy to see if there are any disease or insect problems, and easy to treat any that may arise.

Continue to train and prune your tree throughout the growing season each year. Remove unwanted limbs and sprouts and shape new ones as desired. With proper care and regular maintenance your espalier will be a beautiful addition to your garden for many years to come.
You Should Also Read:
Choosing an Ornamental Tree for Your Container Garden
Fruit Trees for Containers
How to Plant a Tree in a Container


Related Articles
Editor's Picks Articles
Top Ten Articles
Previous Features
Site Map





Content copyright © 2023 by Jessica Carson. All rights reserved.
This content was written by Jessica Carson. If you wish to use this content in any manner, you need written permission. Contact Lestie Mulholland for details.