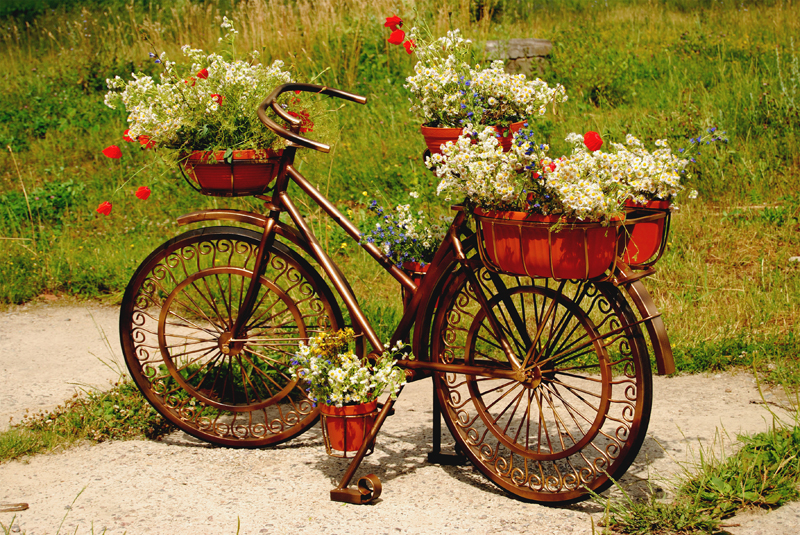 Adding one or more trees to your container garden creates beauty and interest and can give shade in an otherwise uninviting section of your yard, balcony or porch. It can also attract birds, butterflies and other wildlife, making your garden even more beautiful. Trees, with their larger root structure, have special needs when grown in containers. A few general rules can help in your choice of which trees to plant.

1. What would be the height of the tree if grown in the ground?
Check the tag or label on the tree – if it would typically grow to 50 feet or more it's not a good choice for a container. The best container trees would normally reach 20 feet in height or less – the shorter the better, since your pot will limit how much space the roots will have to grow. A good rule to follow is two gallons of container for every one foot in eventual tree height. For example, a 25 gallon half wine barrel could support a 12½ foot tall tree.

2. How fast does the tree grow?
Slower growing trees will also have slower growing root systems, and use up the space in your container much slower than a fast growing tree.

3. How much water does it need?
Trees which need less water will do better in containers than a tree which requires a great deal of water. This problem can be resolved, however, by using moisture retaining potting soil or watering frequently.

4. What is your hardiness zone, and what is the hardiness of the tree?
Some trees need warm climates to survive and others need cool weather or a cold winter for dormancy. Usually trees offered at your local nursery will be well suited for your climate. If you are ordering from outside your area, check your hardiness zone and compare it to the rating for the tree you are thinking of planting. Most catalog or on-line nurseries will give you this rating or the climate needs for the trees they sell. Also consider the micro-climates in your garden. Do you have a particularly warm and sunny deck, protected from wind and winter chill? This will increase the climate rating for your garden. Or does your garden face away from the sun (north facing in northern latitudes or south facing in southern ones) or get excessive wind or exposure to the weather? These factors will decrease the climate rating for your garden.

5. Do you want flowering trees or just foliage? Do you want evergreen trees or deciduous?
Flowering trees will attract hummingbirds, butterflies and bees and look and smell wonderful. But they will also drop the flowers when they finish blooming, and may produce some form of fruit or seeds which could clutter up your garden. Evergreen trees are green year round and drop few leaves, where with deciduous you'll have to clean up the leaves they drop in the Fall. But the bare branches of deciduous trees lend a special kind of beauty to your winter garden, and they tend to be more winter hardy than most evergreen varieties. Deciduous trees will also shade a hot area of your garden in summer but allow the sun to shine through in the cold winter months.

6. How much space do you have for your tree, and what shape do you want?
If you want a tall, thin tree for a narrow space, choose something like a tall juniper or Italian Cypress. For a rounder tree something like a hawthorn or Japanese maple would be a good selection.

7. Do you want dense foliage or a more open, airy tree?
A densely leafed tree such as an ornamental plum will give dense shade in the summers, where a tree like a ficus or birch would give a light airy look and filtered shade.

As you can see, there are many factors to consider in choosing your tree. An excellent resource for selecting trees for your area is the Sunset Garden Book. This book is now available in regional versions for the United States, Canada and parts of Mexico, and in a United States national version. If you live outside of North America, select a book which includes a climate similar to yours. Consult the Patio Trees section for suggestions and detailed information on specific tree varieties for your garden.

................................................................................

CASUAL VISITOR … and just browsing? Why not sign up to the Container Garden newsletter? It won't matter what space or how many pots you have or even how much time you have to spend in your container garden; what will matter is that you get our reminders and good advice and ideas all in one interesting article.


You Should Also Read:
DIY Wooden Planter Box
Clay and Ceramic Pots


Related Articles
Editor's Picks Articles
Top Ten Articles
Previous Features
Site Map





Content copyright © 2023 by Jessica Carson. All rights reserved.
This content was written by Jessica Carson. If you wish to use this content in any manner, you need written permission. Contact Lestie Mulholland for details.