Guest Author - Jeanne Egbosiuba Ukwendu
Name:
Okapi
Nickname:
African Unicorn, Rainforest Zebra
African Names:
Atti, O'api (Lese)
Scientific Name:
Okapia johnstoni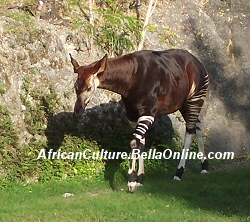 Height:
5 feet at the shoulder
Average Adult Weight:
460 to 550 pounds.
Life Span:
About 30 years in captivity, in the wild their lifespan is still unknown.
Description:
Okapis have a sleek deep brown coat that is almost purple. The sides of its face are a dull red. There are horizontal black and white rings on its buttocks, thighs, and tops of forelegs.
Habitat:
Okapis are found mostly in the Ituri Rainforest of The Democratic Republic of the Congo
Countries found in:
The Democratic Republic of the Congo
Babies:
Live birth, Gestation period is 14 to 15 months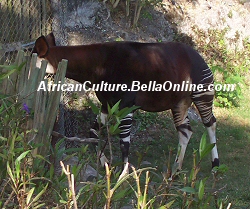 Food:
Leaves, fruits, seeds, fungi, and a certain clay that give them their mineral content.
Habits:
Mostly solitary animal that only comes together to mate. Okapi are only active during the day.
Endangered:
Near Threatened
Interesting Facts:
Discovered in 1901, it main enemies are leopard and humans.
The Okapi is the only mammal that can clean its ears with its tongue.
The Okapi is the only relative of the giraffe.
Male okapis have 6 inch hairy horns on their heads. Female okapis do not have these horns.
The name "Okapi" a combination of the Lese language words "Oka" meaning "to cut" and "kpi" referring to decorative stripes on arrows. The Okapi is said to decorate itself with stripes.
For more about the Okapi, try reading
The Okapi: Mysterious Animal of Congo-Zaire