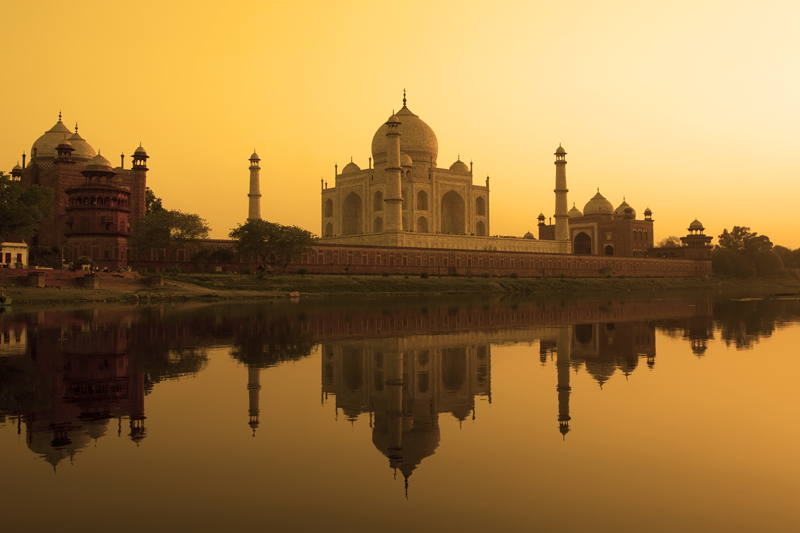 Murgh Makhani, otherwise known as Butter Chicken, is probably one of India's most famous dishes. The name says it all, but essentially, tender succulent pieces of chicken are gently simmered in a rich and creamy tomato based curry. This dish is truly a delicious taste of heaven. Please don't be discouraged by the lengthy ingredient list or the preparation, this dish is completely worth it.
Butter Chicken is thought to have originated in Delhi and the Mughlai influences in this dish are quite prevalent. It is very often confused with a similar dish known as Chicken Tikka Masala, which actually originated in the UK. Chicken Tikka Masala was created as a resourceful way of using chicken tikka (or grilled chicken pieces). These delicious pieces of chicken were added to a very flavorful curry and voila, Chicken Tikka Masala was born. The two dishes are, however, very different and distinct in both preparation and taste. To add to the confusion are the numerous variations both dishes can provide.
Traditionally, this recipe uses grilled chicken; leftover Tandoori chicken works really well. The smoky grilled flavor adds a wonderful layer of depth to the dish. Alternatively, you could also broil the chicken in an oven, or use an indoor grill or even a stovetop grill pan. I also recommend marinating the chicken overnight, if possible. I also like the taste of fresh tomatoes in this dish but feel free to used canned tomatoes if you wish, it's a great shortcut. This is definitely not a light dish in any sense, but there are ways to lighten it up: feel free to use less butter or even use butter substitutes if you prefer, you can also omit the cream or use lighter versions or even substitute the cream with either yogurt or half & half. Personally, I have tried all of these low-cal/lowfat versions and for me --- the traditional recipe was obviously the best tasting. So, I make this dish only on those rare special occasions. But feel free to make this recipe to suit your own personal or dietary needs, I am sure any version you decide to make will be delicious! This dish also can be made using paneer (Indian cheese) for a vegetarian version known as Paneer Makhani. Dried fenugreek leaves (Kasoori Methi) add a wonderful flavor and aroma to this dish; they can be found in any Indian grocery store.
MURGH MAKHANI (Indian Butter Chicken)
Ingredients:
1½ lbs boneless skinless chicken
1 medium onion, finely chopped
4 large tomatoes, rough chopped and pureed (strain if desired)
5-6 large garlic cloves, finely chopped
1½" piece of peeled ginger, finely chopped
3-4 small Thai green chilies, finely minced (to taste)
8-10 raw cashews soaked in a little milk until softened and ground into a fine paste
½ cup cream
4-6 tbsp butter (or ghee/clarified butter)
2 tbsp tomato paste
1 bay leaf (fresh or dried)
2-3" stick of cinnamon
4-6 cloves
4-6 green cardamom pods, lightly crushed
8-10 black peppercorns
1 heaping tbsp of dried fenugreek leaves (Kasoori Methi)
1 tsp red chili powder, to taste
1 tsp smoked Spanish paprika (optional)
½ tsp turmeric (haldi)
1 tsp garam masala
½ tsp ground coriander powder
½ tsp ground cumin powder
pinch of freshly grated nutmeg
salt, to taste
juice of ½ lime
1 tbsp oil, vegetable or canola
freshly chopped cilantro leaves for garnish
METHOD:
**To make the
Tandoori Chicken
After the chicken has cooled, cut the chicken into 1.5-2" size pieces. If you are using leftover chicken, simply cut the chicken onto bite size pieces. Set aside until needed.
**To make the Makhani Curry (Butter Cream Curry):
In a dry skillet on medium low heat, dry roast the spices (cinnamon, cloves, green cardamom pods, and black peppercorns) until fragrant and aromatic. This just takes about a minute or so, be careful not to burn the spices. Remove from the skillet, allow to cool and using a spice grinder (or clean coffee grinder) grind the spices into a fine powder. Set aside until needed.
In a large deep skillet or soup pot on medium high heat, add the oil along with 2 tbsp of butter. When the butter has melted and the skillet is hot, add the onions and stir fry until golden brown. Now add both the ginger, garlic, green chilies and cashew nut paste. Stir fry for a few minutes until fragrant and then add the bay leaf along with the freshly ground spice powder. Also add the other spices (salt, red chili powder, smoked Spanish paprika, turmeric, garam masala, ground cumin powder & ground coriander powder). Stir fry and let the spices cook for 2-3 minutes until fragrant. Now add the tomato paste and stir fry for 1-2 minutes. Next, carefully add the fresh tomato puree and fenugreek leaves. Stir well to combine all of the ingredients, reduce the heat to low, cover and let simmer for 12-15 minutes. Now add the chicken pieces and lime juice to the curry and let cook for another 4-5 minutes or until the chicken has warmed through. Finish the dish by adding the cream and freshly grated nutmeg, let cook for another 4-5 minutes. Garnish with freshly chopped cilantro leaves and serve with warm naans, fragrant Basmati rice and a fresh Indian salad or raita.
VARIATIONS:
A great shortcut and timesaver is to simply cut the chicken into bite size pieces and add it directly to the tomato butter curry without even grilling it first. Reduce the heat, cover and gently simmer for at least 8-10 minutes or until the chicken is fully cooked through. The chicken should be tender but not overcooked. Although the dish will not have that smoky grilled taste and flavor, it will still be delicious. This way your family can enjoy this dish on short notice. It's also great for entertaining.
You Should Also Read:
Tandoori Chicken Recipe
Chicken Tikka Masala Recipe
Paneer Makhani Recipe


Related Articles
Editor's Picks Articles
Top Ten Articles
Previous Features
Site Map



Follow @SadhanaGinde
Tweet



Content copyright © 2022 by Sadhana Ginde. All rights reserved.
This content was written by Sadhana Ginde. If you wish to use this content in any manner, you need written permission. Contact Sadhana Ginde for details.