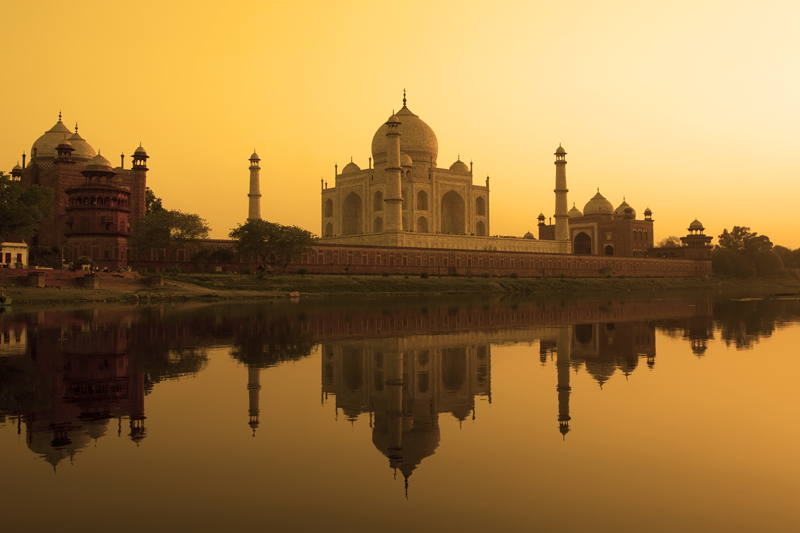 A tasty collection of regional North Indian recipes including Mughlai, Punjabi, Rajasthani & Kashmiri dishes including India´s famous Tandoori Chicken and Butter Chicken recipes.
Achari Murgh Recipe


My Chicken with Indian Pickling Spices is a tasty combination of bold flavors & tastes. If you love traditional Indian pickles, then this is the perfect dish for you! Eaten simply with rotis or rice, every bite will be a delicious flavor explosion for your taste buds.
Badami Murgh Recipe


My delicious Chicken with Almonds is a rich and decadent Mughlai dish fit for a king! Mughlai cuisine is very well known for its famous tandoor dishes but Badami Murgh just happens to be one of my personal favorites :-)
Butter Chicken Recipe


India's most famous & beloved dish! Murgh Makhani is truly a taste of heaven. If you have never had Butter Chicken before, you have no idea what you have been missing! With my simple & delicious recipe, you can enjoy tasty Butter Chicken any day of the week straight from your own home kitchen.
Chicken & Date Curry Recipe


Dates are the sweet delicious fruit of the date palm tree - first cultivated by the Egyptians almost 6000 years ago! My Chicken & Date Curry is the perfect dish, it's a wonderful combination of tastes and flavors you will enjoy in every delicious bite. Try making this dish soon for your family.
Chicken Pista Recipe


My Chicken with Pistachios is a mild but very flavorful curry that's just perfect for those prefer less spicy foods. It's a favorite among kids but feel free to add more chili peppers if you like your food hot & spicy. This dish is also a great way to introduce guests to Indian cuisine.
Chicken Rogan Josh Recipe


Rogan Josh is a traditional lamb dish from the Northern Indian state of Kashmir, located in the Himalayan region. It is a very rich & hearty curry well known for its use of bold aromatic spices. My version uses chicken instead for a lighter dish, but still keeping all the authentic flavors intact.
Chicken Seekh Kebab Recipe


My delicious Chicken Seekh Kebabs are easy, healthy and just perfect for grilling. Seekh kebabs are traditionally made using ground lamb, but I have chosen to make mine with ground chicken instead.
Dal Kheema Recipe


My Dal Kheema is a hearty & delicious combination of dal (lentils) & minced meat (ground lamb or chicken) simmered together with rich aromatic spices. This dish has its origins in traditional Mughal Cuisine. It is also packed with lots of nutritious protein, making it a very satisfying dish.
Dhania Chicken Recipe


My Cilantro Chicken has always been a sure fire crowd pleaser but feel free to substitute mint (Pudina Chicken) for an equally delicious dish. Fresh cilantro is one of the most widely used herbs in India along with fresh mint leaves.
Fennel Spiced Chicken Kebabs


These delicious & succulent chicken kebabs are lightly spiced with sweet fennel flavor. Best of all, they're easy to make and healthy to boot! Fennel has a very mild anise/licorice flavor that works well with these kebabs.
Hariyali Chicken Curry Recipe


My Hariyali Chicken Curry is delicious, simple and always a hit when entertaining. This recipe also happens to be a huge family favorite in my house :-) In Hindi, the term "hariyali" refers to a lovely vibrant green color - which is precisely the color of this tasty curry.
Jeera Chicken Recipe


My Jeera Chicken (Cumin Scented Chicken Stir Fry) is easy to make & packs a delicious cumin punch, which imparts an earthy aroma & taste. The key to this recipe lies in the freshly toasted & ground cumin, so definitely don't skip this step! Do try it soon :-)
Kadhi Chicken Pakoras Recipe


This delicious dish combines tender crispy chicken pakoras (fritters) in a velvety yogurt based curry. It's a real first place winner in both tastes & textures. For a simple vegetarian version, feel free to use soya nuggets, paneer or tofu in place.
Kashmiri Chicken Curry Recipe


A delicious & unique chicken curry from the lovely Indian state of Kashmir, but with a surprising tasty twist of my own! I have made this recipe using TEA :) Yes, you absolutely read that correctly - so do give it a try!
Kebab Recipes


A wonderful collection of traditional & authentic Indian kebab recipes! Try these delicious and healthy kebab recipes, perfect for both vegetarians and non-vegetarians. They are all so tasty, it will be hard to chose a favorite!
Kesari Murgh Kofta Recipe


My Chicken Meatballs with Saffron Curry is rich & decadent. A pinch of saffron adds a subtle fragrance and flavor to this delicious dish. Make it for celebrations, special occasions or whenever the mood strikes you!
Malai Methi Mattar Murgh Recipe


Malai Methi Mattar Murgh is a delicious Punjabi dish consisting of tender succulent chicken combined with fresh fenugreek leaves and green peas simmered gently in a delicately spiced cream based curry. One delicious bite and you're totally hooked! It's mouthwatering & heavenly!
Murgh Elaichi Recipe


This elegant Kashmiri dish infuses tender, succulent pieces of chicken with the rich warm flavor of cardamom. Cardamom is one of my all time favorite spices, so try my delicious Cardamom Chicken Curry & enjoy the subtle flavor & taste of this exotic spice.
Murgh Khubani Recipe


My delicious Chicken with Apricots will have your tastebuds singing & dancing. This lovely dish hails from the scenic Indian state of Kashmir, which is famous for their use of dried fruits & nuts in their cuisine.
Murgh Masallam Recipe


A whole roasted chicken is a simple way to bring friends and family together for a delicious meal. Try my Indian version of this classic dish. Roasting a whole chicken is much simpler than you think and well worth the effort, my easy recipe will show you exactly how.
Murgh Palak Recipe


Just one bite of my Chicken with Spinach is a delicious way to turn anyone into a true spinach lover! Murgh Palak is a favorite in my house, we enjoy this dish on a fairly regular basis. It's simple to prepare & healthy as well, make it for your family tonight.
Pomegranate Chicken Curry Recipe


A pomegranate is a delicious & exotic fruit that has been recently classified as a super-fruit. A super-fruit is a nutrient rich fruit packed with antioxidants. My Pomegranate Chicken Curry is a lovely combination of tastes & flavors all in one heavenly (and healthy) bite.
Tandoori Chicken Recipe


One of India's most famous dishes! Tandoori Chicken is fun, easy & perfect for entertaining! The key to making good Tandoori Chicken lies in the yogurt based marinade - so I have also provided my own home made recipe for Tandoori Masala (spice mix).
Turkey Kheema Recipe


Kheema is a deliciously, rich aromatic dish made with ground meat and bold aromatic spices. Traditionally, this Punjabi dish is made using ground lamb but I have opted for a healthier version using ground turkey instead.
Editor's Picks Articles
Top Ten Articles
Previous Features
Site Map
Follow @SadhanaGinde
Tweet
Content copyright © 2018 by . All rights reserved.
This content was written by . If you wish to use this content in any manner, you need written permission.
Contact Sadhana Ginde for details.