Jewelry Making and Prop 65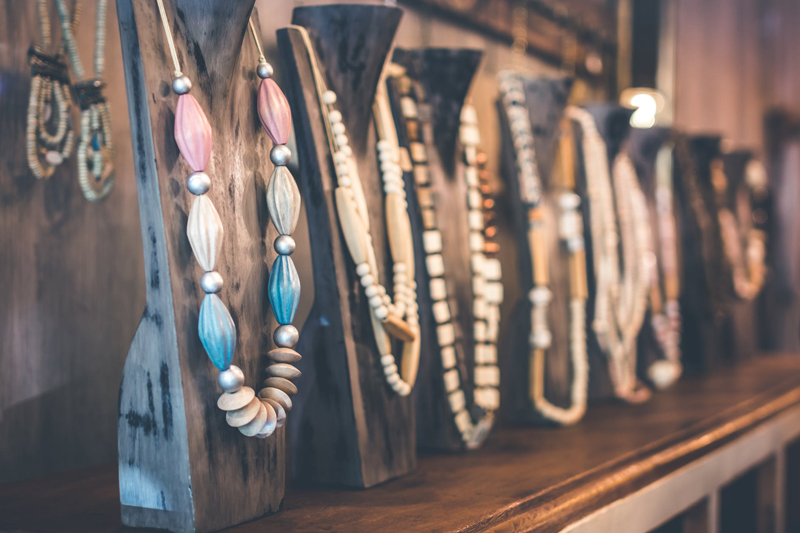 Crystal beads, including Swarovski crystal beads, contain lead. It makes the beads easier to cut and facet, and it gives them extra sparkle and shine. Lead is also a component of some base-metal beads and jewelry findings that are alloys, or mixtures, of different types of metals.
Under some circumstances, lead can be dangerous to your health - especially if it's ingested or inhaled. Although we're unlikely to inhale beads or findings, there is a potential for ingestion, especially by children who like to put their hands - and possibly jewelry - into their mouths. For this reason, crystal and leaded metal jewelry should not be made for or given to young children.
Because of its potential danger, lead is listed by the State of California as a toxic substance, and the state has enacted some laws to specially regulate it. One of those laws - Proposition 65 - has been the subject of discussion among many jewelry crafters lately. (Another is the Lead-Containing Jewelry Law, which I discuss in a separate article.)
Proposition 65 (also called the Safe Drinking Water and Toxic Enforcement Act of 1986, or just "Prop 65") requires (among other things) that some businesses that sell lead-containing products in California provide a warning label with those products to alert customers of their potential toxicity. Many crafters who sell their designs are wondering whether they must label their crystal or base-metal jewelry with these frightening warnings.
To decide whether and how Prop 65 applies to you, take a close look at the wording of the law. Prop 65 states that "[n]o person in the course of doing business shall knowingly and intentionally expose any individual to a chemical known to the state to cause cancer or reproductive toxicity without first giving clear and reasonable warning . . . . "
That sentence contains three important phrases:
1. "person in the course of doing business,"
2. "intentionally expose any individual,"
3. "chemical known to the state to cause cancer or . . . toxicity," and
4. "without . . . clear and reasonable warning."
Start at the beginning: Are you a "person in the course of doing business" under the law? According to Prop 65 Section 25249.11, as of March 4, 2008, (emphasis added):
(a) "Person" means an individual, trust, firm, joint stock company, corporation, company, partnership, limited liability company, and association.
(b) "Person in the course of doing business" does not include any person employing fewer than 10 employees in his or her business.
So, according to the law as of March 4, 2008, you are exempt from the Prop 65 warning requirement unless you employee 10 or more employees. Many independent jewelry crafters have no employees. Others employ several people to help with production or office work, but very few own businesses large enough to support 10 or more.
This exemption is also stated in the Prop 65 FAQs on the Office of Environmental Health Hazard Assessment web page:
Q. Are any businesses exempt from Proposition 65?

A. Yes. Small businesses with less than 10 employees, governmental agencies, and public water systems are exempt from the warning requirement and discharge prohibition of Proposition 65.
My interpretation of this is that because I only employ myself, I do not need to place Prop 65 warning labels on my crystal jewelry, even though I sell jewelry in California.
But what if you do have 10 or more employees? In that case, you should consult your business's attorney for guidance. He or she will continue through that list of key phrases I listed above, comparing your unique situation to the requirements of the law. You and your attorney will consider whether you are "intentionally" exposing your customers to lead, which is in fact a "chemical known to the state to cause cancer." If you decide that you are, you must then determine how to meet the requirement of providing a "clear and reasonable warning." The law provides further guidance on that, which is beyond the scope of this article. (For an example of how a large jewelry supply company is striving to comply, visit the Rings & Things website).
Even if Prop 65 does not apply to you, it is a good idea to inform your customers about the lead in crystal and base metal, especially if you suspect that they are purchasing jewelry for a child. You can do this in your own way, on a personal level that you feel is honest, but not overreaching. For example, if you have a website, you might create an information page with a title like "Crystal Beads and Lead." Your customers will appreciate your honesty - and overall, it really is the right thing to do.
Finally, please note that the Prop 65 warning requirement is not the same as California's Lead-Containing Jewelry Law, which (as of this writing) applies to businesses of all sizes. Click here for my review of the requirements of that law.
Here are some sources you can use to get more facts about lead:
Please post you questions or comments about Prop 65 in the Jewelry Making Forum.
---
Chris Franchetti Michaels is a writer and jewelry artisan specializing in beaded designs, wire work, and metal fabrication. She is the author of the books Teach Yourself Visually: Jewelry Making and Beading, Beading Quick Tips, and Wire Jewelry Quick Tips. Visit her website BeadJewelry.net for more jewelry-making help and inspiration.
You Should Also Read:
Labeling Jewelry Made in USA
Is Polymer Clay Toxic?
California Lead Containing Jewelry Law


Related Articles
Editor's Picks Articles
Top Ten Articles
Previous Features
Site Map





Content copyright © 2023 by Chris Franchetti Michaels. All rights reserved.
This content was written by Chris Franchetti Michaels. If you wish to use this content in any manner, you need written permission. Contact Susan Mendenhall for details.