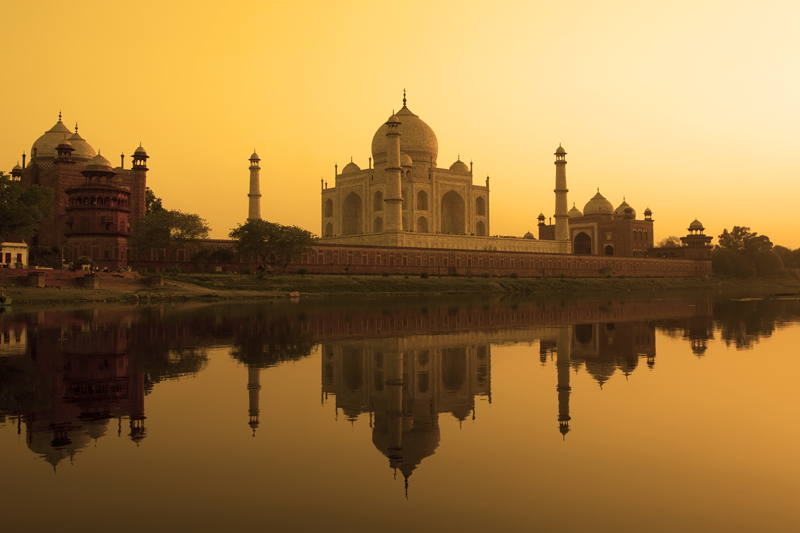 Indian Parsis are an extremely close-knit community, they are the direct descendants of Persian Zoroastrians who fled Iran thousands of years ago to escape religious persecution. They have since settled in India and made it their home. Parsi cuisine is a wonderful and rich blend of both Persian and Indian cuisines, cooking styles and methods. Parsi dishes are famous for their unique combinations of bold & exciting flavors.

When I think of Parsi food, dhansak immediately pops into my mind. Dhansak has to be one of the most famous & beloved Parsi dishes in all of India. It is a delicious aromatic curry made traditionally with dal (lentils) and lamb. I have made this dish many times using chicken and it has always been a huge hit with both family & friends alike. Needless to say, the variations to this dish are virtually limitless. This time around, I have decided to post a totally vegetarian version, but feel free to make this recipe using lamb or chicken if you prefer. Just note that cooking times will vary accordingly.

Dhansak masala is a unique spice blend used for this particular dish. Personally, I prefer to make my own but feel free to buy the ready-made dhansak masala that is easily available in any Indian grocery store. I have included my quick & easy version of dhansak masala, but feel free to freshly grind toasted whole spices if you wish for this recipe.

A proper authentic made-from-scratch dhansak can be quite a lengthy process, this recipe is more of an abridged version but with heavenly results! There are really no hard & fast rules here, feel free to use local seasonal vegetables or your family's favorites. Try to cut the vegetables so that they are more or less the same size. Also, use hearty vegetables that will not disintegrate or fall apart during the cooking process. I also highly recommend that you initially read through the entire recipe since there several steps & alternative cooking methods used.


VEGETABLE DHANSAK (Parsi Vegetable & Lentil Curry)

Ingredients:

1 cup toor dal (aka arhar dal or split yellow pigeon peas), you can also use masoor dal or a mix of dals
2 cloves of garlic, finely minced
1 inch piece of ginger, peeled and finely minced
2-3 small green Thai chilies, slit in half lengthwise (to taste)
1 medium potato (you could use sweet potato or ½ of each), peeled if you prefer but diced
1 large onion, thinly sliced
1 carrot, peeled and diced (small and even sized pieces)
½ cup of green peas (frozen is fine) or edamame
1 cup of baby corn
½ cup of green beans, cut into 1.5" inch pieces
1 large ripe tomato, pureed
1 tbsp tomato paste
1-2 bay leaves
1 tsp dried fenugreek leaves (kasuri methi)/optional
½ tsp ground cumin
½ tsp ground coriander
½ tsp turmeric (haldi)
1 tsp red chili powder (to taste)
1 tsp garam masala
1 tsp dhansak masala
salt and pepper to taste
juice of ½ a lemon
2-3 tbsp oil (vegetable or canola)
caramelized onions for garnish, optional
freshly chopped cilantro leaves for garnish (you could add mint also if you prefer)

DHANSAK MASALA (mix together and store in an air tight container)

1 tsp garam masala
½ tsp ground cumin powder
½ tsp ground coriander powder
½ tsp red chili powder, to taste
½ tsp turmeric (haldi)
¼ tsp freshly ground black pepper
¼ tsp ground cardamom powder
¼ tsp ground cloves
¼ tsp ground cinnamon
pinch of freshly grated nutmeg


METHOD:

Cook the dal (or combination of dals together) with enough water in a pressure cooker until the dals are soft and tender but not mushy. Do not overcook. With a back of a ladle or wooden spoon, gently mash the dal until smooth. Reserve the cooking liquid and set aside until needed.

If you wish to do this step on the stovetop:

In a medium size soup or stock pot, add the dals with enough water to cover and let simmer on low until soft and tender but not mushy. With a back of a ladle or wooden spoon, gently mash the dal until smooth. Reserve the cooking liquid and set aside until needed.

*There are several possible ways to cook the veggies: you could cook them using a pressure cooker along with the dal (in a separate cooking vessels) or you could use a vegetable steamer or even the microwave. Personally, I am not a huge fan of the microwave but if you feel comfortable using one then by all means – go for it.

In a large pot of boiling salted water, add the green beans and let them cook for 2-3 minutes before adding the green peas. Let the veggies boil for another few minutes and then quickly remove (a slotted spoon works well for this task) and drop the green beans/green peas into a colander sitting in an ice bath. This not only stops the cooking process but also sets their lovely bright green color. Set aside until needed.

Now to the same pot of boiling salted water, add the potatoes (or sweet potatoes or both) along with the carrots. Let boil until just barely fork tender, remove with a slotted spoon to a plate and allow to cool. Set aside until needed.

In a large deep skillet or medium size soup/stock pot on medium high heat, add the oil. When hot, add the onions and fry until golden brown & caramelized. This may take some time, but it is well worth the effort. I actually will reserve some of the caramelized onions as a garnish for the dish. At this point, add the ginger and garlic. Stir fry for a few minutes and then add the spices (ground cumin powder, ground coriander powder, turmeric, garam masala, red chili powder, salt & pepper) along with the bay leaf & fenugreek seeds. Stir well and let cook for a few more minutes before adding the tomato paste. Let the tomato paste cook for an additional few minutes and then carefully add the pureed tomato. Stir well and then add the mashed dal along with any liquid as needed. You can add more water if you prefer, the dal should have a soup like consistency. Now add the potatoes (and/or sweet potatoes) & carrots. Stir well to combine, cover, reduce the heat to low and let cook for about 5-6 minutes. Now add in the rest of the vegetables (baby corn, green beans & green peas). Stir and let cook for just a few more minutes. Finish the dish by adding the lemon juice and dhansak masala. Let cook for another 4-5 minutes, garnish with freshly chopped cilantro & fried onions. Serve hot with fresh chapatis & fragrant Basmati rice.


VARIATIONS:

Pumpkin or various types of squashes such as butternut or acorn also work really well in this dish, especially when they are in season. Just peel and cube the pumpkin (or butternut/acorn squash) into 1" size cubes and add along with the potatoes/carrots.
You Should Also Read:
Dal Murgh Curry Recipe
Goan Dal & Paneer Curry Recipe
Parsi Wedding Custard Recipe


Related Articles
Editor's Picks Articles
Top Ten Articles
Previous Features
Site Map



Follow @SadhanaGinde
Tweet



Content copyright © 2022 by Sadhana Ginde. All rights reserved.
This content was written by Sadhana Ginde. If you wish to use this content in any manner, you need written permission. Contact Sadhana Ginde for details.