Orchid Growing Tips for Summer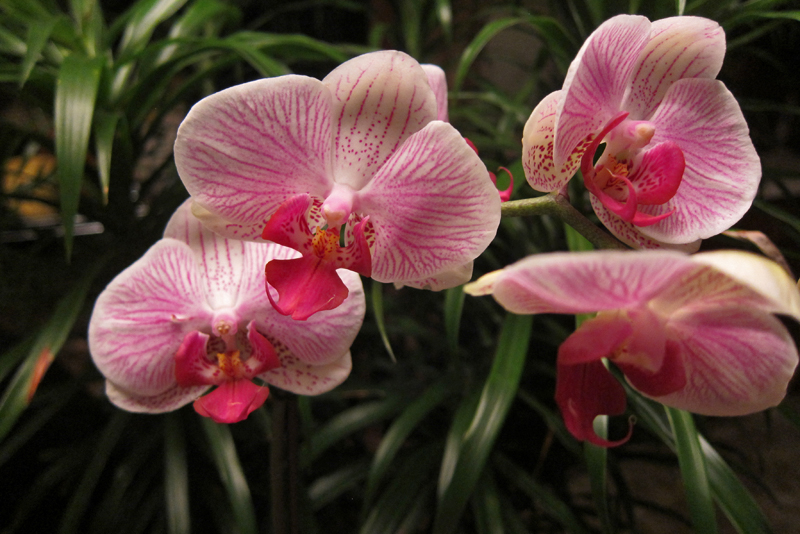 As the weather warms, increase your watering schedule as needed
If you have taken your orchids outside for the summer be sure to check the pots every day. One really good suggestion that you will get from experienced growers is to learn what a pot feels like when it has been watered and what it feels like when it is dry. This is a simple way to tell if your plants need water. For Cattleyas and other tough plants, wait one extra day when they're dry and then water. Oncidiums and Phalaenopsis can stand misting every day and then a good watering twice a week. Watch for wrinkling on the pseudobulbs -- that's a sign of under watering.

All orchids will need shading during the middle of the day
In all but the northernmost parts of the country, your orchids will grow best with early morning or eastern light and dappled shade the rest of the day. Some varieties such as Cymbidiums can take full afternoon sun, but most others will experience sunburn if so exposed. Phalaenopsis will get easily sunburned with large yellow and black areas where they have received too much sun. Cattleyas will first exhibit a definite reddish cast to the leaves which indicates that they are at the high exposure limit for that variety. Eventually they will also exhibit yellowing and damaged leaves. Oncidiums will show burning at the leaf ends.

Phalaenopsis or Moth Orchids
If your Phal has finished flowering and you want to try to get it to re-flower, cut the flower stem about one-half inch or two centimeters from the bottom. If the inflorescence (flower stem) is showing signs of putting out side branches, leave it alone and let it continue to bloom. After blooming, the plant should be repotted in a bark or bark and charcoal orchid mix. I have found appropriate mix at local nurseries and hardware stores with garden centers. After repotting, let the plant recover in a shady location for about a month and then move to its normal spot.

Paphiopedilum or Slipper Orchids
Many Paphiopedilums will be reaching their peak growing periods, so be sure to give them the light and water conditions they will need for maximum growth. Multifloral (more than one flower on a spike) Paphiopedilums will be flowering or putting out new spikes, so check them often. Phragmipediums need to be kept very moist during the heat (I keep mine in a saucer with water) and provided with lots of light for their growth period. Unlike Paphiopedilums, Phragmipediums need lots of light to flower well.

Cattleyas
Spring blooming Cattleyas should be finished and any repotting necessary should be done now. Fall blooming Cattleyas may also be repotted now when their roots are about half an inch or two centimeters long. Be careful to watch for shriveling pseudobulbs indicating under watering. Increase your air circulation if possible to prevent rots. Particularly watch for any sign of black rot and treat immediately with a fungicide or you will lose your plant in about a week.

You Should Also Read:
Beginner Orchids
Orchid Name Tags
Trivia - Biggest Orchid Vine


Related Articles
Editor's Picks Articles
Top Ten Articles
Previous Features
Site Map





Content copyright © 2022 by Susan Taylor. All rights reserved.
This content was written by Susan Taylor. If you wish to use this content in any manner, you need written permission. Contact Anu Dharmani for details.