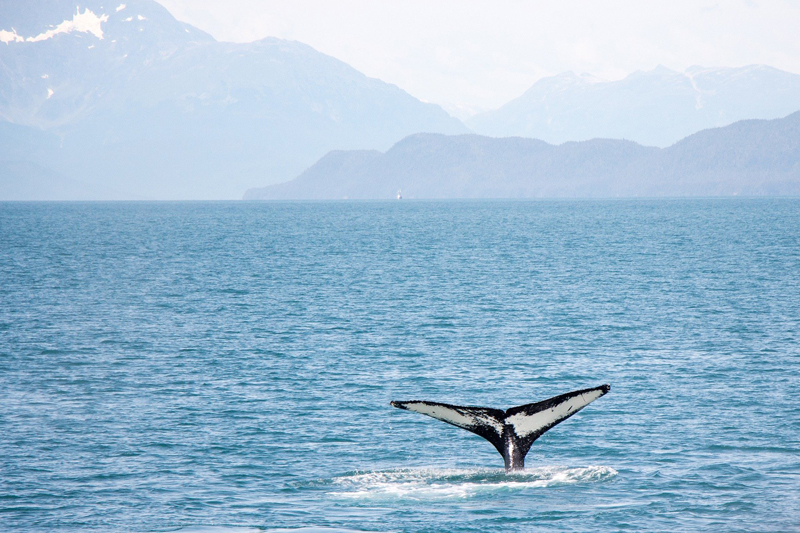 Bears are a great wildlife sight when touring Alaska. Certain areas and time of year will increase your chances of seeing particular species of bears. You will need to be pretty far north to view Polar Bears. Black and Brown bears can be seen just about anywhere within the state. Some exceptions occur on some of the many islands either far west or far south within the state.

Black bears are the most abundant with an estimated 100,000 residing in Alaska. Omnivores, they will feed on berries, and plants as well as the abundant salmon found in Alaska's waters. Black bears are easily found in forested areas of the state, more common inland but as well as some coastline areas. The Anan Bear Observatory, run by the Forest Service within the Tongass National Forest, is about 30 miles from Wrangell. Here, because of the abundance of salmon, you will have opportunity to observe black as well as the brown bear. This is one of the few places they are found so close together in relative harmony. The black bear has been known to meander into cities like Anchorage and forage through garbage for food. Not a healthy thing, for the bear or mankind. Another place to view in the wild setting is Neets Bay about 25 miles north of Ketchikan. There are many options for tours to this area. Don't be surprised if you're looking at a white colored black bear either. Color ranges for the black bear are jet black to white, with cinnamon and brown as well. You could see blue-black bears in and around Yakutat.

Brown bears and grizzlies are in fact the same species with differences in size due to where they live and the food available to them. Grizzlies will be found more inland, and in the northern part of the state, while the browns are more numerous near to the coast. Kodiak brown bears are a separate sub-species of brown because they have been isolated from other bears since the last ice age. Visit Kodiak Island to view these beauties. Katmai National Park & Preserve, Brooks Camp in Katmai, McNeil River Falls in the state game sanctuary, are all great places to view brown bears. Plane and boat tours are plentiful into Katmai. Brooks Camp has platforms over salmon feeding areas and it's common to come across bears on the trails. There are private owned lodges and a campground in the National Park. McNeil River Falls actually has a limited access with a lottery system in place to visit the protected area. Admiralty Island in the Tongass, near Juneau, is called Kootznoowoo by the native Tlingits. It means fortress of the bear. This island has the highest concentration of brown bears in the US. There are tours and overnight options here as well. Denali National Park is another option for wildlife and bear viewing.

Polar Bear viewing is a little more limited. Polar Bears occur in the northern polar region of Alaska. Point Barrow, the northernmost point in the US, is a great viewing place. Spring and fall are the best times to view while they are feeding. Their diet consists of seals, walruses, and beluga whales! Their white or yellowish fur is made of water repellant hair on top of a dense undercoat, and their feet are HUGE, to aid in swimming after their meals.

Bears are abundant in Alaska, and so are the ways, and means to see them. Use a tour company or guide and your chances of seeing them are greater and much safer



Related Articles
Editor's Picks Articles
Top Ten Articles
Previous Features
Site Map





Content copyright © 2022 by Dawn Engler. All rights reserved.
This content was written by Dawn Engler. If you wish to use this content in any manner, you need written permission. Contact Deb Frost for details.