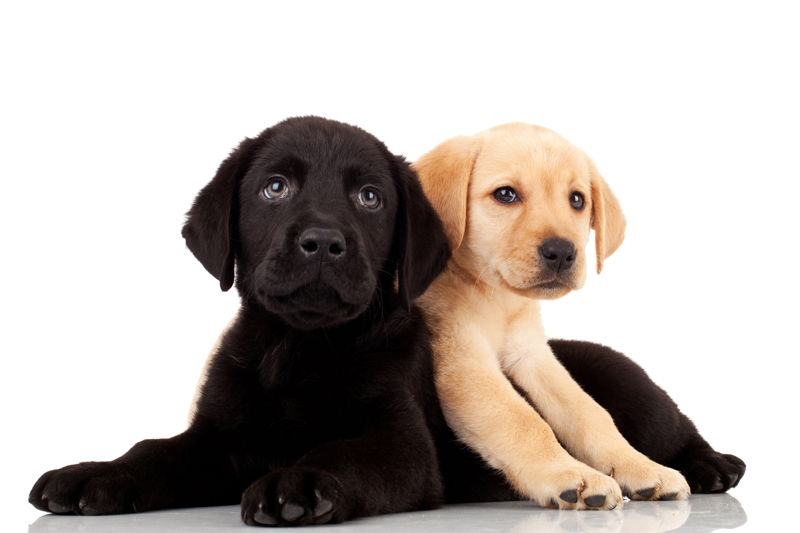 Winter can be especially hard on a dog's paws. Unprotected from ice, snow, and slush, and bitter cold, their paws need special care in winter. By taking a little extra time to keep your dogs' paws well-groomed, you can minimize problems with cracked, sore pads, blisters and infections.

The products used to clear the ice and snow that accompany cold winter weather can be a real hazard for dogs. Rock salt and most chemical de-icers can irritate a dog's paws and turn a winter walk into a painful ordeal. Stay away from heavily salted areas as much as possible when walking your dog.

Inspect paws after walking in areas treated with salt and other de-icers. Check between toes and examine the foot pads for cracks in the skin. Look closely at any inflamed areas for splinters, embedded gravel, etc.
Snow, especially wet snow, clings to long haired dogs as they run and play in the snow. When snow or slush from melting ice and snow on sidewalks sticks to the hair beneath a dog's paws, lumps of ice, often mixed with rock salt and gravel, build up between their foot pads and toes. Walking hurts.
Always wash paws with warm water after outdoor play and winter walks. Even if there's no trace of cracks, irritation or any damage and no snow and ice to remove, it's important to wash away all traces of salt and other de-icers so a dog can't lick it off later. Never let a dog try to chew away any lumps if ice and snow sticking to its paws or hanging from its fur.
Ingesting rock salt or chemical de-icing products can have a toxic effect. There are pet-safe ice melting products available. (See ad below) Use one of them instead of rock salt for de-icing side walks and driveways. The National Animal Poison Control Center also suggests using sand or cat litter as an alternative. They won't melt ice, but they'll provide added traction.
After washing, apply Vaseline or Bag Balm to foot pads to soothe irritated paws. Apply again just before walks or outdoor play time to protect paws. Snow and ice collecting under paws will be less of a problem for long-haired dogs if the hair on their paws is properly trimmed.
Cut long hair growing from between the pads or each foot. Using a sharp grooming scissors, cut hair so that it's even with the pads. If there are any mats between the pads, very carefully cut the mat out, leaving as much of the hair below the mat as possible. Cut hair from between the toes even with the surface of the foot. Next... trim hair from around the edge of the foot. On dogs with long feathering on the back of their front legs, trim any excessively long hair so it does not drag on the ground.
It's important to keep a dog's nails trimmed all year long, but absolutely crucial in winter. Untrimmed nails can lead to splayed feet, sore nailbeds, and even torn nail. When nails are extra long, the toes spread apart when walking, leaving more space for snow and ice to build up.
Warmth and Protection for Paws
Doggy boots are not just a novelty for pampered pets. Even paws covered in heavy fur get cold when they get wet. Exposure to ice, snow and salt can hurt even the toughest paws. Well-made boots can keep a dog's paws warm and dry in rain, ice, and snow and protect them from the harmful effects of salt and de-icers.

Muttluks Dog Booties offer ultimate 4-season protection in all kinds of weather. They're made from a breathable, waterproof fabric with leather soles and toe protectors. Adjustable Velcro straps have a reflective surface and stretchable cuffs extend up the leg, added protection and a comfortable fit.
| | |
| --- | --- |
| | Muttluks Cold Weather Boots provide the same comfort, protection and durability with the added feature of a fleece lining for extra warmth. |
| | |
| --- | --- |
| Paw Tectors, right, have fleece interiors and secure with adjustable velcro closures for easy on and off. These supple, waterproof, non-skid paw protectors really stay on. They're available in sizes for every dog. | |
For most dogs, it takes a little time to adjust to the new sensation of walking in boots. You might want to have a camcorder ready for a funniest pet video moment... a high-stepping comedy act... the first time a dog walks in boots. To get used to wearing them, put boots on all 4 paws and have your dog just follow you around the house with a handful of treats for encouragement or go on very short walks. Double-check the fit and make any adjustments if needed. Next day, try to get your dog interested in a favorite fun activity like chasing a ball or a favorite toy for about 10 minutes while wearing boots. Again, double-check the fit and make any adjustments if needed. Make sure the boots stay in place as they are supposed to be worn. Practice enough to know that your dog is willing to wear them for a reasonable length of time before going on any long walks. Whenever your dog is wearing boots, check frequently to make sure they're not too tight. Never leave a dog who is wearing boots unattended.
If your macho dog - or your macho spouse - still think that boots are only for wimpy dogs or sissy dogs,
tell them that some of America's greatest 4-legged heroes wear boots!


Petco Ice Melt for Pets

This pet friendly ice melter is safe and biodegradable. PETCO Ice Melt for Pets combines the most effective deicing blend componenets available, creating the desired reaction to initiate deicing and meltdown. The odorless solution is water soluble and there is no sticky residue to clean up. Ice Melt guards against concrete corrosion by forming a protective coating on the surface. The special non-slip formula provides extra traction control.
Click here for information about
Quick Care Pet Health Insurance Programs

Accident and illness insurance to help with Veterinary bills is financial protection for you.
---
You Should Also Read:
A Safe Hoime for the Holidays
A Dog Lovers Guide ti the Internet
Chilly Dogs - Staying Safe & Warm


Related Articles
Editor's Picks Articles
Top Ten Articles
Previous Features
Site Map





Content copyright © 2022 by Sandy Moyer. All rights reserved.
This content was written by Sandy Moyer. If you wish to use this content in any manner, you need written permission. Contact Bettina Thomas-Smith for details.