How to Make a Byzantine Chain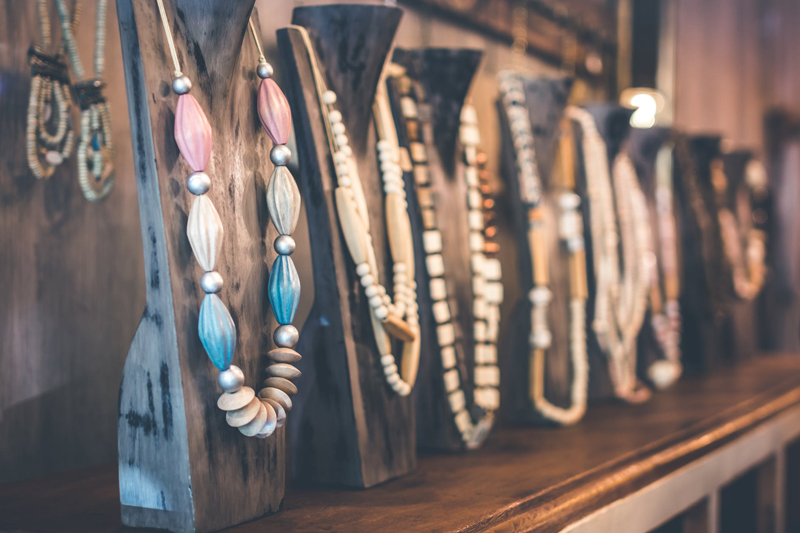 The Byzantine chain, also called "Idiot's Delight," can be made from unsoldered wire jump rings. There are a few variations of this chain, but I prefer the sequential link style:
This chain only comes out well if you use an appropriate wire gauge and jump-ring size combination. If your gauge is too small for the size of jump ring you're using, the chain will be too loose; if the gauge is too large, the chain will be tight and inflexible, and you may not have room to insert enough rings-within-rings to complete your design.
Metalsmith and instructor Tim McCreight, in his book The Complete Metalsmith, recommends using one of the following gauge and ring-size combinations:
16 gauge, 4.8mm inner diameter (ID)
18 gauge, 4.0mm ID
20 gauge, 3.2mm ID
22 gauge, 2.5mm ID
The Byzantine chain is easiest to make using dead-soft sterling silver wire or copper wire, but you can experiment with other tempers and materials once you get the hang of it.
To begin, you'll need a whole lot of jump rings. You can purchase them pre-made or make them yourself. (If you find that you like making chains, consider purchasing some jump-ring making equipment, like the Jump Ringer system from Rio Grande or conniefox.com.)
For your first try, I recommend using 18 gauge dead-soft sterling silver or copper wire rings with 4.0mm ID. This will create a chain that contains between about 20 and 24 rings per inch.
Start by making a simple double-ring chain that is three links long, and slip the first two rings over a safety pin, as shown below. (Remember the correct way to open and close jump rings.)
Fold back the last two rings on the chain (the rings I drew in green above), in opposite directions. Use your index finger and thumb to hold them down at each side:
Now use the fingers of your other hand to fold down the next two rings (which I drew in blue). In the diagram below, the chain is turned about 45 degrees to better show the position of the folded-back blue rings:
Add the two blue rings to your finger and thumb, and hold them down along with the green rings. If you look at the end of your chain now, you will see the set of two green rings peeking out. Attach two new rings (drawn in orange below) to both of those green rings:
Here's what that should look like from the side:
Attach a double-ring chain with two links (drawn in gray below) to the orange rings.
Here's what that should look like from the side:
You now have your first half-segment of a Byzantine link, with a double-ring chain hanging off of the end. That end chain is exactly the same as the three-ring, double-link chain you started with (the one you originally slid onto the safety pin). Simply repeat the procedure you used at the beginning: fold back the last two rings, fold back the next two rings, and then attach two more rings. You now have your first complete Byzantine segment:
To begin the next half-segment, add another double-ring, two-link chain to the end. Continue adding complete segments until you reach your desired length. When you finish, there will be a set of double jump rings at each end of the chain. You can then use single jump rings to attach a clasp.
~ For more illustrated metalwork tips and tricks, see Tim McCreight's The Complete Metalsmith.
~ You may also enjoy Chain Mail Jewelry: Contemporary Designs from Classic Techniques
, by Terry Taylor and Dylon Whyte.
---
Chris Franchetti Michaels is a writer and jewelry artisan specializing in beaded designs, wire work, and metal fabrication. She is the author of the books Teach Yourself Visually: Jewelry Making and Beading, Beading Quick Tips, and Wire Jewelry Quick Tips.
You Should Also Read:
Index - All Articles
Metal and Wire
Techniques and Tips


Related Articles
Editor's Picks Articles
Top Ten Articles
Previous Features
Site Map





Content copyright © 2023 by Chris Franchetti Michaels. All rights reserved.
This content was written by Chris Franchetti Michaels. If you wish to use this content in any manner, you need written permission. Contact Susan Mendenhall for details.