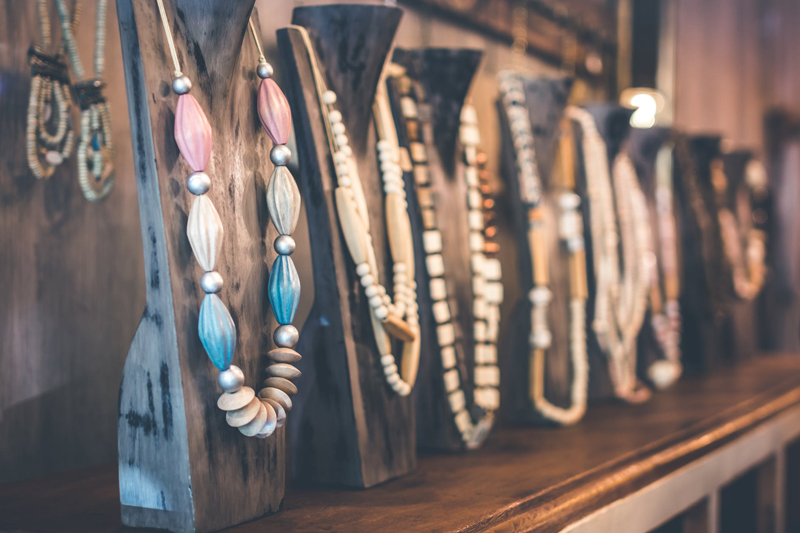 Look here for a quick reference of all articles on the Jewelry Making site.
Book Review - All Wired Up


All Wired Up by Mark Lareau is an excellent reference for those seeking to learn basic wire-working.
Book Review - Beads And Threads


This unusual crafts book combines fabric arts and beading techniques for some interesting results.
Book Review - Bodyguards


This gorgeous art book will increase the jewelry maker's knowledge of the symbolism of amulets
Book Review - Designing Jewelry with Glass Beads


Designing Jewelry with Glass Beads by Stephanie Sersich is a beautiful and useful book for your crafts library.
Book Review - Elements of Style

Book Review - Fabulous Fabric Beads

Book Review - Hip to Bead


Hip to Bead by Katie Hacker offers 32 fun projects centered on beading!
Book Review - Junk Jewelry


Junk Jewelry is a creative book for the packrat in all of us that features 25 clever projects, turning everyday objects into funky pieces of jewelry.
Book Review - Making Bits and Pieces Mosaics


This is not an essential book for jewelry makers, but it covers shard jewelry and is fun to have!
Book Review - Pretty Little Things


Pretty Little Things by Sally Jean Alexander is an exceptionally beautiful book centering on found-object art.
Book Review - Silver Wire Fusing

Design - Prayer Beads


Prayer beads, while not meant to be worn ornamentally like secular jewelry, can still be very rewarding to construct as a means of exploring one's spiritual heritage.
Gemstones Book Review


Can you imagine a page turner reference book? A beautifully illustrated guide book, with commissioned close-up photographs, vividly reveals the world of gems. Everything you could possibly want to learn will be found in this excellent Smithsonian Nature Guide to GEMS, The world in your hands.
Healthy Brains and Jewelry Making


There are several ways to keep your brain strong by learning new things. Jewelry making will keep you active and can provide life long learning. Being self taught, taking workshops and classes all help your brain to grow. Learn how you can get on board using jewelry making to keep your brain active
Hidden Treasures Found In Used Books


A wealth of information and inspiration can be found in used books. Find books that will amaze and inspire the artist in you. Books documenting the modernist jewelry movement era show the most talented and now famous jewelry artists and designs. A treasure trove of books waiting to be found!
Info - Beading, Introduction to Beadwork


Information to help you decide whether bead stringing or bead weaving techniques are right for you.
Info - Beading, Netsuke


Netsuke are intricate carvings that you can integrate into your jewelry making.
Info - Business, California Lead Containing Jewelry Law

Info - Ideas for Easy Handmade Jewelry Gifts

Product Review - Steel Bench Block


If you want to work with wire, a steel bench block is handy for hammering.
Project - Bead Bracelet, Basic Peyote Stitch Bracelet Band

Project - Bead Earrings, Ten-Minute


Make these easy bead earrings in just ten minutes flat!
Project - Bead Necklace, Daisy Chain


How to create a beaded daisy-chain.
Project - Bead Necklace, Modifying a Vintage Beaded Choker


Customize a fashionable vintage beaded choker necklace to make it more wearable.
Project - Metal Earrings, Chain Mail Cascade Earrings


This chain-mail jewelry project designed by Anne Kelly results in delicate, cascading earrings.
Project - Metal Necklace, Sterling Silver Wire and Bead Necklace


Here is an intermediate-level wire-working project for a sterling silver wire necklace with turquoise beads.
Project - Other Materials, Bracelet - Charm, Junk Drawer


Make a quick and easy charm bracelet from your junk drawer!
Project - Other Materials, Necklace, Binder Clips


Here is a quick and easy neck ring to put together from binder clips!
Project - Other Matrials, Necklace, Buttons


Here is a striking necklace made from stacked buttons that have the sophisticated look of shell or onyx beads.
Project - Pendant, Altered Art Jewelry


How to make a pendant using "altered art" objects.
Supplies - Gemstones, Amber


Amber is a truly stunning gemstone with which to design jewelry.
Supplies - Gemstones, Hematite


Hematite can be an unusual but striking choice of mineral for jewelry making.
Supplies - Gemstones, Labradorite Beads and Crystals


Do you love the shimmer of opals but can´t afford them for jewelry making? Try Labradorite.
Supplies - Gemstones, Malachite


Malachite is an acquired taste with its bright green hue, but can be stunning in small doses.
Supplies - Gemstones, Onyx


For its dramatic beauty, durability, and inexpensive price, a jewelry maker cannot go wrong with white or black onyx.
Supplies - Gemstones, Red Jasper


Red jasper is a relatively inexpensive gemstone for jewelry-makers looking for a rugged, warm, earth-toned stone.
Techniques - Beading, Peyote Stitch

Techniques - Chain Mail Jewelry Basics


The basics of making this easy, yet intricate, jewelry, can be stated in two words – jump rings!
Techniques - Chain Mail Jewelry, How to Make a Byzantine Chain

Tips - Beading Basics


An assortment of useful tips that you may not have thought of.
Tips - Chain Mail Jewelry, Byzantine Chain Appearance and Care


Tips to make your Byzantium chain look professional.
Tips - Cord and Beading Thread Organization


Tips for keeping cord and beading thread organized, untangled, and ready for use.
Tips - Oxiding Brass for an Antique Look

Tips - Oxidizing Sterling Silver for an Antique Look

Tips - Polishing Sterling Silver with a Rock Tumbler


How to use a professional-model rock tumbler to polish handmade sterling silver jewelry and components.
Tips - Polymer Clay Safety Precautions


Polymer clay is affordable and easy to use - and it hardens right in your kitchen oven. Unfortunately, it also contains chemicals known to be hazardous. Learn whether polymer clay might pose a risk to your health or our environment.
Tools - Cutters and Chain Nose Pliers

Wire Working Basics


Working with wire can be fun, making creative jewelry and findings. Rings, Brooches and earrings can be designed using wire with beads and stones or simply with wire alone. Knowing the basics of using wire will prepare you for all of your wire projects.
Editor's Picks Articles
Top Ten Articles
Previous Features
Site Map
Content copyright © 2018 by . All rights reserved.
This content was written by . If you wish to use this content in any manner, you need written permission.
Contact Susan Mendenhall for details.