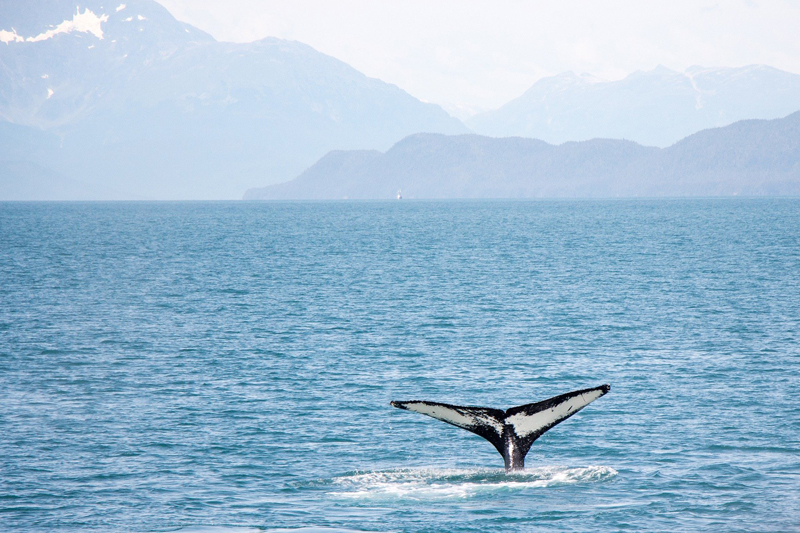 The pure white Mountain goat is a species native to Alaska and Canada, with substantial populations currently thriving as far north as Cook Inlet in the southcentral region of Alaska. This wild goat's native range was historically from southeastern Alaska south along the coastal mountains down to the Columbia River in Washington.

Mountain Goats are often one of the "must see" large animals on Alaskan tourist's wish lists. Fortunately, the coastal mountains of Alaska seem to suit them, offering a good chance at closer views of these magnificent creatures.

If you are lucky enough to spot a large, furry white animal along a cliff-face in south-central or south-eastern Alaska, it is most likely a Mountain Goat.

When I first moved to Alaska in 1996, I had a heck of a time keeping straight the difference between Mountain Goats and Dall Sheep and would wonder which I was seeing. These are the only two large, pure white land mammals here in Alaska. Here is a simple comparison to help keep it straight.

The biggest difference between Mountain Goats and Dall Sheep is where you're most likely to find them. Just remember that sheep like to keep their fluffy white fleece high and dry – they prefer to live in the highest reaches of the more wind-swept, exposed cliffs and peaks of mountains in central and northern Alaska. You'll be lucky to catch sight of them without binoculars.

Mountain goats are often referred to as "Rock Goats" because their preferred range is along steep, coastal rock cliffs. They are more tolerant of the wetter, more tropical climate (with "tropical" being a relative term here in Alaska) than sheep are.

Having said that; Alaska is one of the few places in the world where the two species do overlap territories to some extent due to our rich and varied terrain. The higher mountains of Kenai Fjords National Park, the Chugach mountains between Anchorage and Turnagain Arm, the Knik Glacier and parts of the Wrangell/St. Elias mountain ranges have healthy populations of both Mountain Goats and Dall Sheep.

In appearance, the main difference you'll notice in summer is in the horns. Mountain goats have relatively short, more upright, dark colored horns, with males having substantially larger horns than females, but still a similar shape. Dall sheep rams, on the other hand, have enormous, back-curling, lighter-colored horns, seriously impressive even from a distance. Dall sheep rams are often hunted, mainly for their spectacular trophy horns. If Dall Sheep are on your bucket list, a visit to Denali National Park & Preserve is still your best bet.

From late fall until early summer; Mountain goats have a gorgeous coat of long, luxurious, shaggy white fur, with a distinctive, erect crest of hair eight inches or longer along their neck and spine. This differs dramatically from the dense, 2" thick, tight wool of the Dall sheep. The Mountain goats' plush coat makes these goats look even larger than their 180-300+ pounds. The long hair on their legs give mountain goats the look of wearing pantaloons.

Mountain goats don't generally shed their winter coat until June, when they will sport a glossy, shorter summer coat for a few months before growing it all back. By the time the first snow gleams in the high country in October, they are again spectacular in their full winter glory.

Mountain goats are often spotted not far from my home outside of Anchorage. Traffic jams have been known to happen along the Sterling Highway right around the area of Turnagain Arm near Beluga Point south of Anchorage.

The highway cuts a narrow swath here between steep rocky cliffs and the inlet. In late spring and early summer, families of mountain goats, including young kids, often come scampering down the cliffs all the way to the edge of the highway in search of minerals, drawing tons of attention from travelers – locals and tourists alike. Cars and RVs slow down or pull over, people with camera and cell phones pile out, everyone wanting that perfect shot of one of Alaska's iconic wildlife species.



Related Articles
Editor's Picks Articles
Top Ten Articles
Previous Features
Site Map





Content copyright © 2022 by Deb Frost. All rights reserved.
This content was written by Deb Frost. If you wish to use this content in any manner, you need written permission. Contact Deb Frost for details.